Self Storage Melbourne
*FURNITURE STORAGE *BUSINESS STORAGE *RENOVATIONS
*DECLUTTERING *GENERAL STORAGE
Self Storage from just $1.10 per day.
Self Storage in Melbourne is up to 50% CHEAPER than other storage companies.
Here are just a few of the benefits of choosing 1800 We Store It's Self Storage Services
Hire a Pallet space, Pallet rack or a Mobile Storage unit
Mobile Storage unit sizes: 6ft, 8ft, 10ft & 20ft
No Fixed contracts, simply week by week arrangements
Store the Mobile Storage unit on your site or ours
Let our team do all the Heavy lifting & loading for you or do it yourself
Felt Furniture blankets & Tie downs supplied FREE of charge
Full range of Packing materials & covers available
24/7 monitored CCTV and alarmed security
Request your free no-obligation QUICK QUOTE today
Melbourne's most trusted Self Storage Company
Established in 2002, 1800 We Store It has been providing personalised self storage services in Melbourne for over 18 years.
You can find us in: Tullamarine, Laverton North, Richmond & Glen Waverley
Melbourne's Self Storage Options
We personalise our self storage services to your needs. Here are just some of the options we provide you with.
Our Mobile Storage Unit sizes
6ft MOBILE STORAGE UNIT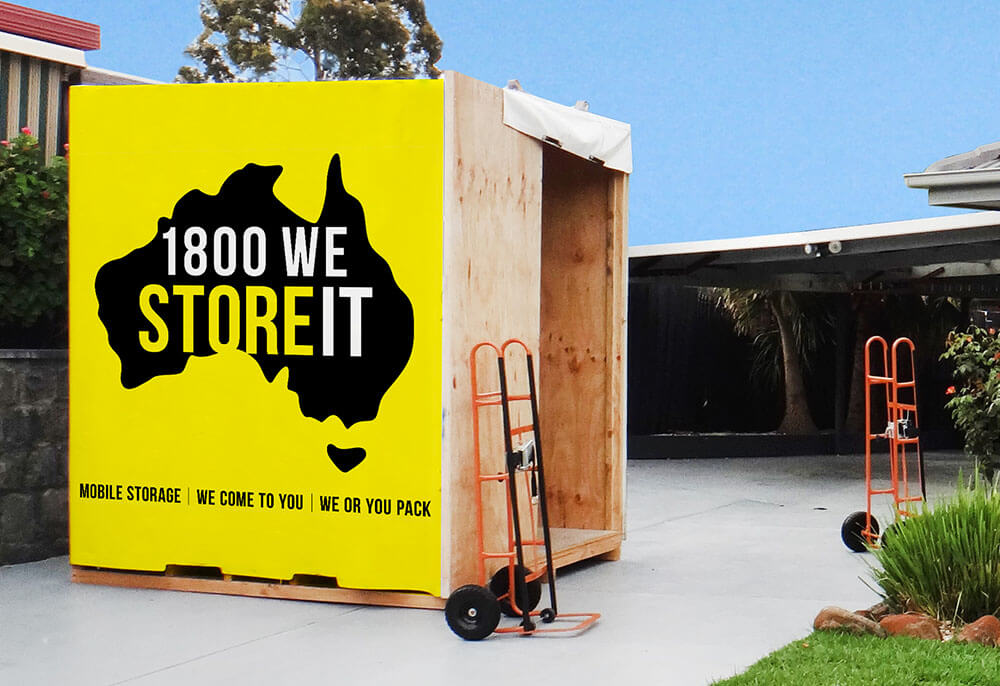 Holds the equivalent of 2 standard
bedrooms of goods.
Max. Dimensions: 
Height 2.6m, Width 1.8m, Length 2.4m
Capacity:
10 Cubic metres
Features:
Sturdy construction grade Indoor Storage units.
Supplied with 10 x Felt Furniture blankets FREE of charge.
8FT MOBILE STORAGE UNIT
Holds the equivalent of 2.5 standard
bedrooms of goods.
Dimensions: 
Height 2.4m, Width 2.1m, Length 2.3m
Capacity:
11.5 Cubic metres
Features:
Strong & Secure Steel Storage unit with internal Tie rails and fitted with external Padlock protector.
Supplied with 15x Felt Furniture blankets and 5x Furniture Tie-downs FREE of charge.
10FT MOBILE STORAGE UNIT
Holds the equivalent of 3 standard
bedrooms of goods.
Dimensions:
Height 2.9m, Width 2.4m, Length 3m
Capacity:
16.5 – 19 Cubic metres
Features:
Strong & Secure Steel Storage unit with internal Tie rails and fitted with external Padlock protector.
Supplied with 20x Felt Furniture blankets and 5x Furniture Tie-downs FREE of charge.
20FT MOBILE STORAGE UNIT
Holds the equivalent of a standard
3-4 bedroom home.
Dimensions:
Height 2.9m, Width 2.4m, Length 6m
Capacity:
33 – 38 Cubic metres
Features:
Strong & Secure Steel Storage unit with internal Tie rails and fitted with external Padlock protector.
Supplied with 40x Felt Furniture blankets and 10x Furniture Tie-downs FREE of charge.
Self Storage Melbourne
Need more space at home or in the office? Use some of ours to free up yours!

Finding extra Storage space is usually a hassle to many, but it doesn't have to be. 1800 We Store It offers Mobile Storage units so you can spare yourself the stress associated with traditional Self Storage Melbourne.
Since 2002, we have been solving an age-old problem in a modern way. We offer versatile solutions that can be personalised to fit your specific needs. We know you have more important things to do than dealing with time-consuming and labor-intensive Storage concerns. We are also aware that there are many Storage companies to choose from. Sure, but we can confidently say that only a few, if any, stack up to what we offer…
We have engineered the Storage industry's best solution for handling your belongings and we deliver it direct to your door! With us, you'll only pay as low as half the price of traditional Self Storage but twice the value!
You read that right. Not to brag, but our services are up to 50% cheaper than our competitors! We are proud to be Melbourne's most reliable Mobile Storage company, catering to all residential and commercial storage needs.

Here's How Our Mobile Storage Service Works

Traditional Self Storage Melbourne

You need to rent a truck, van or ute and load your goods.

Haul your belongings to the Storage facility and unload into your unit.

When you need your items back, you'll have to do it all over again but in reverse!
It's a huge waste of time, money, and effort.
Our Solution: We Bring the Storage Unit to You!
Get in touch with our friendly customer service staff for a FREE quote and to find the Storage unit that will perfectly suit your needs. Our team will deliver a Mobile Storage unit anywhere you are in Melbourne.

You pack and load the Storage unit with everything you need to stow. You can do so at your own pace, at your own schedule, and at the comfort of your own home or office.
But if you're pressed for time, have more important matters to attend to or need help in loading you goods, our team of professional packers and movers can do all the hard work and heavy lifting for you.
Depending on your needs and preference, you can keep the Storage unit onsite or we can take it to our facility for Storage.

  

You can also have it for as long as you want.
About Our Mobile Storage Units

Bigger and Cheaper
Our Mobile Storage units are generally larger and up to 50% cheaper than those of our competitors. You therefore get more space at the lowest possible rate.

Custom-built and Weatherproof

Forget about flimsy wire cages that can barely hold together. Our Mobile Storage units are custom-made from the highest grade industrial materials so your belongings stay safe and damage-free. They are also fully sealed and designed to withstand the harshest Australian weather conditions.

Safe and Secure

Our Steel Storage units have internal rails so your items can be tied securely and won't move during transit. They also come with padlock protectors welded onto the doors to avoid any tampering or theft.

Available in Four Different Sizes:
6ft unit w/ 10 cubic metre capacity – holds approx. 2 standard bedrooms of goods

8ft unit w/ 11.5 cubic metre capacity – stows approx. 2.5 standard bedrooms of goods

10ft unit w/ 19 cubic metre capacity – accommodates approx. 3 standard bedrooms of goods

20ft unit w/ 38 cubic metre capacity – capable of storing approx. 3-4 bedroom house worth of goods
Practical and Multi-purpose

Our Mobile Storage units are ideal for a variety of applications including the following:

Decluttering

Appliance / Furniture Storage

Home Renovation / Remodeling

Long / Short Distance Residential Moves

Documents / Records Storage

Office / Business Relocation

Additional Warehouse Storage

Trades and Inventory (e.g. tools, equipment, stock)


Vehicle Storage / Motorbike / Yacht Storage

Temporary Storage Shed, and more
About Our Storage Facility
You can store with confidence in our state-of-the-art facility. Your belongings are valuable so we treat them with utmost care and attention while providing the highest possible level of security. Our facility is strategically located in a secure, gated and guarded compound that features the latest alarms, smoke and fire detection system, and 24/7 CCTV surveillance monitoring.

What Makes Us the Most Trusted Storage Company in Melbourne?

The convenience and exceptional customer service we deliver on a consistent basis is what makes 1800 We Store It a leading provider of Mobile Storage Solutions in Melbourne and its surrounding suburbs.
We cater to the Storage requirements of both residential and business clients, helping you to safely store your goods and create space around your home or office with our selection of Storage units.
Lastly, we offer solutions to all your Storage needs under one roof. Think of us as a one-stop Storage shop. We are your first point of contact for anything Storage related, and you don't have to deal with a separate company or supplier.
Aside from providing Mobile Storage units, we also offer professional packing services. 
Our team will wrap and pack your goods into boxes before loading them into the Storage unit. We have the experience and expertise in packing all kinds of goods including clothing and personal effects, antiques and artwork, furniture, office equipment, and white goods to name a few. 
Whether you only need a few items packed or the contents of an entire house, we are happy to help! We can handle the packing of homes of all sizes – from one bedroom apartments to million dollar mansions. We can also pack up small to large offices, gyms, commercial establishments, factories, and more.
Experience the difference and have peace of mind knowing that you have chosen the most trusted Mobile Self Storage Melbourne company. We guarantee that we will get the job done in the easiest, most efficient, and most cost-effective way possible.

If you have any questions or if you wish to choose our service, please feel free to contact us at
1300 418 166
 or email us at 
info@1800westoreit.com.au
Get started today with a free no-obligation quote, and see how we can personalise our Storage packages to suit your needs. Our friendly staff are on standby and ready to assist you with any and all of your requirements.
Drop us a line and we will be in touch within 24 hours. We'll get back to you with pricing and a solution.

Melbourne and General Storage Information

Melbourne is the capital and most-populous city in the state of Victoria. Its name generally pertains to the metropolitan area called Greater Melbourne, which is composed of an urban cluster of 31 municipalities. However, the name is also specifically used to refer to the local municipality of the City of Melbourne.
As of 2020, the metropolis has a population of over 5 million, mostly inhabiting the eastern section of the city centre. It occupies most of the northern and eastern coastlines of Port Phillip Bay and extends into the Mornington Peninsula towards the Yarra Valley region and the iconic Dandenong and Macedon Ranges.
Melbourne dominates the economic life of Victoria as it has the vast majority of the state's population. It is also Victoria's financial hub and seat of government. It features more skyscrapers than any other city in Australia, the tallest being Australia 108, in the Southbank precinct.
Overall, Melbourne has a diverse economy with strengths in finance, engineering, manufacturing, logistics, education, IT, tourism and transportation. It is home to the headquarters of five of the ten largest corporations in Australia (based on revenue), and five out of the seven largest (based on market capitalisation).
Voted as the most liveable city in the world, Melbourne is a popular destination for both domestic and international travelers. It is well served by an integrated public transportation system consisting of buses, electric trains, and tramcars. Melbourne also has the most extensive freeway network in Australia and the biggest urban tram network in the world.

Melbourne Fast Facts

Area: 9,993 km2 (3,858.3 sq mi)
Established: August 30, 1835
Population: 5,159,211
Population Density: 516.282/km2 (1,337.17/sq mi)
Time Zone: AEST (UTC+10)
Local Government Areas (LGAs): 31 municipalities across Greater Melbourne
State Electorates: 55 electoral districts and regions
Federal Divisions: 23 divisions