Mobile Self Storage Armstrong Creek
*FURNITURE STORAGE *BUSINESS STORAGE *RENOVATIONS
*DECLUTTERING *GENERAL STORAGE
Mobile Self Storage from just $1.10 per day.
Mobile Self Storage in Armstrong Creek is up to 50% CHEAPER than other storage companies.
Here are just a few of the benefits of choosing 1800 We Store It's Mobile Self Self Storage Services
Hire a pallet space, pallet rack or a Mobile Self Storage Unit
Mobile Self Storage Unit sizes: 6ft, 8ft, 10ft & 20ft
No fixed contracts, simply week by week arrangements
Store the Mobile Self Storage Unit on your site or ours
Let our team do all the heavy lifting & loading for you or do it yourself
Felt furniture blankets & tie downs supplied FREE of charge
Full range of packing materials & covers available
24/7 monitored CCTV and alarmed security
Request your free no-obligation QUICK QUOTE today
Armstrong Creek's most Trusted Mobile Self Storage Company
Established in 2002, 1800 We Store It has been providing personalised Mobile Self Storage Services in Armstrong Creek for over 18 years.
You can find us in: Tullamarine, Laverton North, Richmond & Glen Waverley
Armstrong Creek's Mobile Self Storage Options
We personalise our Mobile Self Storage Services to your needs. Here are just some of the options we provide you with.
Our Mobile Storage Unit sizes
6ft MOBILE STORAGE UNIT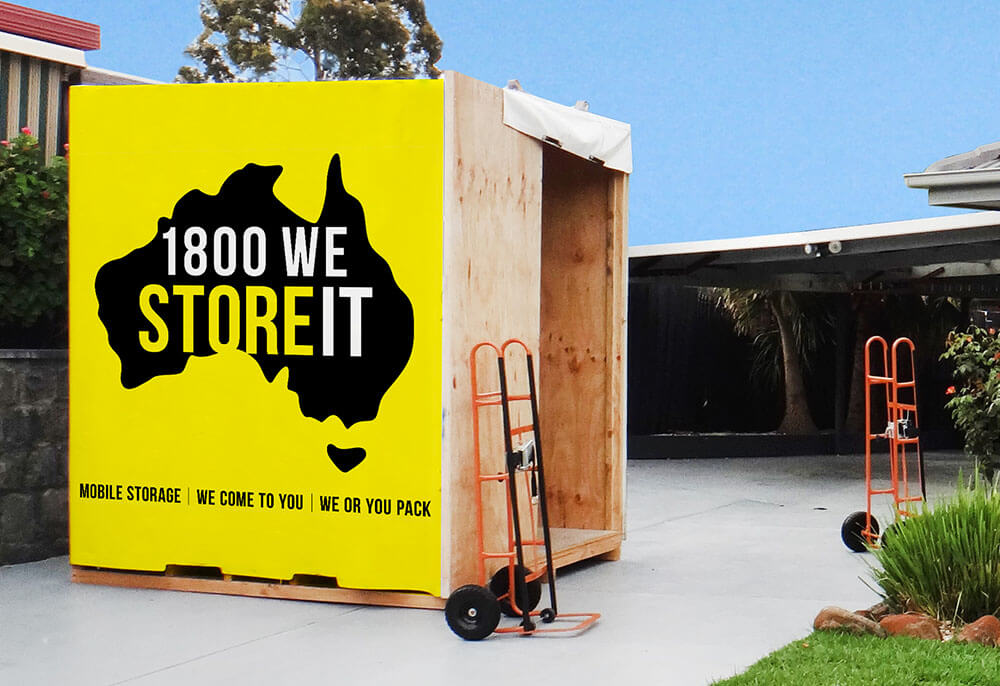 Holds the equivalent of 2 standard
bedrooms of goods.
Max. Dimensions: 
Height 2.6m, Width 1.8m, Length 2.4m
Capacity:
10 Cubic metres
Features:
Sturdy construction grade Indoor Storage units.
Supplied with 10 x Felt Furniture blankets FREE of charge.
8FT MOBILE STORAGE UNIT
Holds the equivalent of 2.5 standard
bedrooms of goods.
Dimensions: 
Height 2.4m, Width 2.1m, Length 2.3m
Capacity:
11.5 Cubic metres
Features:
Strong & Secure Steel Storage unit with internal Tie rails and fitted with external Padlock protector.
Supplied with 15x Felt Furniture blankets and 5x Furniture Tie-downs FREE of charge.
10FT MOBILE STORAGE UNIT
Holds the equivalent of 3 standard
bedrooms of goods.
Dimensions:
Height 2.9m, Width 2.4m, Length 3m
Capacity:
16.5 – 19 Cubic metres
Features:
Strong & Secure Steel Storage unit with internal Tie rails and fitted with external Padlock protector.
Supplied with 20x Felt Furniture blankets and 5x Furniture Tie-downs FREE of charge.
20FT MOBILE STORAGE UNIT
Holds the equivalent of a standard
3-4 bedroom home.
Dimensions:
Height 2.9m, Width 2.4m, Length 6m
Capacity:
33 – 38 Cubic metres
Features:
Strong & Secure Steel Storage unit with internal Tie rails and fitted with external Padlock protector.
Supplied with 40x Felt Furniture blankets and 10x Furniture Tie-downs FREE of charge.
Mobile Self Storage Armstrong Creek
There was a time, not so long ago, when storing excess items meant that you had to go to the nearest storage company, sign a contract, rent a truck and load your goods, then drive to the Storage warehouse only to unload everything yourself.
It's stressful, costly, and time consuming…but Mobile Self Storage Armstrong Creek has changed all that with Mobile Storage. At 1800 We Store It, we offer a cheaper, safer, and easier way to store your precious belongings.
Mobile Storage and How It Works
Mobile Storage is a relatively new entry in the industry, but it's certainly a welcome innovation. It has rapidly grown in popularity and widespread acceptance as it effectively eliminates all the hassles associated with static Self-Storage facilities.
It's essentially Self-Storage delivered to your door! All of our valued clients love it and we took it up a notch by offering two personalised options…
Mobile Serviced Storage
This is our premium service which we recommend if you want our team of professional removalists to take care of everything for you. It is a 'set and forget' type of service that works in 3 simple steps:
We come to you
We'll deliver the Mobile Storage unit to your home or office.
We pack
We'll wrap your items in custom-made felt blankets and then load them into the Storage unit. We use tie-downs to secure everything in place and ensure that nothing moves during transit.
Note: Felt blankets and tie downs are provided FREE of charge.
We store
The Mobile Storage unit will then be transported and stored at our secure facility until you need your goods back.
Mobile Self-Storage
This is basically the same as Mobile Serviced Storage, the only difference is that you'll be responsible for packing the Mobile Storage unit. This generally works well if you are not pressed for time and you've got some friends and family around to help out.
Once you're done loading your goods, we will collect the Storage unit and take it back to our Storage facility for safekeeping.
Storage Solutions for a Variety of Applications
For Households…
Our Storage units are a convenient and cost-effective solution for residential Storage needs. Here are some of the most common uses:
Decluttering
Many of our clients find that Mobile Storage units are very handy when it comes to decluttering their living spaces. They can serve as an extension of your attic, cupboards, wardrobe, and even your garage. You can use the storage unit to safely keep items that you don't use on a daily basis.
Renovating
Have you signed off your dream house but don't know how to deal with the contents of your home during the renovation process? Instead of lumping your goods on friends and family, keep them safe in one of our Mobile Storage units.
Moving
This is a scenario where you can easily get overwhelmed and find yourself caught in a whirlwind. But you can rely on our service to get organised. This means you don't have to get everything done in one go. You can move your goods in stages and keep the non-essential ones in a Storage unit until you're ready to settle into your new home.
Vacation or Extended Travel
As exciting as these may seem, they bring a lot of questions like what to do or where to keep your goods while you're away. Should you sell some personal effects or perhaps rent out your place? Your best bet would be to use a Mobile Storage unit and keep it offsite so you can travel with peace of mind knowing that your belongings are stowed away in a securely monitored facility.
For Businesses…
For most businesses, Storage is of paramount importance. Is yours reeling from the weight of excess paperwork or inventory? Free up space and create a more efficient workplace by Storing with us.
Documents and Records
The Australian tax office legislation requires that all businesses should keep records for at least 7 years. Reclaim precious workspace and store important documents and records offsite at our secure facility. We provide flexibility so you won't have to lease additional office or commercial space.
Excess stock
If you are running a business from home and find that the goods you're selling have overrun your garage and living areas, our Storage units make excellent offsite stock room. Spare yourself from the logistical nightmare. More and more entrepreneurs are discovering the benefits of using Mobile Storage units as a way of growing their business. They provide much-needed space at a fraction of the cost of renting a warehouse or using traditional Self Storage Armstrong Creek.
If you have any questions or if you wish to choose our service, please feel free to contact us at 1300 418 166 or email us at [email protected]
Get started today with a free no-obligation quote, and see how we can personalise our Storage packages to suit your needs. Our friendly staff are on standby and ready to assist you with any and all of your requirements.
Drop us a line and we will be in touch within 24 hours. We'll get back to you with pricing and a solution.
Armstrong Creek and General Storage Information
Armstrong Creek is an outer suburb of Geelong. At the 2016 Census, it had a population of 4,247. It was gazetted in 2012 as part of the Armstrong Creek Growth Area, from what was once a largely undeveloped land which formerly formed part of Connewarre and Mount Duneed.
The City of Greater Geelong announced in August 2019 the construction of the sustainable Sparrovale Wetlands system after the local council awarded the $3.25 million contract to Goldsmith Civil and Environmental. The company will build and landscape linear wetlands, earthen channels, drainage structures, and access roads.
Armstrong Creek has emerged from bare paddocks to become the biggest development area in Victoria. Now that it's established, it's easy to take advantage of everything that the suburb has to offer including the multiple shopping complexes, schools, parks, and medical centres.
Armstrong Creek Fast Facts
Area: 19.527 square kilometres
Postcode: 3217
LGA: City of Greater Geelong
State electorate: South Barwon
Federal division: Corangamite
Surrounding suburbs: Mount Duneed, Charlemont, Moolap, and Connewarre
Median house price: $625,000
Distance from Armstrong Creek to 1800 We Store It: 77 km or 57 minutes by car