Mobile Self Storage Mulgrave
*FURNITURE STORAGE *BUSINESS STORAGE *RENOVATIONS
*DECLUTTERING *GENERAL STORAGE
Mobile Self Storage from just $1.10 per day.
Mobile Self Storage in Mulgrave is up to 50% CHEAPER than other storage companies.
Here are just a few of the benefits of choosing 1800 We Store It's Mobile Self Storage Services
Hire a pallet space, pallet rack or a Mobile Self Storage Unit
Mobile Self Storage Unit sizes: 6ft, 8ft, 10ft & 20ft
No fixed contracts, simply week by week arrangements
Store the Mobile Self Storage Unit on your site or ours
Let our team do all the heavy lifting & loading for you or do it yourself
Felt furniture blankets & tie downs supplied FREE of charge
Full range of packing materials & covers available
24/7 monitored CCTV and alarmed security
Request your free no-obligation QUICK QUOTE today
Mulgrave's most Trusted Mobile Self Storage Company
Established in 2002, 1800 We Store It has been providing personalised Mobile Self Storage Services in Mulgrave for over 18 years.
You can find us in: Tullamarine, Laverton North, Richmond & Glen Waverley
Mulgrave's Mobile Self Storage Options
We personalise our Mobile Self Storage Services to your needs. Here are just some of the options we provide you with.
Our Mobile Storage Unit sizes
6ft MOBILE STORAGE UNIT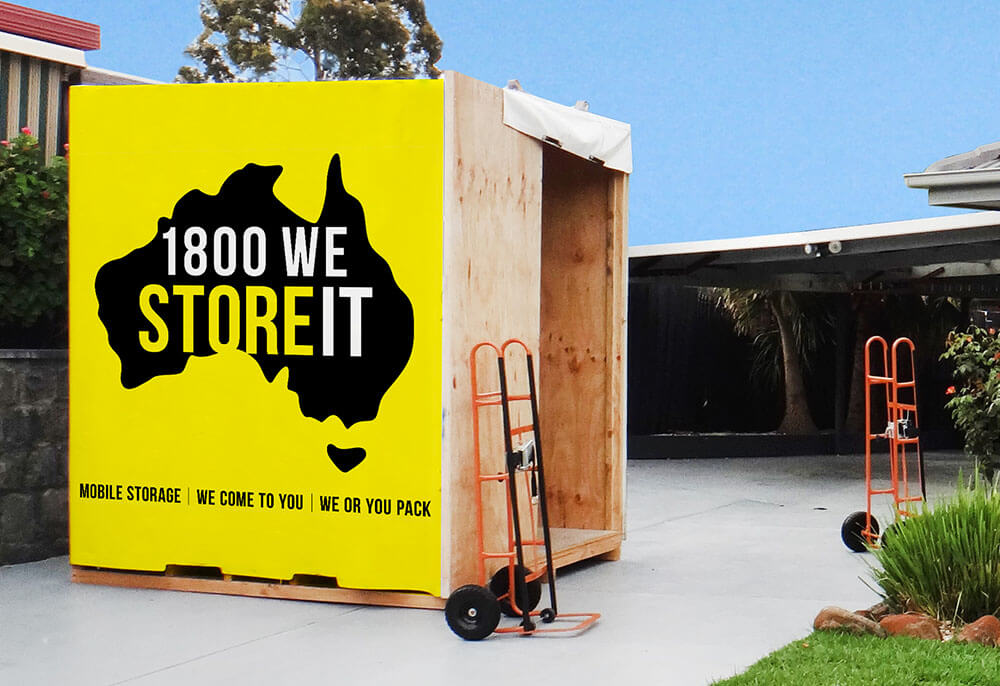 Holds the equivalent of 2 standard
bedrooms of goods.
Max. Dimensions: 
Height 2.6m, Width 1.8m, Length 2.4m
Capacity:
10 Cubic metres
Features:
Sturdy construction grade Indoor Storage units.
Supplied with 10 x Felt Furniture blankets FREE of charge.
8FT MOBILE STORAGE UNIT
Holds the equivalent of 2.5 standard
bedrooms of goods.
Dimensions: 
Height 2.4m, Width 2.1m, Length 2.3m
Capacity:
11.5 Cubic metres
Features:
Strong & Secure Steel Storage unit with internal Tie rails and fitted with external Padlock protector.
Supplied with 15x Felt Furniture blankets and 5x Furniture Tie-downs FREE of charge.
10FT MOBILE STORAGE UNIT
Holds the equivalent of 3 standard
bedrooms of goods.
Dimensions:
Height 2.9m, Width 2.4m, Length 3m
Capacity:
16.5 – 19 Cubic metres
Features:
Strong & Secure Steel Storage unit with internal Tie rails and fitted with external Padlock protector.
Supplied with 20x Felt Furniture blankets and 5x Furniture Tie-downs FREE of charge.
20FT MOBILE STORAGE UNIT
Holds the equivalent of a standard
3-4 bedroom home.
Dimensions:
Height 2.9m, Width 2.4m, Length 6m
Capacity:
33 – 38 Cubic metres
Features:
Strong & Secure Steel Storage unit with internal Tie rails and fitted with external Padlock protector.
Supplied with 40x Felt Furniture blankets and 10x Furniture Tie-downs FREE of charge.
Mobile Self Storage Mulgrave
End-to-End Mobile Storage Service
Mobile Storage units have reinvented the way people move and store all kinds of goods, eliminating the hassles associated with traditional Self Storage Mulgrave and providing convenience for home and business owners alike.
At 1800 We Store It, we adopted the innovative features of Mobile Storage and took them a notch higher to provide our valued clients with unmatched levels of safety, security, and quality of service. We offer Storage solutions that are tailored around your needs to make it easy for you to find the right amount of space for your goods, be it on a short-term or long-term basis.
As a trusted leader in the Storage industry, we are committed to consistently delivering the most secure Mobile Storage units, along with our outstanding service at the most competitive rates.
Mobile Storage and How It Works

Mobile Storage is a relatively new service where a Storage unit is delivered straight to your home or office. You can load your belongings or have our team do all the heavy lifting for you.
Once the Storage unit is fully loaded, you can choose to keep it on your premises for easy access or our team will pick it up and take it to our facility.
The flexibility and efficiency of our service spares you from the headache of hiring a truck to haul your belongings to a Storage facility. You also get to save time and effort involved with loading your goods into the truck, driving to the facility and then unloading them into the unit you rented.
These time, effort, and cost savings will again apply when you require your goods back because we deliver the Storage unit straight back to you. There is no hiring, loading, and unloading a truck as you would with conventional Self Storage.
Mobile Storage Solutions for a Variety of Applications

For Households…

Our Mobile Storage units are the ideal solution for residential Storage needs. Here are some of their most common uses:

Decluttering
It is not hard and it doesn't take long for a home or office to become cluttered. When the collection of excess or unused items becomes so much that they flank you as you move around, it's time to purge the clutter. With the help of our Mobile Storage unit, you can enjoy a clean and more organised living or work areas. Our unit can serve as an extension of your attic, basement, cupboards, wardrobe, and even your garage. You can use it to keep items that you don't use on a regular basis.

Renovating
Our Mobile Storage units are a convenient and cost-effective solution for keeping furniture, equipment, construction materials, or kitchen contents safe during renovation projects. Clothes, curtains, and beddings can be stored to keep them ready to use without having to wash. You can also keep items like books, vases, utensils and ornaments safely stowed, clean and dry. Lastly, having more space will allow you to move freely and get the job done fast.

Moving
This is a situation when you can easily get overwhelmed and find yourself stumped as to where to start. You can rely on us to help stay on top of things. Use our Storage unit to come up with a staged move instead of doing everything in one go. This means you can move your items in batches and keep the non-essential ones in the Storage unit until you are ready to settle into your new home.

For Businesses…

For most businesses, Storage is key to daily operations. Is yours reeling from the volume of paperwork or excess inventory? It's time to free up space and create a more productive workplace by using our Mobile Storage units. There are no fixed terms so Store your goods for as long or as short as you need.

Documents and Records
According to the Australian Taxation Office (ATO), business owners must keep records for at least 5 years, starting from when the records were obtained or when the transactions were completed . Such documents can accumulate fast. Reclaim precious workspace and store important documents in a Storage unit onsite or at our facility. We provide flexibility and versatility so you won't need to lease additional office or commercial space.

Excess Stock
If you're operating a business and find that your goods have overran your stock areas, our Mobile Storage units make great stock rooms. Spare yourself from logistical nightmares.
More and more businesses are discovering the benefits of using Storage units.
For instance, retail shops can keep off-season items in Storage units, which are useful for areas with limited warehouse space. Construction companies can also use them to securely stow tools and equipment. Overall, our Mobile Storage units provide much-needed space at a fraction of the cost of renting a warehouse or using traditional Self Storage Mulgrave facilities.
If you have any questions or if you wish to choose our service, please feel free to contact us at 1300 418 166 or email us at [email protected]
Get started today with a free no-obligation quote, and see how we can personalise our storage packages to suit your needs. Our friendly staff are on standby and ready to assist you with any and all of your requirements.
Drop us a line and we will be in touch within 24 hours. We'll get back to you with pricing and a solution.
Mulgrave and General Storage Information

Mulgrave is a suburb in Melbourne, located 21 km southeast of the city's central business district. At the 2016 Census, it had a population of 19,368. Its local government area is the City of Monash.
This green and tranquil suburb got its name from Mulgrave Castle in the English non metropolitan county of North Yorkshire. The Earl of Mulgrave Sir George Phipps served as the governor of the state of Victoria from 1879 to 1884.
Mulgrave is one of the few suburbs in Melbourne divided into two areas, with each sharing the same name without using the prefix East or West. It is in a prime location, being in close proximity to numerous schools, shopping centres, and local food businesses. No wonder it earned a reputation for being a family-friendly residential area.
In addition, Mulgrave is in a great spot if you need to travel via M1 and M3 freeways, Springvale or Wellington road. It's also just a few minutes away from Monash University, Springvale Home Maker Centre, M-City, Dandenong and Springvale Market
Public transport is convenient, with train stations like Noble Park, Sandown Park, and Springvale being within a 10-minute radius from the heart of the suburb.
Mulgrave Fast Facts

Area: 11.1 km2 (4.3 sq mi)
Population: 19,368
Population Density: 1,745/km2 (4,519/sq mi)
Postal Code: 3170
State Electorates: Mulgrave and Oakleigh
Federal Division: Hotham
Surrounding Suburbs: Notting Hill, Wheelers Hill, Scoresby, Clayton, Rowville, Springvale, Noble Park North, and Dandenong North
Median House Price: $1,000,000
Distance from Mulgrave to 1800 We Store It: 41 km or 47 minutes by car
Distance from Mulgrave to Melbourne CBD:
• 26.4 km or 28 minutes by car via M1
• 27.1 km or 33 minutes by car via State Route 18 and M1