Self Storage Maribyrnong
*FURNITURE STORAGE *BUSINESS STORAGE *RENOVATIONS
*DECLUTTERING *GENERAL STORAGE
Self Storage from just $1.10 per day.
Self Storage in Maribyrnong is up to 50% CHEAPER than other storage companies.
Here are just a few of the benefits of choosing 1800 We Store It's Self Storage Services
Hire a Pallet space, Pallet rack or a Mobile Storage unit
Mobile Storage unit sizes: 6ft, 8ft, 10ft & 20ft
No Fixed contracts, simply week by week arrangements
Store the Mobile Storage unit on your site or ours
Let our team do all the Heavy lifting & loading for you or do it yourself
Felt Furniture blankets & Tie downs supplied FREE of charge
Full range of Packing materials & covers available
24/7 monitored CCTV and alarmed security
Request your free no-obligation QUICK QUOTE today
Maribyrnong's most trusted Self Storage Company
Established in 2002, 1800 We Store It has been providing personalised self storage services in Maribyrnong for over 18 years.
You can find us in: Tullamarine, Laverton North, Richmond & Glen Waverley
Maribyrnong's Self Storage Options
We personalise our self storage services to your needs. Here are just some of the options we provide you with.
Our Mobile Storage Unit sizes
6ft MOBILE STORAGE UNIT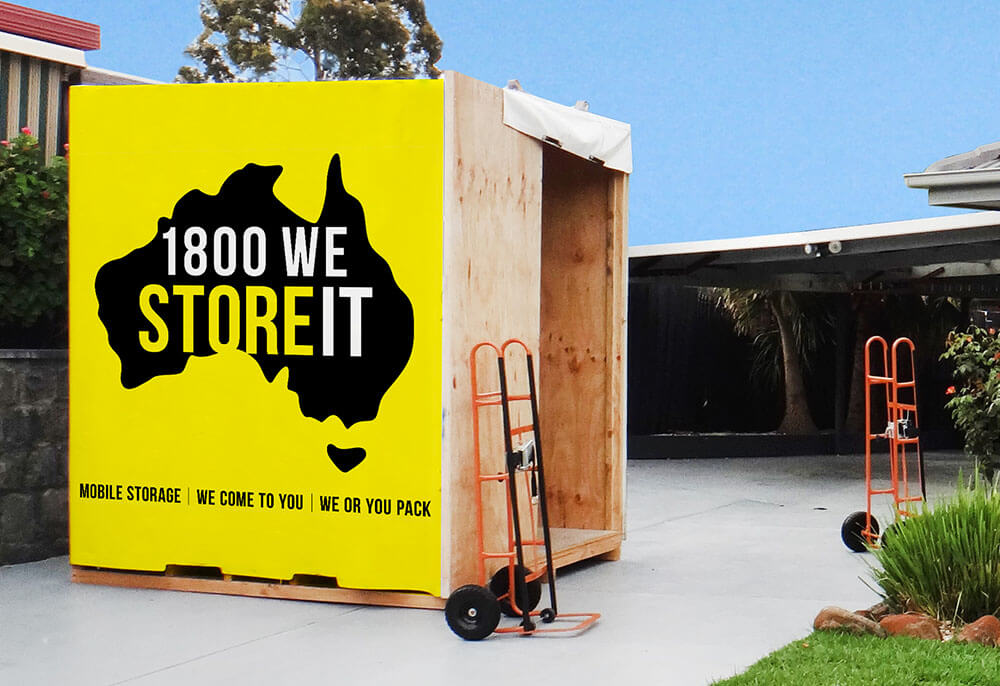 Holds the equivalent of 2 standard
bedrooms of goods.
Max. Dimensions: 
Height 2.6m, Width 1.8m, Length 2.4m
Capacity:
10 Cubic metres
Features:
Sturdy construction grade Indoor Storage units.
Supplied with 10 x Felt Furniture blankets FREE of charge.
8FT MOBILE STORAGE UNIT
Holds the equivalent of 2.5 standard
bedrooms of goods.
Dimensions: 
Height 2.4m, Width 2.1m, Length 2.3m
Capacity:
11.5 Cubic metres
Features:
Strong & Secure Steel Storage unit with internal Tie rails and fitted with external Padlock protector.
Supplied with 15x Felt Furniture blankets and 5x Furniture Tie-downs FREE of charge.
10FT MOBILE STORAGE UNIT
Holds the equivalent of 3 standard
bedrooms of goods.
Dimensions:
Height 2.9m, Width 2.4m, Length 3m
Capacity:
16.5 – 19 Cubic metres
Features:
Strong & Secure Steel Storage unit with internal Tie rails and fitted with external Padlock protector.
Supplied with 20x Felt Furniture blankets and 5x Furniture Tie-downs FREE of charge.
20FT MOBILE STORAGE UNIT
Holds the equivalent of a standard
3-4 bedroom home.
Dimensions:
Height 2.9m, Width 2.4m, Length 6m
Capacity:
33 – 38 Cubic metres
Features:
Strong & Secure Steel Storage unit with internal Tie rails and fitted with external Padlock protector.
Supplied with 40x Felt Furniture blankets and 10x Furniture Tie-downs FREE of charge.
Self Storage Maribyrnong
Are you running out of space at home or in the office? Use some of ours to better yours!
1800 We Store It offers the best Mobile Storage solution and you're guaranteed that it's convenient and cost-effective. Whether you are decluttering, renovating or moving, we have all of your storage needs covered!
We take pride in our personalized storage services that make it easy and simple for our residential, commercial, and businesses clients to move their goods into storage, be it on a short-term or long-term basis.
Trust the leader in Mobile Self-storage Maribyrnong. We are an end-to-end Mobile Storage service provider where you only deal with one reliable company for all your needs.
Mobile Storage and How It Works
You're likely familiar with traditional Self storage providers, and if you've used their service before, you know well how costly and inconvenient it is. Fortunately, Mobile Storage has addressed the pitfalls and now you won't have to hire a truck, load your goods, and drive to the storage warehouse, only to unload and pack everything into the unit you rented.
Mobile storage now provides an easier and more affordable way of moving items into storage. Here's how it works…
Our team will bring the storage unit to your home or office. You can pack the unit at your own pace and at the privacy of your own place. This is our Mobile Self storage service where you take responsibility of loading your stuff into the storage unit.
However, if you are busy or you want to spare yourself from the heavy lifting, you can go for our Mobile Serviced storage option. This is our premium service where our team of professional packers and movers do everything for you from start to finish.
Once all your items are safely loaded, you can choose to keep the Mobile Storage unit in your premises for easy and immediate access or we can transport it to our secure facility where it will stay until you need your goods back.
Store with Confidence in Our Custom-Made Storage Units
When choosing the right storage solution, don't settle for anything less than the best storage units in the industry. We offer fireproof, pest-proof, and weatherproof Mobile Storage units.
They are custom-built from reinforced steel so you're guaranteed ultimate protection for your precious belongings. They come in four sizes – 6ft, 8ft, 10ft and 20ft – so you can choose the size that suits the amount of space you need. More importantly, they are bigger and up to 50% cheaper than those of other Mobile Self storage Maribyrnong companies.
Our Mobile Storage units are perfect for a variety of personal and business applications including the following:
• General Storage
• Appliance / Furniture Storage
• Decluttering and Organizing
• Home Renovation / Remodeling
• Long / Short Distance Residential Moves
• Office / Business Relocation
• Additional Business Storage
• Trades and Inventory (e.g. tools, equipment, stock, general goods)
• Vehicle / Motorbike / Caravan / Yacht Storage
• Temporary Storage Shed, and more…
Professional Packing Services
People often forget that moving goods into storage involves more than just transporting your goods from Point A to Point B. Packing all sorts of items can be equally stressful and time consuming.
This is why we offer our professional packing services. Whether you need a few items packed or your entire home, 1800 We Store It has you covered. We can also pack up small to large offices, commercial establishments, gyms, factories, and more.
Packing is best done in an organized manner, so our team of expert packers follow industry standards, with a focus on the care and protection of your belongings. We only use the finest packing materials including porta robe cartons, book and wine cartons, bubble wrap, packing paper, tape, etc.
Here Are a Few More Reason to Choose Us:
With more than 18 years of peerless service, we have established ourselves as the most trusted storage company, not only in Maribyrnong, but also in the whole of Melbourne.
We provide custom-made felt furniture blankets and tie downs completely FREE of charge.
We have a fleet of custom-built vehicles equipped with hydraulic tailgates for easy loading, and airbag suspension which provides the smoothest and most stable ride so your goods won't move during transit.
We have a state-of-the-art facility that guarantees 100% secure storage thanks to the latest alarm, fire, and pest control systems, along with 24/7 CCTV surveillance.
We charge for storage per week via direct debit and you can access your unit Monday to Friday from 9:00am to 3:30pm. Access is FREE, just give us 48 hours notice.
If you have any questions or if you wish to choose our service, please feel free to contact us at 1300 418 166 or email us at info@1800westoreit.com.au
Get started with a FREE no-obligation quote and see how we can personalise our storage packages for you. Our friendly staff are on standby and ready to assist you with any and all of your requirements.
Maribyrnong and General Storage Information
Maribyrnong is an inner suburb located 8 km northwest of Melbourne. At the 2016 census, it had a population of 12,216. Its local government area is the City of Maribyrnong.
This sprawling suburb was named after the Maribyrnong River which borders it on three sides. To the south, it is bounded by Mephan Street, Owen Street, Rosamond Road, and Williamson Road.
The prominent feature of Maribyrnong is the Highpoint Shopping Centre, which is the fourth biggest shopping mall in Australia. It has more than 500 retailers and an assortment of eateries and grocery stores, so you have all your needs covered.
Maribyrnong Fast Facts
Area: 5.5 km2 (2.1 sq mi)
Population: 12,216
Population density: 2,221/km2 (5,750/sq mi)
Postal code: 3032
State electorate: Footscray
Federal divisions: Maribyrnong
Median house price: $997,499
Surrounding suburbs: Aberfeldie, Avondale Heights, Ascot Vale, Essendon West, Footscray, Maidstone, and Moonee Ponds
Distance from Maribyrnong to 1800 We Store It: 20 km or 21 minutes by car
Distance from Maribyrnong to Melbourne CBD: 9.6 km or 18 minutes by car via State Route 38 / 9.9 km or 18 minutes by car via Epsom Rd.