Mobile Self Storage Cairnlea
*FURNITURE STORAGE *BUSINESS STORAGE *RENOVATIONS
*DECLUTTERING *GENERAL STORAGE
Mobile Self Storage from just $1.10 per day.
Mobile Self Storage in Cairnlea is up to 50% CHEAPER than other storage companies.
Here are just a few of the benefits of choosing 1800 We Store It's Mobile Self Storage Services
Hire a pallet space, pallet rack or a Mobile Self Storage Unit
Mobile Self Storage Unit sizes: 6ft, 8ft, 10ft & 20ft
No fixed contracts, simply week by week arrangements
Store the Mobile Self Storage Unit on your site or ours
Let our team do all the heavy lifting & loading for you or do it yourself
Felt furniture blankets & tie downs supplied FREE of charge
Full range of packing materials & covers available
24/7 monitored CCTV and alarmed security
Request your free no-obligation QUICK QUOTE today
Cairnlea's most Trusted Mobile Self Storage Company
Established in 2002, 1800 We Store It has been providing personalised Mobile Self Storage Services in Cairnlea for over 18 years.
You can find us in: Tullamarine, Laverton North, Richmond & Glen Waverley
Cairnlea's Mobile Self Storage Options
We personalise our Mobile Self Storage Services to your needs. Here are just some of the options we provide you with.
Our Mobile Storage Unit sizes
6ft MOBILE STORAGE UNIT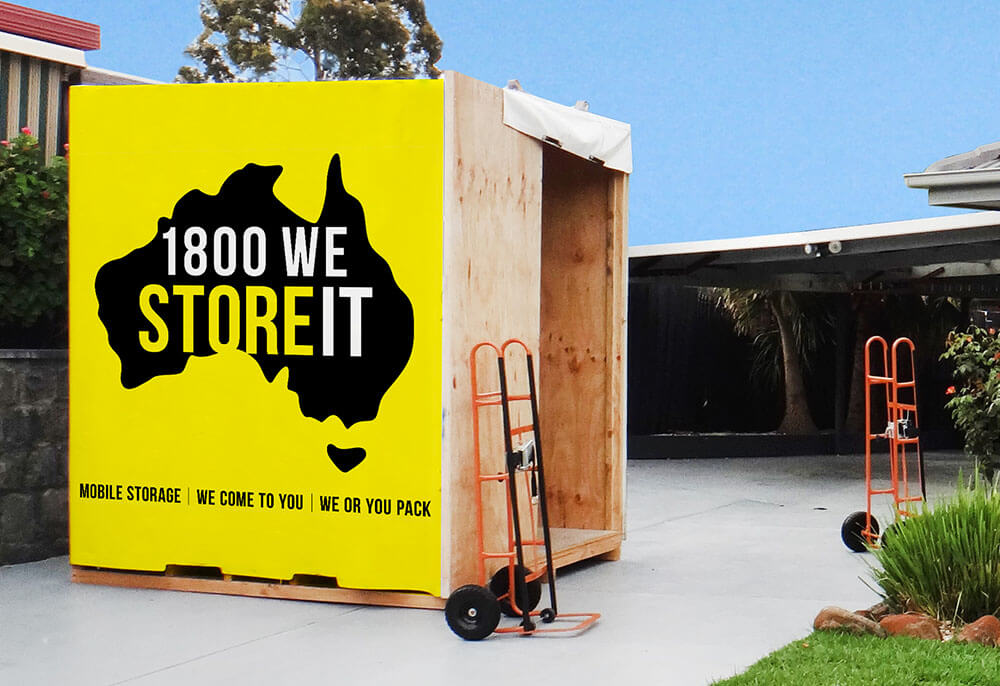 Holds the equivalent of 2 standard
bedrooms of goods.
Max. Dimensions: 
Height 2.6m, Width 1.8m, Length 2.4m
Capacity:
10 Cubic metres
Features:
Sturdy construction grade Indoor Storage units.
Supplied with 10 x Felt Furniture blankets FREE of charge.
8FT MOBILE STORAGE UNIT
Holds the equivalent of 2.5 standard
bedrooms of goods.
Dimensions: 
Height 2.4m, Width 2.1m, Length 2.3m
Capacity:
11.5 Cubic metres
Features:
Strong & Secure Steel Storage unit with internal Tie rails and fitted with external Padlock protector.
Supplied with 15x Felt Furniture blankets and 5x Furniture Tie-downs FREE of charge.
10FT MOBILE STORAGE UNIT
Holds the equivalent of 3 standard
bedrooms of goods.
Dimensions:
Height 2.9m, Width 2.4m, Length 3m
Capacity:
16.5 – 19 Cubic metres
Features:
Strong & Secure Steel Storage unit with internal Tie rails and fitted with external Padlock protector.
Supplied with 20x Felt Furniture blankets and 5x Furniture Tie-downs FREE of charge.
20FT MOBILE STORAGE UNIT
Holds the equivalent of a standard
3-4 bedroom home.
Dimensions:
Height 2.9m, Width 2.4m, Length 6m
Capacity:
33 – 38 Cubic metres
Features:
Strong & Secure Steel Storage unit with internal Tie rails and fitted with external Padlock protector.
Supplied with 40x Felt Furniture blankets and 10x Furniture Tie-downs FREE of charge.
Mobile Self Storage Cairnlea
When it comes to Mobile Storage, don't settle for anything less than the best. At 1800 We Store It, we take pride in offering the most secure and most cost-effective Storage services in the market today. We have the lowest rates and we consistently deliver outstanding services for as little as half the price of traditional Self Storage Cairnlea.
We ventured into the industry with the belief that Storage is an essential service. This conviction and our commitment to provide personalised Storage solutions is stronger than ever. As our clientele continue to grow, we continue to meet and exceed their expectations with top-notch products and peerless services.
Our client-centric approach, along with our strict adherence to industry norms and standards, have established our company as the most reliable Mobile Storage unit provider, not only in Cairnlea, but also in the whole of Melbourne.
The Mobile Storage Difference
Traditional Self Storage companies require you to rent a truck, drive back and forth to their facility, unload and reload your goods until your Storage unit is full.
Not with Mobile Storage! We will do the driving and deliver the Storage unit straight to your doorstep. Loading and unloading is only done once so the risks associated with double handling are eliminated. More importantly, you get to save precious time and money.
Here's how it works…
Our team of professional packers and movers can come directly to your location, pack up and load your goods into the Mobile Storage unit. Alternatively, you can do so yourself. Either way, we will provide Furniture blankets and tie downs at no extra cost.
Once all your items are packed and loaded, we can take the Storage unit to our facility for safekeeping. You can rest assured that your prized possessions are fully secured as we have a host of safety features in place to ensure maximum protection for everything that's under our care.
When you need your goods back, we'll deliver the Storage unit with all your items in the same pristine condition as the day they were loaded. It's so simple and easy, the way it's supposed to be!
Storage Solutions for Households and Businesses
We know quite well that no two clients have the same Storage needs, so we offer short- and long-term storage solutions that are tailored to your specific requirements and preferences.
Common Household Uses of Mobile Storage Units:
• Decluttering
• Renovation / Home Improvements
• Home Staging
• Moving / Relocating
• Packing Up Seasonal Clothing / Putting Away Seasonal Furniture
• Travelling / Extended Vacation
• Car Storage / Boat Storage / Motorbike Storage, and more
Common Business Uses of Mobile Storage Units
If your business is struggling with excess inventory or paperwork, simply give us a call and let's work something out. We know that running a business requires ample operating space, so we came up with innovative ways to add square footage to your workplace.
• Office Relocation
• Document / Files / Records Storage
• Free Up Office or Warehouse Space
• Excess Stock or Help with Industrial Removals
• Short-term Storage on Site (tools, equipment, supplies, etc.)
Here are a Few More Reasons to Choose 1800 We Store It
With competitive rates, better security, and less hassle, it's certainly a no brainer.
We have been in the Storage business for more than 18 years. You can rely on our wealth of experience and expertise to effectively address your quest for additional space. We'll get the job done without punching a hole in your pocket. Pay from just $3.30 per day for Mobile Storage options that suit you.
We only use custom-made Storage units that are 'best in class' in terms of quality. Each one is crafted from the highest-grade industrial steel so you'll get vault-like protection for your goods. They come in four sizes – 6ft, 8ft, 10ft, 20ft – and they are up to 50% cheaper than those of other Self Storage Cairnlea companies.
We offer premium packing materials and professional packing services. Whether you're dealing with a few fragile items or the contents of your entire home, we can help. Whatever you need packed, our team can handle it. We've packed homes of all sizes and we can also pack up small to large offices, factories, gyms, commercial establishments, among others.
We maintain a fleet of custom-built vehicles with hydraulic tailgates so it's easy to load and unload your belongings. They also have airbag suspension for a smooth and stable ride so your goods won't move and get damaged during transit.
Lastly, we take pride in our state-of-the-art Storage facility as it features some of the latest alarm, pest and fire control systems, along with ultra-high resolution CCTV cameras that monitor every square inch of our premises 24/7.
If you have any questions or if you wish to choose our service, please feel free to contact us at 1300 418 166 or email us at [email protected]
Get started today with a free no-obligation quote, and see how we can personalise our Storage packages to suit your needs. Our friendly staff are on standby and ready to assist you with any and all of your requirements.
Drop us a line and we will be in touch within 24 hours. We'll get back to you with pricing and a solution.
Cairnlea and General Suburb Information
Cairnlea is a suburb in Melbourne, located 17 km northwest of the city's Central Business District. At the 2021 census, it recorded a population of 10,038. Its local government area is the City of Brimbank.
This burgeoning suburb is a new estate, with development commencing in 1999. Cairnlea features a number of man-made lakes and has enforced a suburb-wide stormwater recycling system that supplies all the lakes.
Covering an area of 4.6 square kilometres (460 hectares), Cairnlea is bounded by Station Road, the Western Ring Road, and the Western Highway. About 130 hectares or 28% of the total area has been set aside for public open space.
At the heart of this green and serene suburb is the Cairnlea Shopping Centre which features several small shops, a super-clinic, a Coles supermarket, and a number of dining outlets. Other amenities include the Ballarat Road Strip Shops, Cairnlea Park Primary School and Victoria University Secondary College, Sunshine Hospital, Deer Park / Ginifer Train Station, and bus stop services on Furlong Road and Station Road.
Cairnlea Fast Facts
Established: 1999
Population: 10,038
Postcode: 3023
State Electorate: Kororoit
Federal Division: Fraser
Median House Price: $922,500
Surrounding Suburbs: St Albans, Deer Park, and Ardeer
Distance from Cairnlea to 1800 We Store It: 10km or 14 minutes by car
Distance from Cairnlea to Melbourne CBD:
• 26.0 km or 26 minutes by car via M2
• 19.2 km or 27 minutes by car via Ballarat Rd/State Route 8
• 26.2 km or 27 minutes by car via M1