Mobile Self Storage North Melbourne
*FURNITURE STORAGE *BUSINESS STORAGE *RENOVATIONS
*DECLUTTERING *GENERAL STORAGE
Mobile Self Storage from just $1.10 per day.
Mobile Self Storage in North Melbourne is up to 50% CHEAPER than other storage companies.
Here are just a few of the benefits of choosing 1800 We Store It's Mobile Self Storage Services
Hire a pallet space, pallet rack or a Mobile Self Storage Unit
Mobile Self Storage Unit sizes: 6ft, 8ft, 10ft & 20ft
No fixed contracts, simply week by week arrangements
Store the Mobile Self Storage Unit on your site or ours
Let our team do all the heavy lifting & loading for you or do it yourself
Felt furniture blankets & tie downs supplied FREE of charge
Full range of packing materials & covers available
24/7 monitored CCTV and alarmed security
Request your free no-obligation QUICK QUOTE today
North Melbourne's most Trusted Mobile Self Storage Company
Established in 2002, 1800 We Store It has been providing personalised Mobile Self Storage Services in North Melbourne for over 18 years.
You can find us in: Tullamarine, Laverton North, Richmond & Glen Waverley
North Melbourne's Mobile Self Storage Options
We personalise our Mobile Self Storage Services to your needs. Here are just some of the options we provide you with.
Our Mobile Storage Unit sizes
6ft MOBILE STORAGE UNIT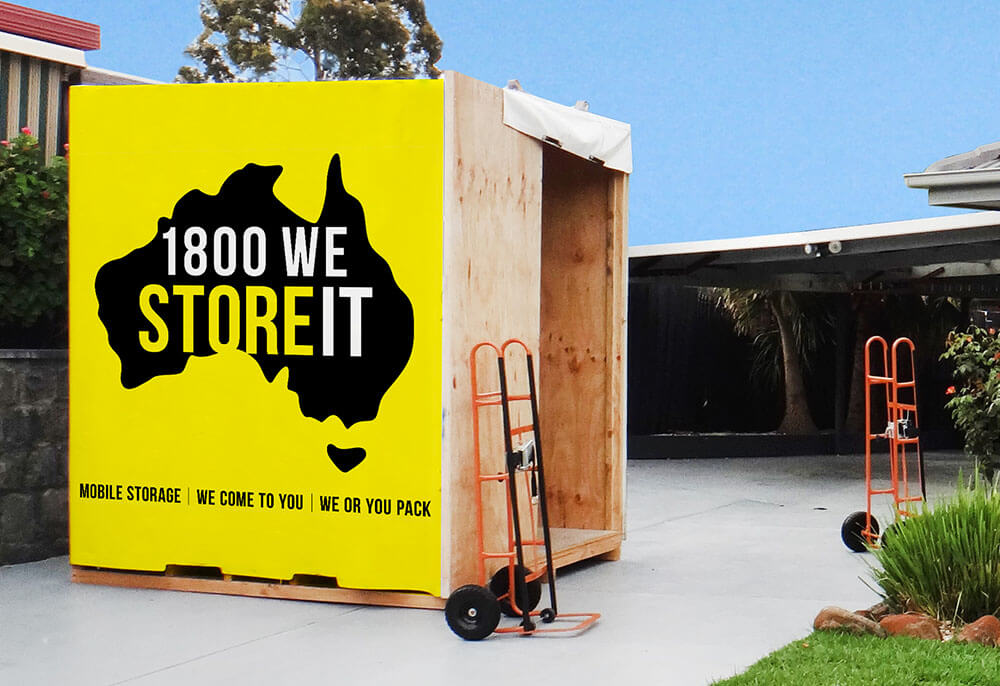 Holds the equivalent of 2 standard
bedrooms of goods.
Max. Dimensions: 
Height 2.6m, Width 1.8m, Length 2.4m
Capacity:
10 Cubic metres
Features:
Sturdy construction grade Indoor Storage units.
Supplied with 10 x Felt Furniture blankets FREE of charge.
8FT MOBILE STORAGE UNIT
Holds the equivalent of 2.5 standard
bedrooms of goods.
Dimensions: 
Height 2.4m, Width 2.1m, Length 2.3m
Capacity:
11.5 Cubic metres
Features:
Strong & Secure Steel Storage unit with internal Tie rails and fitted with external Padlock protector.
Supplied with 15x Felt Furniture blankets and 5x Furniture Tie-downs FREE of charge.
10FT MOBILE STORAGE UNIT
Holds the equivalent of 3 standard
bedrooms of goods.
Dimensions:
Height 2.9m, Width 2.4m, Length 3m
Capacity:
16.5 – 19 Cubic metres
Features:
Strong & Secure Steel Storage unit with internal Tie rails and fitted with external Padlock protector.
Supplied with 20x Felt Furniture blankets and 5x Furniture Tie-downs FREE of charge.
20FT MOBILE STORAGE UNIT
Holds the equivalent of a standard
3-4 bedroom home.
Dimensions:
Height 2.9m, Width 2.4m, Length 6m
Capacity:
33 – 38 Cubic metres
Features:
Strong & Secure Steel Storage unit with internal Tie rails and fitted with external Padlock protector.
Supplied with 40x Felt Furniture blankets and 10x Furniture Tie-downs FREE of charge.
Mobile Self Storage North Melbourne
Clutter is indicative of an overabundance of belongings that create chaotic and disorderly living or working spaces. At some point in your life, you will need to move some of those items into Storage. The quest for additional space is a fact of life and you just need to deal with it. The problem is how to get your prized possessions to a Storage facility.
Here at 1800 We Store It, we offer households and businesses a secure and cost-effective way of Storing all sorts of goods. Whether you're dealing with heaps of office documents or the contents of your entire house, we've got you covered!
We provide a simple and convenient solution to decluttering, downsizing, moving and other related tasks by bringing a Mobile Storage unit directly to your doorstep. Our team can take care of the delivery, loading and storage so you don't have to. We even give you the option to pack your own Storage unit from the comfort of your home or office.
No stress, no hassle and no double handling of your belongings. Mobile Self Storage North Melbourne has never been easier! You get to save time, money and effort with our personalised storage solutions:
• Simply give us a call and we'll deliver a Mobile Storage unit on your preferred date and location.
• You can pack the unit yourself or leave all the hard work to our professional removalists.
• You can store the unit onsite or we transport the storage unit back to our secure facility.
Storage Solutions Tailored to Your Needs
We have been providing exceptional service since 2002, and if there's one thing that years of experience has taught us, it's the fact that no two clients have the same Storage requirements and preferences. We therefore made it a point to personalise our services to better cater to the unique needs of our valued clients.
So, if you are running out of space and you're looking for a tailored solution that won't punch a hole in your pocket, you've come to the right place! 1800 We Store It is your best bet.
Here are the Benefits of Storing with Us:
Flexible Storage
We give you flexibility by providing options every step of the way – from the initial phone call till you get your goods back. You get to choose the Storage unit size that will suit the exact amount of space you need. Our four Storage unit sizes range in capacity from 10 to 38 cubic metres, capable of holding 2 standard bedrooms of goods to the contents of a 3 to 4-bedroom home.
Flexible and Transparent Payment…
Forget about lock in contracts, hidden fees or premium charges. The benefits of storing with us go beyond the benefits of having more space for your belongings. We provide the best value for money and you can go for our mobile storage service for as low as $3.30 per day!
Safe and Secure…
Modesty aside, our Mobile Storage units are the 'best in class' when it comes to durability, utility, and safety. Each one is custom-built from reinforced steel and specifically designed to be fire proof, pest proof, and weatherproof. You therefore get maximum protection for your personal or business effects.
As added security measures, all of our Storage units come with tie rails so you can secure your items and we will provide FREE furniture tie downs. They also have padlock protectors to safeguard against tampering and theft.
As for our Storage facility, we invested a great deal of time and planning so it's purpose-built to provide vault-like protection for your goods. We have installed state-of-the-art alarm, fire, and pest control systems, along with 24/7 CCTV surveillance cameras to ensure that your belongings stay safe and sound while under our care.
Premium Packing Materials…
At 1800 We Store It, we strive to cater to all your Storage needs so we keep in stock a complete range of quality packing materials including porta robe cartons, book and wine cartons, bubble wrap, packing paper, tape, and a lot more. We have everything you need so you don't have to go elsewhere and deal with another self storage North Melbourne company.
Professional Packing Service…
You'll never realise how much goods you have until you need to pack them up. We understand that packing a Storage unit is tedious and time-consuming. There's also a proper way of packing to minimise the risk of damage to your goods. This is why we offer professional packing service. Our team has the tools, training and equipment to safely and efficiently pack your Storage unit.
Over the course of nearly two decades, we have packed homes of all sizes and we can also pack up small to large offices, factories, gyms, commercial establishments, among others. Our expert packers are trained to use techniques that ensure the ideal packing of every item regardless of quantity, fragility or value – from kids' toys to grandma's antiques and collectibles. Whatever you need packed, whether it's odd-shaped or an oversized item, we can do it all!
If you have any questions or if you wish to choose our service, please feel free to contact us at 1300 418 166 or email us at [email protected]
Get started today with a free no-obligation quote, and see how we can personalise our Storage packages to suit your needs. Our friendly staff are on standby and ready to assist you with any and all of your requirements.
Drop us a line and we will be in touch within 24 hours. We'll get back to you with pricing and a solution.
North Melbourne and General Storage Information
North Melbourne is an inner-city suburb in Melbourne, located 3 kilometres northwest of the city's Central Business District. At the 2021 census, it recorded a population of 14,953.
This multicultural suburb is bounded by Flemington Road to the north, Victoria Street to the south, O'Connell and Peel Streets to the east, and the CityLink freeway to the west. Its local government area (LGA) has been the City of Melbourne since July 2008, when it took charge of the administration of certain sections of Kensington and North Melbourne that used to be under the City of Moonee Valley. This led to an increase of 4,760 residents and nearly 3,000 labourers (2006 Census).
Previously known as Hotham, North Melbourne was predominantly a working-class area and was one of the first towns in the state of Victoria to be granted municipal status. Today it is defined by boutique shopping, excellent primary and secondary schools, warehouse apartments, vibrant immigrant communities, and a diverse and impressive range of cafes and restaurants.
North Melbourne is continuing to gentrify to match more contemporary suburbs, but a walk through its thoroughfares will show remaining commerce and industry facilities such as car yards, offices, storage facilities, and small manufacturing plants. Go further north and you'll find the historic Meat Market and the North Melbourne Recreation Centre (NMRC) which features aquatic amenities and a stadium complex.
North Melbourne Fast Facts
Established: 1850s
Area: 2.4 km2 (0.9 sq mi)
Population Density+: 6,230/km2 (16,100/sq mi)
Postcode: 3051
State Electorate: Melbourne
Federal Divisions: Melbourne
Median House Price: $1,285,000
Surrounding Suburbs: Flemington, Parkville, Kensington, Carlton, and West Melbourne
Distance from North Melbourne to 1800 We Store It: 20 km or 34 minutes by car
Distance from North Melbourne to Melbourne CBD:
• 2.4 km or 8 minutes by car via Princes Hwy/A60/State Route 60
• 2.0 km or 9 minutes by car via Elizabeth St.
• 2.3 km or 10 minutes by car via Arden St and Elizabeth St