Mobile Self Storage Seddon
*FURNITURE STORAGE *BUSINESS STORAGE *RENOVATIONS
*DECLUTTERING *GENERAL STORAGE
Mobile Self Storage from just $1.10 per day.
Mobile Self Storage in Seddon is up to 50% CHEAPER than other storage companies.
Here are just a few of the benefits of choosing 1800 We Store It's Mobile Self Storage Services
Hire a pallet space, pallet rack or a Mobile Self Storage Unit
Mobile Self Storage Unit sizes: 6ft, 8ft, 10ft & 20ft
No fixed contracts, simply week by week arrangements
Store the Mobile Self Storage Unit on your site or ours
Let our team do all the heavy lifting & loading for you or do it yourself
Felt furniture blankets & tie downs supplied FREE of charge
Full range of packing materials & covers available
24/7 monitored CCTV and alarmed security
Request your free no-obligation QUICK QUOTE today
Seddon's most Trusted Mobile Self Storage Company
Established in 2002, 1800 We Store It has been providing personalised Mobile Self Storage Services in Seddon for over 18 years.
You can find us in: Tullamarine, Laverton North, Richmond & Glen Waverley
Seddon's Mobile Self Storage Options
We personalise our Mobile Self Storage Services to your needs. Here are just some of the options we provide you with.
Our Mobile Storage Unit sizes
6ft MOBILE STORAGE UNIT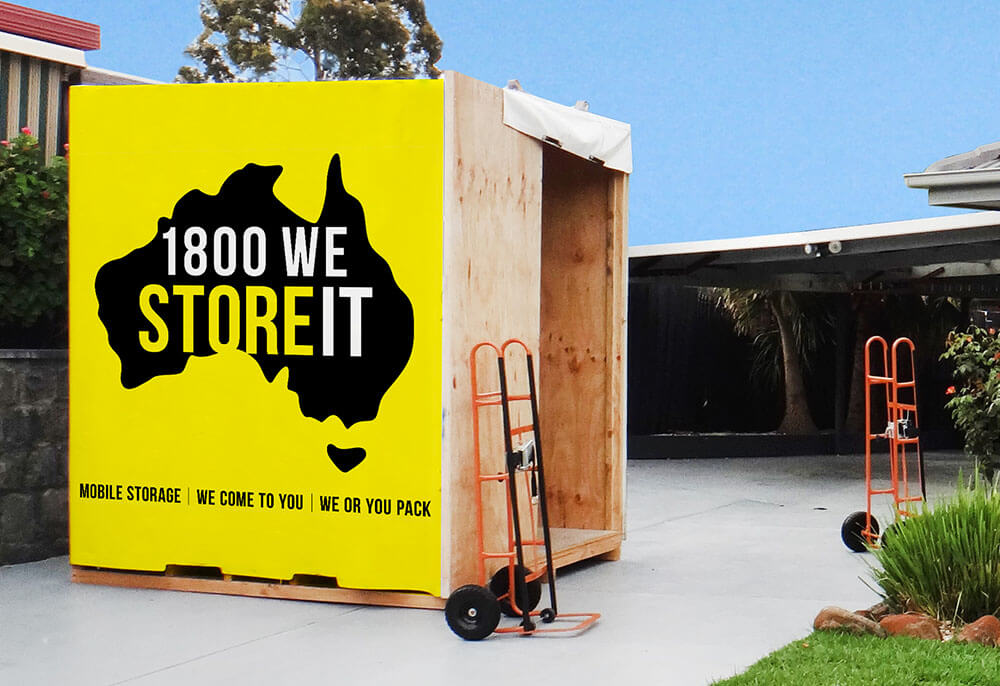 Holds the equivalent of 2 standard
bedrooms of goods.
Max. Dimensions: 
Height 2.6m, Width 1.8m, Length 2.4m
Capacity:
10 Cubic metres
Features:
Sturdy construction grade Indoor Storage units.
Supplied with 10 x Felt Furniture blankets FREE of charge.
8FT MOBILE STORAGE UNIT
Holds the equivalent of 2.5 standard
bedrooms of goods.
Dimensions: 
Height 2.4m, Width 2.1m, Length 2.3m
Capacity:
11.5 Cubic metres
Features:
Strong & Secure Steel Storage unit with internal Tie rails and fitted with external Padlock protector.
Supplied with 15x Felt Furniture blankets and 5x Furniture Tie-downs FREE of charge.
10FT MOBILE STORAGE UNIT
Holds the equivalent of 3 standard
bedrooms of goods.
Dimensions:
Height 2.9m, Width 2.4m, Length 3m
Capacity:
16.5 – 19 Cubic metres
Features:
Strong & Secure Steel Storage unit with internal Tie rails and fitted with external Padlock protector.
Supplied with 20x Felt Furniture blankets and 5x Furniture Tie-downs FREE of charge.
20FT MOBILE STORAGE UNIT
Holds the equivalent of a standard
3-4 bedroom home.
Dimensions:
Height 2.9m, Width 2.4m, Length 6m
Capacity:
33 – 38 Cubic metres
Features:
Strong & Secure Steel Storage unit with internal Tie rails and fitted with external Padlock protector.
Supplied with 40x Felt Furniture blankets and 10x Furniture Tie-downs FREE of charge.
Mobile Self Storage Seddon
Mobile Storage Solutions Delivered to Your Door
Are you a homeowner planning to declutter, move or downsize? Perhaps you run a business and you have more goods than your warehouse can store. Are you looking for an easy way to keep your tools and equipment secure on a job site?
Our Mobile Storage units can serve as the ideal solution for any type of move, relocation of inventory, or Storing retail items for your business. They are great if you're looking to declutter your home so it looks clean and spacious when staging your house. They are also a cost-effective solution for businesses wanting to avoid renting extra warehouse space.
A Trusted Leader in the Storage Industry
As one of the pioneers of Mobile Storage, 1800 We Store It started its journey in 2002, with the commitment to consistently deliver stress-free Storage solutions to households and businesses in Melbourne and its suburbs.
We set out to fix the flaws of traditional Self Storage Seddon, and we succeeded by bringing Storage units straight to your doorstep – saving you precious time, money and effort while ensuring the security of your belongings.
We are not your typical Storage company. Our team of professional packers and movers has been providing exceptional service to our clients for more than 18 years. We have the experience and expertise to get the job done right every single time, and we provide the extra space that you need at the most competitive rates.
Storage Solutions Tailored to Your Needs
We understand that our clients' Storage requirements and preferences vary, so we make sure to personalise our services. We will discuss with you your specific needs and then we'll come up with a tailored solution.
For a start, check out these options…
Mobile Serviced Storage
This is our premium service that allows us to take the stress out of Storage. It is a 'set-and-forget' type of service where one phone call does it all… we take care of everything from start to finish! This works in three simple steps:
1. We will bring the Mobile Storage unit to your home or office
2. Our team will do all the heavy lifting and pack the unit for you; all items will be wrapped in felt blankets before they are loaded to your unit; everything will be secured in place using tie downs so nothing moves during transit
3. Once all your items have been safely loaded, we'll transport the Storage unit to our facility for safekeeping. You can access your goods during weekdays from 7:00am and 3:30pm. All we ask is you give us 48 hours' notice
Mobile Self-Storage
This is basically the same as Mobile Serviced Storage. You'll still get the same quality service; the only difference is that you'll be responsible for loading the boxes and all the other items into your unit.
The upside is you'll get to do so at your own pace and schedule. You can also call in some friends and family to help out. When you're done, simply give us a call and we'll collect the storage unit and take it back to our facility.
Note that you can opt to keep the Storage unit onsite at your premise or have it taken away for Storage at our facility.
• Our Mobile Storage solutions are up to 50% cheaper than those of other service providers. As Melbourne's most trusted and most reliable Storage specialist, we have made it our goal to consistently deliver the best storage services and ensure that our rates are competitive, if not the lowest in the market.
• We only use Storage units that are 'best in class' in terms of durability, quality and value for money. Custom-made from reinforced steel, they are fully sealed, fireproof, pest proof, and weatherproof so your prized possessions get the ultimate protection. They are available in four sizes – 6ft, 8ft, 10ft, and 20ft – so you can choose the one that suits the amount of space you need.
• Premium packing supplies and professional packing services are also available. Whatever you need packed, our packing experts can get the job done. They are trained to wrap and pack items regardless of fragility, quantity or value. We've packed homes of all sizes and we can also pack up small to large offices, factories, gyms, commercial establishments, among others.
• We have a cutting-edge storage facility that has been outfitted with some of the latest alarm systems and 24/7 CCTV surveillance cameras. Our premises are kept clean and secured to the highest possible standard.
If you have any questions or if you wish to choose our service, please feel free to contact us at 1300 418 166 or email us at [email protected]
Get started today with a free no-obligation quote, and see how we can personalise our storage packages to suit your needs. Our friendly staff are on standby and ready to assist you with any and all of your requirements.
Drop us a line and we will be in touch within 24 hours. We'll get back to you with pricing and a solution.
Seddon and General Storage Information
Seddon is an inner-city suburb in Melbourne, located 7 km west of the city's Central Business District. At the 2021 census, it recorded a population of 5,143. Its local government area is the City of Maribyrnong.
Located north of Yarraville and south of Footscray, Seddon used to be a working-class, semi-industrial suburb. In recent years, it has seen rapid growth because of its close proximity to the Melbourne City Centre.
Seddon was originally called Belgravia and was officially declared a suburb in 1906. It was named after Richard Seddon, the Prime Minister of New Zealand from 1893-1906, who lived there before moving to Bendigo and later to New Zealand.
This charming and serene suburb features an array of small gardens, parks and playgrounds. Harris Reserve is a lovely little village park located on the corner of Gamon Street and Thomson Street. There is also Bristow Reserve which is a favorite among kids and situated on the corner of John Street and Pilgrim Street. The largest green space is Mappin Reserve which can be found between Bell Street and Nicholson Street.
What people generally love about Seddon is that there's a great vibe to it and almost everything can be done on foot – and when you need to go somewhere farther away, there's excellent public transport.
Seddon Fast Facts
Area: 1 km2 (0.4 sq mi)
Established: 1906
Population Density: 5,100/km2 (13,000/sq mi)
Postcode: 3011
State Electorate: Williamstown
Federal Division: Gellibrand
Median House Price: $1,152,500
Surrounding Suburbs: Footscray, Kingsville, and Yarraville
Distance from Seddon to 1800 We Store It: 11.5 km or 18 minutes by car
Distance from Seddon to Melbourne CBD:
• 7.3 km or 19 minutes by car via State Route 32
• 7.7 km or 18 minutes by car via State Route 50
• 7.9 km or 21 minutes by car via State Route 50 and Arden St