Mobile Self Storage Wantirna South
*FURNITURE STORAGE *BUSINESS STORAGE *RENOVATIONS
*DECLUTTERING *GENERAL STORAGE
Mobile Self Storage From Just $1.10 Per Day.
Mobile Self Storage in Wantirna South is up to 50% CHEAPER than other storage companies.
Here are just a few of the benefits of choosing 1800 We Store It's Mobile Self Storage Services.
Multiple Mobile Self Storage Unit sizes being 6ft, 8ft, 10ft & 20ft

Storage Unit delivery & pickup services
Storage Unit loading & unloading services
Store the Mobile Self Storage Unit at your place or at one of our facilities
Let our team do all the heavy lifting & loading for you or do it yourself
No fixed contracts, simply week by week arrangements
Felt furniture blankets & tie downs supplied FREE of charge
Full range of packing materials & protective covers available
24/7 monitored CCTV and alarmed security
Request your free no-obligation QUICK QUOTE Today
Wantirna South's Most Trusted Mobile Self Storage Company
Established in 2002, 1800 We Store It has been providing personalised Mobile Self Storage Services in Wantirna South for over 20 years.
You can find us in: Tullamarine, Laverton North, Richmond & Glen Waverley
Wantirna South's Mobile Self Storage Options
We personalise our Mobile Self Storage Services to your needs. Here are just some of the options we provide you with.
Our Mobile Storage Unit sizes
6ft MOBILE STORAGE UNIT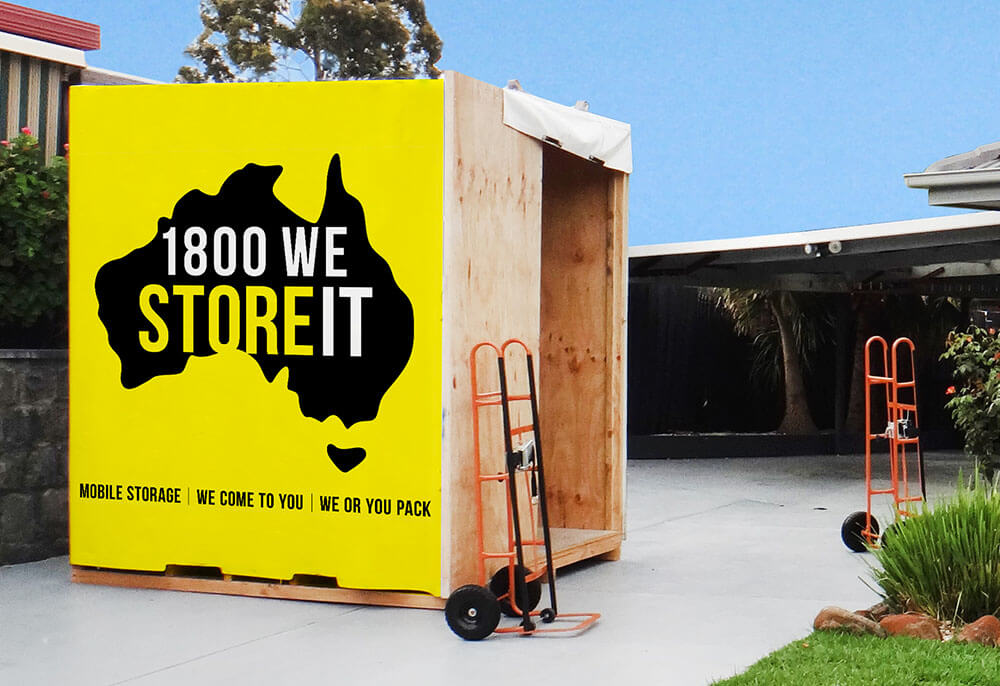 Holds the equivalent of 2 standard
bedrooms of goods.
Max. Dimensions: 
Height 2.6m, Width 1.8m, Length 2.4m
Capacity:
10 Cubic metres
Features:
Sturdy construction grade Indoor Storage units.
Supplied with 10 x Felt Furniture blankets FREE of charge.
8FT MOBILE STORAGE UNIT
Holds the equivalent of 2.5 standard
bedrooms of goods.
Dimensions: 
Height 2.4m, Width 2.1m, Length 2.3m
Capacity:
11.5 Cubic metres
Features:
Strong & Secure Steel Storage unit with internal Tie rails and fitted with external Padlock protector.
Supplied with 15x Felt Furniture blankets and 5x Furniture Tie-downs FREE of charge.
10FT MOBILE STORAGE UNIT
Holds the equivalent of 3 standard
bedrooms of goods.
Dimensions:
Height 2.9m, Width 2.4m, Length 3m
Capacity:
16.5 – 19 Cubic metres
Features:
Strong & Secure Steel Storage unit with internal Tie rails and fitted with external Padlock protector.
Supplied with 20x Felt Furniture blankets and 5x Furniture Tie-downs FREE of charge.
20FT MOBILE STORAGE UNIT
Holds the equivalent of a standard
3-4 bedroom home.
Dimensions:
Height 2.9m, Width 2.4m, Length 6m
Capacity:
33 – 38 Cubic metres
Features:
Strong & Secure Steel Storage unit with internal Tie rails and fitted with external Padlock protector.
Supplied with 40x Felt Furniture blankets and 10x Furniture Tie-downs FREE of charge.
Mobile Self Storage Wantirna South
1800 We Store It offers storage solutions that fit in with your budget and schedule. We will deliver a safe and cost-efficient storage solution straight to your door instead of you wasting time and effort searching for it.
Is it really that simple? Yes, because we tailor our service to your specific needs. Our mobile self storage Wantirna South service is extremely versatile and flexible and we're proud to have catered to the storage needs of Melburnians since 2002.
Space is always at a premium in households and businesses, especially with today's modern lifestyle. Leave all your storage problems to us instead of choosing to hurdle the problems of storing at a traditional storage facility.
With us, there's no need to rent a truck, wrestle traffic, and go through the hassle of double handling your belongings. We can even provide all the packing materials you'll need at really affordable prices. We know how to meet the challenge of increasing storage space and we can provide the additional room you need wherever, whenever and however you need it.
Try our personalised mobile storage solutions today. With our custom-made storage units, professional removalists, and state-of-the-art facility, you've got nothing to lose, except all the clutter!
Our mobile storage service offers the same benefits as traditional self storage, but with the added bonus of transport. You stay put, there's no need to leave the comfort of your home or office. Our team will bring the storage unit straight to your doorstep. Here's how the whole process works…
You Book
Simply book online or give us a call. Discuss with our friendly staff to work out the best storage solution for your specific requirements and preferences.
We Deliver
Your mobile storage unit will be delivered on the date and time you requested. Rest assured that you'll be getting the best storage unit(s) in the industry. Each one is custom-made from reinforced steel so you get the ultimate protection for your prized possessions. In addition, you can choose from four sizes (6ft, 8ft, 10ft and 20ft) so you don't end up short on space or rent a unit that will only be half full.
You Pack or We Do
You have the option to load your storage unit on your own or have our team do all the hard work for you (premium service). The do-it-yourself option works best if you are not pressed for time and you have friends and family around and willing to help. Our premium service is a set-and-forget service where we literally take care of everything from start to finish. You can sit back, relax or attend to more important matters.
You Store or We Do
At 1800 We Store It, we strive to give you utmost flexibility. That's why we provide as many options as possible. If you want easy and immediate access to your goods, you can opt to keep the mobile storage unit onsite at your premises.
Otherwise, we will transport it to one of our facilities, which boast some of the latest security measures, including alarms, fire control systems, and ultra high-definition CCTV cameras. We also have gated entry and perimeter fences to ensure you get maximum security for your items while they'under our care.
Making Storage Easy Since 2002
The trademark of our company is our consistent delivery of outstanding customer service. We're proud that our team is one of the best in the industry – friendly, efficient, and with lots of excellent feedback to boot.
We keep things simple and transparent – we'll tell you about all the upfront costs – there's no fine print, no hidden fees or surprise charges. In fact, you won't get charged anything until your goods are safely stored, and even then, you will only pay for the days you'll use.
Melbourne's Most Trusted Mobile Storage Company
We are an Australian-owned and operated business and we have been moving and storing goods for Melbourne families and businesses for more than 20 years. Our mission is to be an industry leader by providing personalised storage solutions and delivering exceptional service at the most competitive rates.
Life is tough these days with competing demands on your time. Mobile self storage Wantirna South doesn't have to be! Let us take the stress and hassle out of your personal or business storage needs. When you engage our service, we go above and beyond to exceed your expectations. You can store with confidence knowing that you're dealing with the most trusted storage company, not only in Wantirna South, but in the whole of Melbourne!
We guarantee that our team will get the job done in the easiest, most efficient, and most cost-effective way possible.
If you have any questions or if you wish to choose our service, please feel free to contact us at 1300 418 166 or email us at [email protected]
Get started today with a free no-obligation quote, and see how we can personalise our storage packages to suit your needs. Our friendly staff are on standby and ready to assist you with any and all of your requirements.
Drop us a line and we will be in touch within 24 hours. We'll get back to you with pricing and a solution.
Wantirna South and General Storage Information
Wantirna South is a suburb in Melbourne, located 25 kilometres east of the city's Central Business District. At the 2021 census, it recorded a population of 20,754. Its local government area is the City of Knox. It's a border suburb to the cities of Monash and Whitehorse.
It is a huge suburb that stretches from the Dandenong Valley Parklands and rural Wingwood to the Yarra Ranges, which is an extensive mountainous area of temperate forest.
Wantirna South was predominantly used for orchards until around 80 years ago. Demand for residential properties increased in the 1920s and Wantirna South became a new hub for housing development. Three decades later, it emerged as a major shopping area because of its location at the junction of multiple transport routes. This attracted post-war home buyers and the population ballooned in the 1960s.
Several new residential estates have expanded the suburb's dwelling capacity. As a result, new facilities and a plethora of parks and community gardens have been established. The increase in dwelling density is expected to continue into the future.
Wantirna South features a number of attractions such as the Rembrandts building, the headquarters of the Knox City Council, and the Westfield Knox shopping centre, which was built in the 1970s. Today, the area is called Knox O-Zone, a popular night spot with a pub, chic clubs, restaurants, and a cinema. A $500 million renovation of the shopping centre is underway and set to make Westfield Knox the largest shopping centre in Australia.
Overall, Wantirna South is an exceptional suburb and just like most of Melbourne's eastern outskirts, it is very clean and green. It is close to the city, beaches aren't far, Mt. Dandenong, Knox City, Eastland and The Glen are all a short drive. Wantirna South is certainly poised to become a blue-chip suburb in a few years.
Wantirna South Fast Facts
Area: 13.4 km2 (5.2 sq mi)
Population Density: 1,549/km2 (4,011/sq mi)
Postcode: 3152
State Electorate: Ferntree Gully
Federal Division: Aston
Median House Price: $1,255,000
Surrounding Suburbs: Vermont South, Wantirna, Bayswater, Glen Waverley, Boronia, Scoresby, and Knoxfield
Distance from Wantirna South to Melbourne CBD:
• 35.0 km or 34 minutes by car via M3
• 33.9 km or 38 minutes by car via M1