Self Storage Pascoe Vale
*FURNITURE STORAGE *BUSINESS STORAGE *RENOVATIONS
*DECLUTTERING *GENERAL STORAGE
Self Storage from just $1.10 per day.
Self Storage in Pascoe Vale is up to 50% CHEAPER than other storage companies.
Here are just a few of the benefits of choosing 1800 We Store It's Self Storage Services
Hire a Pallet space, Pallet rack or a Mobile Storage unit
Mobile Storage unit sizes: 6ft, 8ft, 10ft & 20ft
No Fixed contracts, simply week by week arrangements
Store the Mobile Storage unit on your site or ours
Let our team do all the Heavy lifting & loading for you or do it yourself
Felt Furniture blankets & Tie downs supplied FREE of charge
Full range of Packing materials & covers available
24/7 monitored CCTV and alarmed security
Request your free no-obligation QUICK QUOTE today
Pascoe Vale's most trusted Self Storage Company
Established in 2002, 1800 We Store It has been providing personalised self storage services in Pascoe Vale for over 18 years.
You can find us in: Tullamarine, Laverton North, Richmond & Glen Waverley
Pascoe Vale's Self Storage Options
We personalise our self storage services to your needs. Here are just some of the options we provide you with.
Our Mobile Storage Unit sizes
6ft MOBILE STORAGE UNIT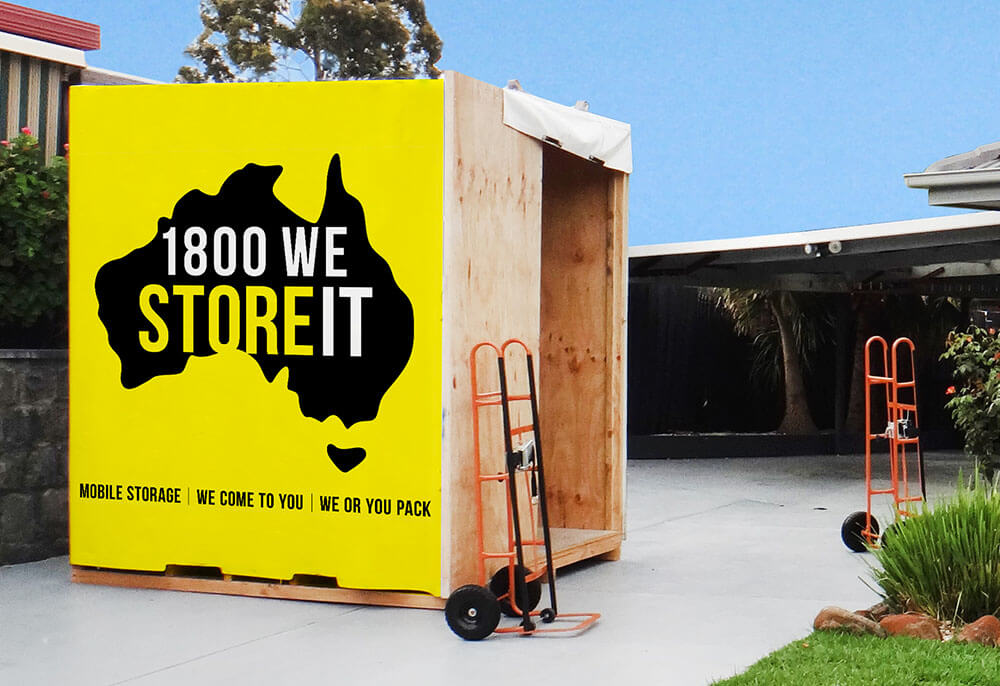 Holds the equivalent of 2 standard
bedrooms of goods.
Max. Dimensions: 
Height 2.6m, Width 1.8m, Length 2.4m
Capacity:
10 Cubic metres
Features:
Sturdy construction grade Indoor Storage units.
Supplied with 10 x Felt Furniture blankets FREE of charge.
8FT MOBILE STORAGE UNIT
Holds the equivalent of 2.5 standard
bedrooms of goods.
Dimensions: 
Height 2.4m, Width 2.1m, Length 2.3m
Capacity:
11.5 Cubic metres
Features:
Strong & Secure Steel Storage unit with internal Tie rails and fitted with external Padlock protector.
Supplied with 15x Felt Furniture blankets and 5x Furniture Tie-downs FREE of charge.
10FT MOBILE STORAGE UNIT
Holds the equivalent of 3 standard
bedrooms of goods.
Dimensions:
Height 2.9m, Width 2.4m, Length 3m
Capacity:
16.5 – 19 Cubic metres
Features:
Strong & Secure Steel Storage unit with internal Tie rails and fitted with external Padlock protector.
Supplied with 20x Felt Furniture blankets and 5x Furniture Tie-downs FREE of charge.
20FT MOBILE STORAGE UNIT
Holds the equivalent of a standard
3-4 bedroom home.
Dimensions:
Height 2.9m, Width 2.4m, Length 6m
Capacity:
33 – 38 Cubic metres
Features:
Strong & Secure Steel Storage unit with internal Tie rails and fitted with external Padlock protector.
Supplied with 40x Felt Furniture blankets and 10x Furniture Tie-downs FREE of charge.
Self Storage Pascoe Vale
There are so many benefits to using Mobile Storage over traditional Self Storage Pascoe Vale, whether for personal or business needs. If you've ever used Self Storage before, you know how costly and inconvenient it is to hire a truck, load it up, then drive to a Storage facility, just to find that you need to unload your goods and pack them into the Storage unit that you rented.
At 1800 We Store It, we engineered the industry's best solution for moving your belongings into Storage… and we deliver it straight to your doorstep!
Mobile Storage and How It Works
Our Mobile Storage service offers the same benefits as conventional Self Storage – but with less stress and hassle. We come to you instead of the other way around. Our team will deliver a Storage unit to your home, office, or business premises. You can load your goods yourself or let our professional removalists do the heavy lifting and loading for you.
Once your Mobile Storage unit is loaded, you can opt to keep it onsite for immediate access or we can take it to our facility for Storage. This means you don't need to hire a truck and your goods are not double handled so the risk of damage is minimised.
In addition, you only pay for the space you'll use. Instead of renting a fixed sized Storage unit or a mini warehouse that you may not be able to fill, you can choose from our four Storage unit sizes – 6ft, 8ft,10ft and 20ft.
If you choose to store the Storage unit offsite at our facility, we'll give you access on weekdays from 8 am to 3:30 pm. Unlike with other service providers, access is free…all we ask is that you give us 24 hours' notice to have the unit grounded and ready for you.
Mobile Storage Options Tailored to Your Needs
We have been in business since 2002 and experience taught us that no two clients share the same storage requirements and preferences. To address this, we personalised our services to ensure that we are able to cater to the specific needs of each and every customer.
You have two options to choose from. One is Mobile Serviced Storage – our premium service where we take care of everything from start to finish. We'll deliver the Mobile Storage unit directly to you, load your goods, and then transport the unit to our secure facility.
The other is Mobile Self Storage which is pretty much the same, the only difference is that you'll be responsible for packing the unit at your own pace and schedule. Either way and whichever option you prefer, you'll get the same exceptional service which has been the trademark of our company.
All Your Storage Needs Under One Roof
We've made 1800 We Store It a one-stop shop for all storage-related needs. Aside from providing custom-made high quality Mobile Storage units, we also offer professional packing services along with a complete range of premium packing materials including porta robe cartons, standard cartons of various sizes, book and wine cartons, picture cartons, bubble wrap, packing paper, tape, etc.
Our team can come to your premise to wrap all your fragile and delicate items into boxes before loading them into your storage unit. Were we use tie downs to ensure that nothing moves and gets damaged during transit.
We can help in the packing of homes of all sizes – from one bedroom apartments to million dollar mansions. Our team can pack up the basement and all the way to the attic! We can also pack up small to large offices, gyms, commercial establishments, factories, and more.
Here are a Few More Reasons to Choose 1800 We Store It:
We've been providing peerless service for over 18 years. Aside from getting the best bang for your buck, you are guaranteed a wealth of experience and expertise that always get the job done. We have a long list of happy and satisfied clients…people who have made us the most trusted mobile self storage Pascoe Vale company.
Our Mobile Storage units are bigger and 50% cheaper than competitors. As storage specialists, we are committed to consistently deliver the best services at the most competitive rates. Our Storage units are best in class and you can rent them at half the price offered by other service providers.
Safe, Secure, and State-of-the-Art Storage Facility. We know how important and valuable your belongings are, so we spared no expense in building a modern facility that's equipped with the latest security systems including 24/7 CCTV surveillance, fire alarms, pest control, and advanced software applications to run our day-to-day operations.
If you have any questions or if you wish to choose our service, please feel free to contact us at 1300 418 166 or email us at info@1800westoreit.com.au
Get started with a free no-obligation quote, and see how we can personalise our storage packages to suit your needs. Our friendly staff are on standby and ready to assist you with any and all of your requirements.
Pascoe Vale and General Storage Information
Pascoe Vale is a suburb of Melbourne, located 10 km north of the Central Business District. At the 2016 Census it had a population of 17,051. Its local government area is the City of Moreland.
Largely residential, the suburb was named after the John Pascoe Fawkner Estate, which was a holding of 2.87 km2 (709 acres). The estate was established in 1839 and was bordered by Rhodes Parade to the north, Gaffney Street to the south, Northumberland Road to the east, and Moonee Ponds Creek to the west.
Pascoe Vale is known for its parks and gardens, including Austin Reserve, Cole Reserve, Gavin Park, and Kelvin Thomson Reserve. It is home to several bakeries, cafes, restaurants, and takeaway shops that are mostly situated in community centres at Pascoe Vale railway station, along Bell Street, Cumberland Road, Gaffney Street, Kent Road, and Sussex Street.
Pascoe Vale Fun Facts
Area: 4.9 km2 (1.9 sq mi)
Population: 17,051
Population density: 3,480/km2 (9,010/sq mi)
Postal code: 3044
State electorate: Pascoe Vale
Federal division: Wills
Median house price: $999,999
Surrounding suburbs: Coburg, Coburg North, Glenroy, Hadfield, Oak Park, Pascoe Vale North, Pascoe Vale South, and Strathmore
Distance from Pascoe Vale to 1800 We Store It: 24 km or 22 minutes by car
Distance from Pascoe Vale to Melbourne CBD: 12.5 km or 19 minutes by car via M2 / 14.3 km or 20 minutes by car via M2 and State Route 50