Mobile Self Storage Carlton
*FURNITURE STORAGE *BUSINESS STORAGE *RENOVATIONS
*DECLUTTERING *GENERAL STORAGE
Mobile Self Storage from just $1.10 per day.
Mobile Self Storage in Carlton is up to 50% CHEAPER than other storage companies.
Here are just a few of the benefits of choosing 1800 We Store It's Mobile Self Storage Services
Hire a pallet space, pallet rack or a Mobile Self Storage Unit
Mobile Self Storage Unit sizes: 6ft, 8ft, 10ft & 20ft
No fixed contracts, simply week by week arrangements
Store the Mobile Self Storage Unit on your site or ours
Let our team do all the heavy lifting & loading for you or do it yourself
Felt furniture blankets & tie downs supplied FREE of charge
Full range of packing materials & covers available
24/7 monitored CCTV and alarmed security
Request your free no-obligation QUICK QUOTE today
Carlton's most Trusted Mobile Self Storage Company
Established in 2002, 1800 We Store It has been providing personalised Mobile Self Storage Services in Carlton for over 18 years.
You can find us in: Tullamarine, Laverton North, Richmond & Glen Waverley
Carlton's Mobile Self Storage Options
We personalise our Mobile Self Storage Services to your needs. Here are just some of the options we provide you with.
Our Mobile Storage Unit sizes
6ft MOBILE STORAGE UNIT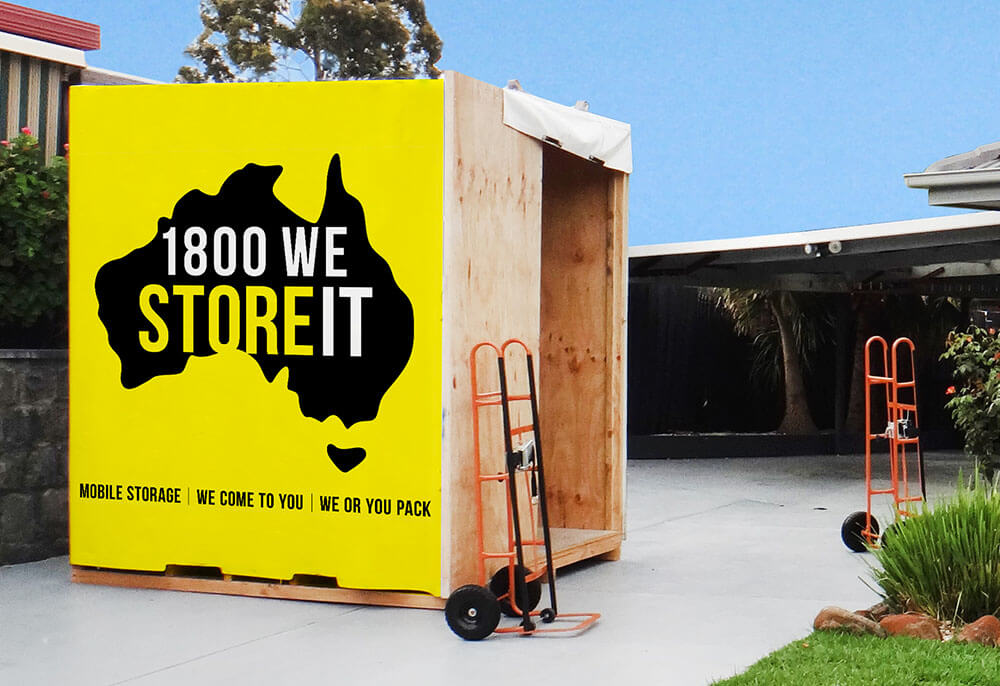 Holds the equivalent of 2 standard
bedrooms of goods.
Max. Dimensions: 
Height 2.6m, Width 1.8m, Length 2.4m
Capacity:
10 Cubic metres
Features:
Sturdy construction grade Indoor Storage units.
Supplied with 10 x Felt Furniture blankets FREE of charge.
8FT MOBILE STORAGE UNIT
Holds the equivalent of 2.5 standard
bedrooms of goods.
Dimensions: 
Height 2.4m, Width 2.1m, Length 2.3m
Capacity:
11.5 Cubic metres
Features:
Strong & Secure Steel Storage unit with internal Tie rails and fitted with external Padlock protector.
Supplied with 15x Felt Furniture blankets and 5x Furniture Tie-downs FREE of charge.
10FT MOBILE STORAGE UNIT
Holds the equivalent of 3 standard
bedrooms of goods.
Dimensions:
Height 2.9m, Width 2.4m, Length 3m
Capacity:
16.5 – 19 Cubic metres
Features:
Strong & Secure Steel Storage unit with internal Tie rails and fitted with external Padlock protector.
Supplied with 20x Felt Furniture blankets and 5x Furniture Tie-downs FREE of charge.
20FT MOBILE STORAGE UNIT
Holds the equivalent of a standard
3-4 bedroom home.
Dimensions:
Height 2.9m, Width 2.4m, Length 6m
Capacity:
33 – 38 Cubic metres
Features:
Strong & Secure Steel Storage unit with internal Tie rails and fitted with external Padlock protector.
Supplied with 40x Felt Furniture blankets and 10x Furniture Tie-downs FREE of charge.
Mobile Self Storage Carlton
Mobile Storage specialists in Melbourne for more than 18 years!
Our personalised Storage solutions have made 1800 We Store It the preferred choice for residential and commercial clients searching for a turnkey service. Whether you're a homeowner or an entrepreneur looking for additional space, you can benefit from our years of experience and expertise.
With us, you'll pay as low as half the price of traditional Self Storage Carlton but twice the value! You read that right. Not to brag, but we're up to 50% CHEAPER than our competitors!
Issues with Traditional Self Storage
Self Storage services do provide extra space when you need it, but they have certain limitations:
• You have the hassle of taking your belongings to the Storage facility. This means you'll make multiple trips with your vehicle or even spend time and money to rent a moving truck.
• You need to load and unload your goods twice. Aside from being tedious, strenuous, and time-consuming, double handling increases the risk of damage to your precious belongings.
• The security and features of Self Storage vary widely. If you've used Self Storage services before, you know quite well that the level of security and quality of the Storage units can vary greatly. You may even need to navigate corridors or use a lift just to get to the space you rented.
Our Solution: We Bring Storage to You!
Our Mobile Storage units offer a more affordable and flexible solution – you won't even need to leave the comfort of your home or office! Simply give us a call and reserve a storage unit. We will deliver it at your specified time and location.
We give you options so you're in control of the whole experience. You can choose to pack the Mobile Storage unit yourself or have our team of professional removalists do all the hard work and heavy lifting for you.
Either way, when all your goods have been loaded into the Storage unit, you can close and secure it with your own padlock or we can provide one free of charge. Again you have options here. You can keep your unit onsite or we can take it to our facility for Storage.
Onsite storage is great if you've got goods you need out of the way, but want to keep close at hand. Offsite storage is ideal if you want to clear out space in the basement or you need a safe place to keep important documents. Note that the Australian Taxation Office requires businesses to keep record for five years. The paperwork can pile up quickly and you don't want heaps of documents cluttering your workspace.
More Reasons to Choose 1800 We Store It
We are an accredited Storage and removals company.
We have nearly two decades of experience meeting Melbourne's removal, packing, and Storage needs. Your safety and satisfaction are our top priorities. We have worked hard to blaze a trail in the industry with our award-winning customer service, competitive pricing, and a reputation that speaks for itself.
The best deal for Mobile Self Storage Carlton
We offer the lowest possible rates without compromising quality. You can rest assured that you're getting the best value for your hard-earned money. We simply charge per week via direct debit, and you can pay from just $3.30 per day for Mobile Storage options that perfectly suit your needs. You'll get a free quote, free consultation with Storage experts, free packing quilts, free furniture tie downs, and peace of mind.
As little or as much help as you need
We take the stress out of Storage by offering a full range of professional services – including moving and packing. Whether you need only a few items packed or an entire house, we can help. We have packed homes of all sizes – from one bedroom apartments to million dollar mansions. We can also pack up small to large offices, gyms, factories, commercial establishments, among others.
We've invested heavily in our equipment and facilities
While other service providers offer only wooden crates, we offer Mobile Storage units that are custom-made from reinforced steel. They are fully sealed and weatherproof to ensure that you get vault-like protection for your prized possessions.
You can choose from 4 different sizes – 6ft, 8ft, 10ft, and 20ft – so you don't end up paying for space that you won't use.
We maintain a fleet of custom-built vehicles with hydraulic tailgates for easy loading, and airbag suspension for a smooth ride so your goods won't move an inch during transit.
Lastly, you can store with confidence in our state of the art facility which is equipped with the latest alarm systems, fire control, pest-control, and 24/7 CCTV surveillance cameras.
If you have any questions or if you wish to choose our service, please feel free to contact us at 1300 418 166 or email us at [email protected]
Get started today with a free no-obligation quote, and see how we can personalise our Storage packages to suit your needs. Our friendly staff are on standby and ready to assist you with any and all of your requirements.
Drop us a line and we will be in touch within 24 hours. We'll get back to you with pricing and a solution.
Carlton and General Storage Information
Carlton is an inner-northern suburb of Melbourne, located 2 km north of the central business district. At the 2016 census it had a population of 18,535. Its local government area is the City of Melbourne.
Carlton is renowned for its "Little Italy" scene on Lygon Street, which is lined with structures featuring 19th-century Victorian architecture, along with casual pizzerias and old-school trattorias. It is also famous for its garden squares including the 26-hectare Carlton Gardens, a popular picnic ground and one of a few man-made sites in Australia with World Heritage status.
Because of Carlton's close proximity to the University of Melbourne, the Fitzroy campus of the Australian Catholic University, and the CBD campus of the Royal Melbourne Institute of Technology, the suburb is home to one of Australia's highest concentrations of university students.
Overall, Carlton exudes style and sophistication while also being one of Melbourne's most enticing suburbs to live and visit.
Carlton Fast Facts
Area: 1.8 km2 (0.7 sq mi)
Population: 18,535
Population Density: 10,300/km2 (26,700/sq mi)
Postcode: 3053
State Electorate: Melbourne
Federal Division: Melbourne
Median House Price: $1,442,500
Surrounding Suburbs: Parkville, Carlton North, Fitzroy, Fitzroy North, North Melbourne, East Melbourne, and West Melbourne
Distance from Carlton to 1800 We Store It: 22 km or 38 minutes by car
Distance from Carlton to Melbourne CBD: 1.3 km or 6 minutes by car via Elizabeth St / 1.5 km or 6 minutes by car via Russell St and Lonsdale St / 1.2 km or 7 minutes by car via Bouverie St and Elizabeth St