Self Storage Blackburn
*FURNITURE STORAGE *BUSINESS STORAGE *RENOVATIONS
*DECLUTTERING *GENERAL STORAGE
Self Storage from just $1.10 per day.
Self Storage in Blackburn is up to 50% CHEAPER than other storage companies.
Here are just a few of the benefits of choosing 1800 We Store It's Self Storage Services
Hire a Pallet space, Pallet rack or a Mobile Storage unit
Mobile Storage unit sizes: 6ft, 8ft, 10ft & 20ft
No Fixed contracts, simply week by week arrangements
Store the Mobile Storage unit on your site or ours
Let our team do all the Heavy lifting & loading for you or do it yourself
Felt Furniture blankets & Tie downs supplied FREE of charge
Full range of Packing materials & covers available
24/7 monitored CCTV and alarmed security
Request your free no-obligation QUICK QUOTE today
Blackburn's most trusted Self Storage Company
Established in 2002, 1800 We Store It has been providing personalised self storage services in Blackburn for over 18 years.
You can find us in: Tullamarine, Laverton North, Richmond & Glen Waverley
Blackburn's Self Storage Options
We personalise our self storage services to your needs. Here are just some of the options we provide you with.
Our Mobile Storage Unit sizes
6ft MOBILE STORAGE UNIT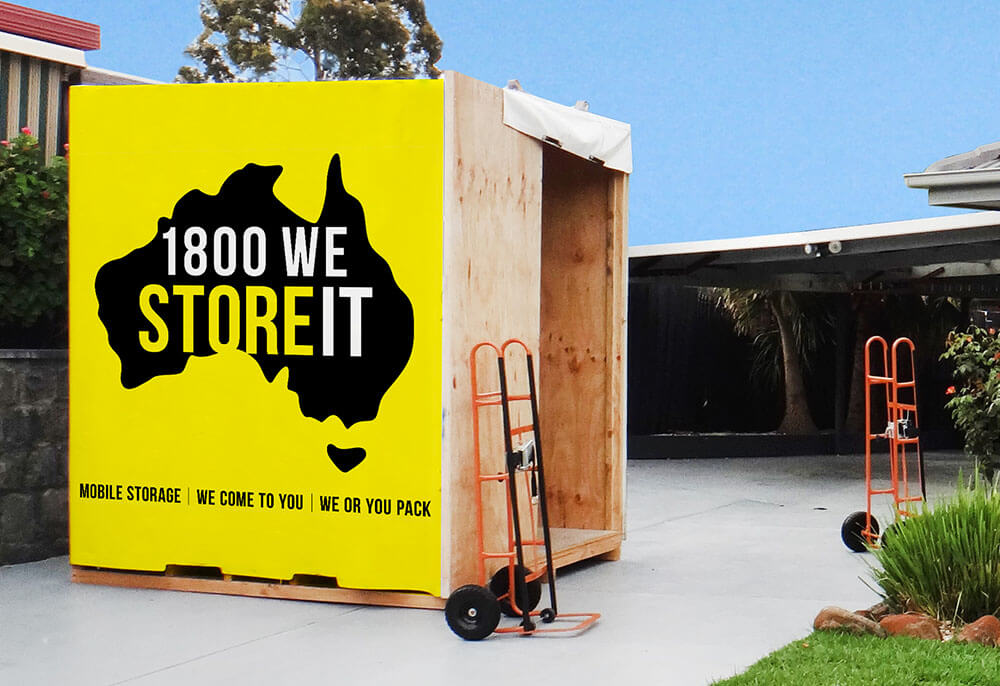 Holds the equivalent of 2 standard
bedrooms of goods.
Max. Dimensions: 
Height 2.6m, Width 1.8m, Length 2.4m
Capacity:
10 Cubic metres
Features:
Sturdy construction grade Indoor Storage units.
Supplied with 10 x Felt Furniture blankets FREE of charge.
8FT MOBILE STORAGE UNIT
Holds the equivalent of 2.5 standard
bedrooms of goods.
Dimensions: 
Height 2.4m, Width 2.1m, Length 2.3m
Capacity:
11.5 Cubic metres
Features:
Strong & Secure Steel Storage unit with internal Tie rails and fitted with external Padlock protector.
Supplied with 15x Felt Furniture blankets and 5x Furniture Tie-downs FREE of charge.
10FT MOBILE STORAGE UNIT
Holds the equivalent of 3 standard
bedrooms of goods.
Dimensions:
Height 2.9m, Width 2.4m, Length 3m
Capacity:
16.5 – 19 Cubic metres
Features:
Strong & Secure Steel Storage unit with internal Tie rails and fitted with external Padlock protector.
Supplied with 20x Felt Furniture blankets and 5x Furniture Tie-downs FREE of charge.
20FT MOBILE STORAGE UNIT
Holds the equivalent of a standard
3-4 bedroom home.
Dimensions:
Height 2.9m, Width 2.4m, Length 6m
Capacity:
33 – 38 Cubic metres
Features:
Strong & Secure Steel Storage unit with internal Tie rails and fitted with external Padlock protector.
Supplied with 40x Felt Furniture blankets and 10x Furniture Tie-downs FREE of charge.
Self Storage Blackburn
Whether you're waiting for your new home to be completed, or you're planning an extended vacation overseas, or you need to free up space in your office, or you just want to store some items offsite, you'll find that our Mobile Storage units are the perfect solution.
Mobile Storage is a relatively new service, but it has already revolutionised the industry and has gained wide acceptance because of the convenience and cost savings it offers. Traditional Self Storage Blackburn is still around but Mobile Self storage is much better, because put simply, it's Mobile!
Affordable Storage Solution that Comes to You!
At 1800 We Store It, we take the stress and hassle out of storage by coming to you – not the other way round. We create convenient and cost-effective Mobile Storage solutions to suit your needs and preferences. Here are two of our most popular personalised Storage options:
Mobile Serviced Storage
This is our premium service and we get the job done in 3 simples steps…
We Deliver
We Pack
We Store
We'll bring a secure, lockable Mobile Storage unit right to your home or office. Our team of professional removalists will carefully wrap your fragile items in custom-made felt blankets before loading them into the Storage unit. Once packed inside, they are secured in place using heavy-duty tie-downs to ensure nothing moves during transit.
You can secure the Storage unit with your own padlock or we can provide one for free. We will then transport the Mobile Storage unit to our facility until you need it back.
Think of this as a "set-and-forget" type of service where you give us a call, set your requirements, and we take care of everything. You won't need to break a sweat or lift a finger!
Mobile Self Storage
This is pretty much the same as Mobile Serviced Storage, the main difference is that you will be responsible for loading your goods into the storage unit. This works well if you are not pressed for time and you have friends and family who can help out.
Here's how it works: We will set a time for delivery that works around your schedule. We'll deliver a Mobile Storage unit and leave you to load it at your convenience. When you're done, give us a call and we will come to pick up the unit and take it to our facility for Storage.
Save Time and Money
Whether short or long term Storage, you'll be able to save on the cost of truck, van, ute or mover hire. No hidden fees, no funny biz, and we offer the lowest possible price too.
We are up to 50% CHEAPER than other Self Storage Blackburn companies. You can pay from just $3.30 per day for Mobile Storage options that suit your needs and requirements. Don't get us wrong though, we offer such competitive rates without compromising on quality.
We are committed to providing the best value for your hard-earned money. Plus, you get to spare yourself from the hassle that comes with multiple back and forth trips from your place to the Storage facility. Everything happens in your home or office and at a timeframe that works for you.
Helping Hands Always Available
Many of our valued clients lead busy lives or want to spend their time doing more important things. Others simply want to leave Storage tasks to the professionals. Whatever the case may be, let our team do the packing and heavy lifting. You can sit back, relax, and count on us to get the job done. You'll save big bucks and bad backs!
Not to brag… our competitors only do storage, which is okay… but why look elsewhere when you can go the extra mile with us!
We can cater to as little or as much help as you need. We offer a full range of services including decluttering, shipping container hire, moving, and packing – all with a focus on the safety and security of your precious belongings.
Here are a Few More Benefits of Choosing 1800 We Store It for Your Storage Needs:
We have been in business for more than 18 years and we've established our company as Melbourne's most reliable Mobile Storage service provider.
We avoid double handling to minimise the risk of damage to your goods.
Our removalists that load/unload your goods are industry accredited.
Our Mobile Storage units are custom-made from reinforced steel. They are weatherproof and come in four sizes: 6ft, 8ft, 10ft, and 20ft
All Furniture blankets and tie-downs are provided completely FREE of charge.
We maintain a fleet of custom-built vehicles with hydraulic tailgates for easy loading, and airbag suspension for a smooth ride so your goods won't move during transit.
Our Storage facility is designed and built to offer the ultimate protection for your prized possessions. It is equipped with the latest alarm systems and 24/7 CCTV monitoring.
If you have any questions or if you wish to choose our service, please feel free to contact us at 1300 418 166 or email us at info@1800westoreit.com.au
Get started today with a free no-obligation quote, and see how we can personalise our Storage packages to suit your needs. Our friendly staff are on standby and ready to assist you with any and all of your requirements.
Drop us a line and we will be in touch within 24 hours. We'll get back to you with pricing and a solution.
Blackburn and General Storage Information
Blackburn is a suburb of Melbourne, located 16 km (9.9 mi) east of the central business district. At the 2016 Census, it had a population of 13,940. Its local government area is the City of Whitehorse.
The origin of Blackburn's name is not clear, but there are claims that it could have been named after James Blackburn, an English civil engineer who designed the Yan Yean Reservoir.
Blackburn is bounded in the north by Springfield Road, in the south by Canterbury Road, in the east by the Bellbird area, and in the west by Middleborough Road. It's a family-friendly suburb thanks to its excellent schools, well-maintained parks, and great public transport. Hop on the freeway and you'll be in the city in 20-25 minutes.
Blackburn Fast Facts
Area: 5.8 km2 (2.2 sq mi)
Population: 13,940
Population Density: 2,206/km2 (5,710/sq mi)
Postcode: 3130
State Electorate: Box Hill
Federal Division: Chisholm
Median House Price: $1,617,500
Surrounding Suburbs: Blackburn North, Blackburn South, Box Hill, Box Hill North, Box Hill South, Forest Hill, and Nunawading
Distance from Blackburn to 1800 We Store It: 46 km or 49 minutes by car
Distance from Blackburn to Melbourne CBD: 22.7 km or 24 minutes by car via M3 / 23.3 km or 32 minutes by car via State Route 26