Self Storage Geelong
*FURNITURE STORAGE *BUSINESS STORAGE *RENOVATIONS
*DECLUTTERING *GENERAL STORAGE
Self Storage from just $1.10 per day.
Self Storage in Geelong is up to 50% CHEAPER than other storage companies.
Here are just a few of the benefits of choosing 1800 We Store It's Self Storage Services
Hire a Pallet space, Pallet rack or a Mobile Storage unit
Mobile Storage unit sizes: 6ft, 8ft, 10ft & 20ft
No Fixed contracts, simply week by week arrangements
Store the Mobile Storage unit on your site or ours
Let our team do all the Heavy lifting & loading for you or do it yourself
Felt Furniture blankets & Tie downs supplied FREE of charge
Full range of Packing materials & covers available
24/7 monitored CCTV and alarmed security
Request your free no-obligation QUICK QUOTE today
Geelong's most trusted Self Storage Company
Established in 2002, 1800 We Store It has been providing personalised self storage services in Geelong for over 18 years.
You can find us in: Tullamarine, Laverton North, Richmond & Glen Waverley
Geelong's Self Storage Options
We personalise our self storage services to your needs. Here are just some of the options we provide you with.
Our Mobile Storage Unit sizes
6ft MOBILE STORAGE UNIT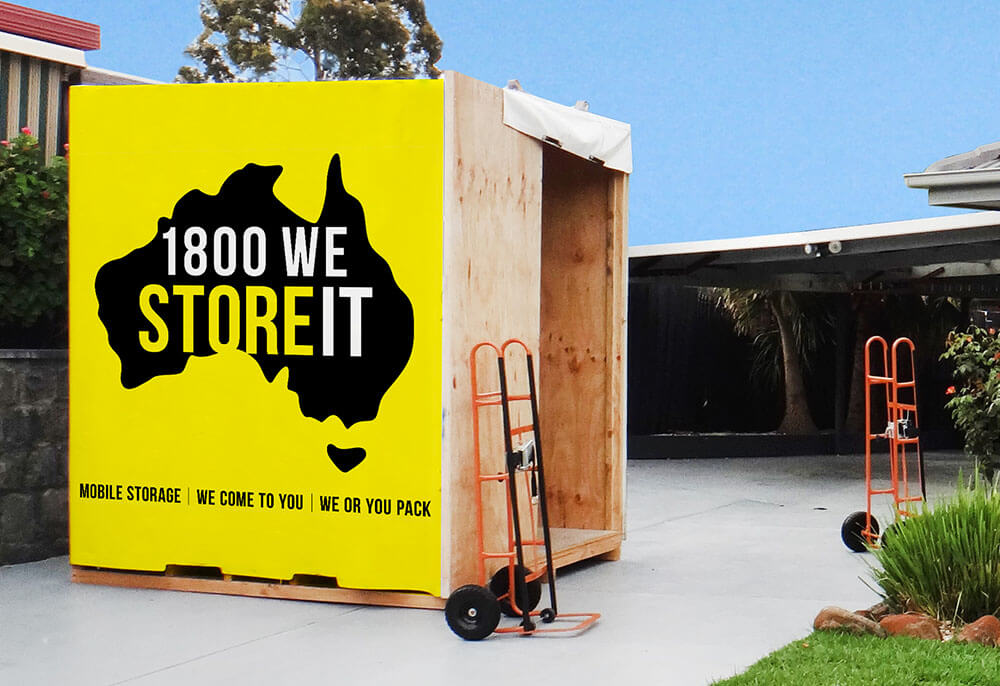 Holds the equivalent of 2 standard
bedrooms of goods.
Max. Dimensions: 
Height 2.6m, Width 1.8m, Length 2.4m
Capacity:
10 Cubic metres
Features:
Sturdy construction grade Indoor Storage units.
Supplied with 10 x Felt Furniture blankets FREE of charge.
8FT MOBILE STORAGE UNIT
Holds the equivalent of 2.5 standard
bedrooms of goods.
Dimensions: 
Height 2.4m, Width 2.1m, Length 2.3m
Capacity:
11.5 Cubic metres
Features:
Strong & Secure Steel Storage unit with internal Tie rails and fitted with external Padlock protector.
Supplied with 15x Felt Furniture blankets and 5x Furniture Tie-downs FREE of charge.
10FT MOBILE STORAGE UNIT
Holds the equivalent of 3 standard
bedrooms of goods.
Dimensions:
Height 2.9m, Width 2.4m, Length 3m
Capacity:
16.5 – 19 Cubic metres
Features:
Strong & Secure Steel Storage unit with internal Tie rails and fitted with external Padlock protector.
Supplied with 20x Felt Furniture blankets and 5x Furniture Tie-downs FREE of charge.
20FT MOBILE STORAGE UNIT
Holds the equivalent of a standard
3-4 bedroom home.
Dimensions:
Height 2.9m, Width 2.4m, Length 6m
Capacity:
33 – 38 Cubic metres
Features:
Strong & Secure Steel Storage unit with internal Tie rails and fitted with external Padlock protector.
Supplied with 40x Felt Furniture blankets and 10x Furniture Tie-downs FREE of charge.
Self Storage Geelong
For more than 18 years, 1800 We Store It has been providing solutions to the stress and hassle associated with traditional Self Storage Geelong. We offer Mobile Storage solutions that can be customised to suit your specific needs.
With us, you won't have to worry about the challenge of juggling multiple suppliers. You can pack, move, and store personal or business items with just one point of contact. We've got everything you need under one roof! Whether you're an entrepreneur or an individual looking for extra space, you can benefit from our Mobile Storage services.
Mobile Storage allows you to completely personalise your experience from start to finish—including the size of the Storage unit and how long you'll use it. This unique service and our proven Storage methods have made our company the preferred choice for households and businesses in Geelong.

How Mobile Storage Works

With traditional Self Storage:
– You hire a truck, van or ute and load your belongings
– Transport your items to a Storage facility and unload into the unit you rented
– When you need your goods back, you need to do it all over again but in reverse!
– Your items are handled multiple times, increasing the risk of damage to goods and yourself.

Our solution: We bring the Storage unit straight to your door!

We have been catering to the Storage needs of Geelong residents for nearly two decades. We know well that no two clients share exactly the same Storage requirements and preferences, so we personalise our services to ensure that they are tailored to your specific needs.

Here are a couple of options we provide you with…
Mobile Serviced Storage

This is our premium service which is very popular among our clients. It's a 'set-and-forget' type of service where one call does it all! Our team or professional removalists will do all the work so you won't even break a sweat or lift a finger! We'll get the job done in the fastest, safest, and most efficient manner.
We will arrive at the agreed time with your Storage unit. Our expert packers will carefully wrap your fragile items with custom-made felt blankets then load them into the unit. Once fully packed, you can secure it with your own padlock or we can provide one free of charge. We'll then transport the unit to our Storage facility and store it until you need your goods back.

Mobile Self-Storage

This is practically the same as Mobile Serviced Storage with the main difference is that you will be responsible for packing your goods and loading them into the Storage unit. You'll get to do so at your own pace and at your own time and schedule.
This is an excellent choice if you have spare time and there are friends and family around to help out. We will still deliver a Storage unit and when you're done loading it, simply give us a call and we'll pick it up and take it back to our facility.
Note that for both options, you can choose to keep the unit on your premises for easy and immediate access. If you decide to store it with us, we provide access from Monday to Friday from 9:00am to 5:30pm.… all we ask is you give us 24 hours' advance notice to have the unit grounded and available for you.

A Few More Reasons to Choose 1800 We Store It
Our Mobile Storage units are bigger and up to 50% cheaper than those of other companies. They are available in four different sizes – 6ft, 8ft, 10ft, and 20ft – so you'll get to pick the one that suits the amount of space you need. Each one is fully sealed and weatherproof to ensure maximum protection against the elements.

Professional packing services available with a focus on the safety of your precious belongings. We also keep in stock a complete range of premium packing materials including moving boxes, packing paper, tape, bubble wrap, etc.

We have a fleet of custom-built vehicles and a state-of-the-art facility which features the latest alarm systems and 24/7 CCTV surveillance cameras.

We provide the best value for your hard-earned money. You'll get free quote and storage consultations, plus free packing quilts and furniture tie downs.
We simply charge per week via direct debit. Pay from just $3.30 per day for Mobile Storage options that suit you. There are no complicated leases, long term contracts, or hidden extras.
Life is tough enough these days. Self Storage Geelong doesn't have to be and added burden. Let 1800 We Store It take the stress out of your personal or business Storage needs!

If you have any questions or if you wish to use our service, please feel free to contact us at
1300 418 166
 or email us at 
info@1800westoreit.com.au

Get started today with a free no-obligation quote, and see how we can personalise our Storage packages to suit your needs. Our friendly staff are on standby and ready to assist you with any and all of your requirements.
Drop us a line and we will be in touch within 24 hours. We'll get back to you with pricing and a solution.

Geelong and General Storage Information

Geelong is a port city in the state of Victoria, located at the eastern end of Corio Bay and on the left bank of the Barwon River. It is the second-fasting growing city in Australia and also the second largest metropolis in Victoria, with more than 60 suburbs and a population of 268,277 as of June 2018.
This suburban hub is also known as the "Gateway City" because of its strategic location to surrounding regional centres in western Victoria, including Ballarat in the northwest; Colac, Hamilton and Winchelsea to the west; and Great Ocean Road, Torquay and Warrnambool in the southwest. This critical location of Geelong provides a transport corridor past the Central Highlands for these areas to Melbourne in its northeast section.
Geelong is home to some of Australia's largest and best-known companies, including Ford, the Commonwealth Scientific and Industrial Research Organisation (CSIRO) and the Geelong Football Club. There are several shopping centres and a number of clubs and pubs scattered throughout the city. It is a great place for families because there are both private and public schools, along with TAFE and Deakin University.
Geelong is also a haven for sports enthusiasts as it boasts a harness racing club, horse racing club, and an athletics centre. In addition, there are excellent facilities for hiking, fishing, water skiing and rowing. For entertainment, the city hosts a slew of festivals annually and is home to an art gallery and a performing arts centre.

Geelong Fast Facts

Area: 1,329 km2 (513.1 sq mi)
Population: 268,277
Population Density: 202.40/km2 (524.20/sq mi)
Postcode: 3220
Local Government Area: City of Greater Geelong
County: Grant
State Electorates: Bellarine, Geelong, Lara, and South Barwon
Federal Division: Corio and Corangamite
Median House Price: $911,250
Distance from Geelong to 1800 We Store It:  59 km or 52 minutes by car