Mobile Self Storage Wantirna
*FURNITURE STORAGE *BUSINESS STORAGE *RENOVATIONS
*DECLUTTERING *GENERAL STORAGE
Mobile Self Storage From Just $1.10 Per Day.
Mobile Self Storage in Wantirna is up to 50% CHEAPER than other storage companies.
Here are just a few of the benefits of choosing 1800 We Store It's Mobile Self Storage Services.
Multiple Mobile Self Storage Unit sizes being 6ft, 8ft, 10ft & 20ft

Storage Unit delivery & pickup services
Storage Unit loading & unloading services
Store the Mobile Self Storage Unit at your place or at one of our facilities
Let our team do all the heavy lifting & loading for you or do it yourself
No fixed contracts, simply week by week arrangements
Felt furniture blankets & tie downs supplied FREE of charge
Full range of packing materials & protective covers available
24/7 monitored CCTV and alarmed security
Request your free no-obligation QUICK QUOTE Today
Wantirna's Most Trusted Mobile Self Storage Company
Established in 2002, 1800 We Store It has been providing personalised Mobile Self Storage Services in Wantirna for over 20 years.
You can find us in: Tullamarine, Laverton North, Richmond & Glen Waverley
Wantirna's Mobile Self Storage Options
We personalise our Mobile Self Storage Services to your needs. Here are just some of the options we provide you with.
Our Mobile Storage Unit sizes
6ft MOBILE STORAGE UNIT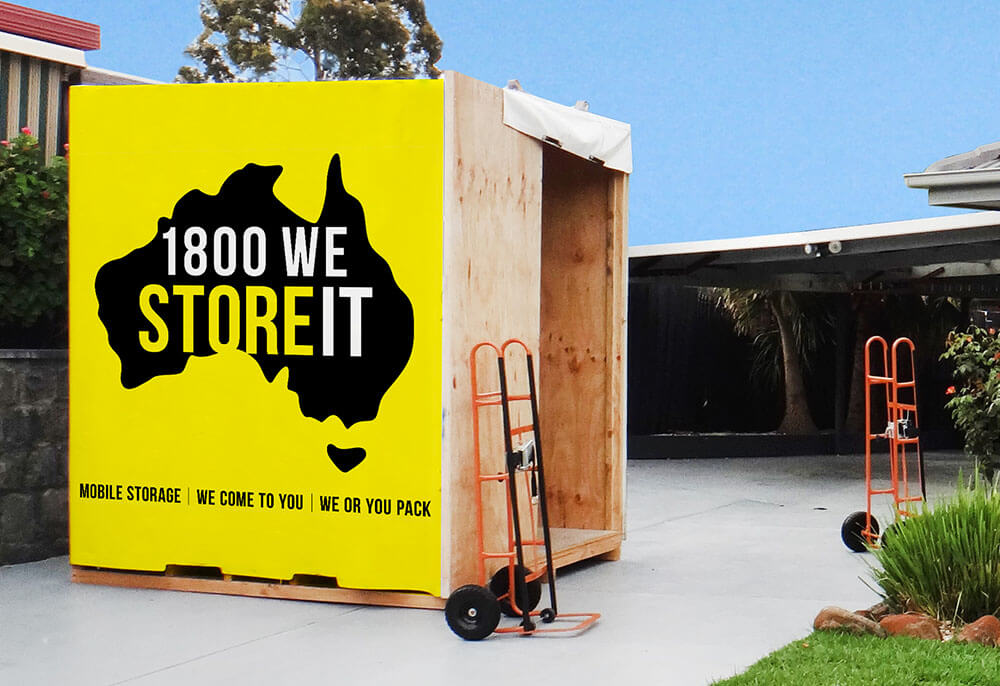 Holds the equivalent of 2 standard
bedrooms of goods.
Max. Dimensions: 
Height 2.6m, Width 1.8m, Length 2.4m
Capacity:
10 Cubic metres
Features:
Sturdy construction grade Indoor Storage units.
Supplied with 10 x Felt Furniture blankets FREE of charge.
8FT MOBILE STORAGE UNIT
Holds the equivalent of 2.5 standard
bedrooms of goods.
Dimensions: 
Height 2.4m, Width 2.1m, Length 2.3m
Capacity:
11.5 Cubic metres
Features:
Strong & Secure Steel Storage unit with internal Tie rails and fitted with external Padlock protector.
Supplied with 15x Felt Furniture blankets and 5x Furniture Tie-downs FREE of charge.
10FT MOBILE STORAGE UNIT
Holds the equivalent of 3 standard
bedrooms of goods.
Dimensions:
Height 2.9m, Width 2.4m, Length 3m
Capacity:
16.5 – 19 Cubic metres
Features:
Strong & Secure Steel Storage unit with internal Tie rails and fitted with external Padlock protector.
Supplied with 20x Felt Furniture blankets and 5x Furniture Tie-downs FREE of charge.
20FT MOBILE STORAGE UNIT
Holds the equivalent of a standard
3-4 bedroom home.
Dimensions:
Height 2.9m, Width 2.4m, Length 6m
Capacity:
33 – 38 Cubic metres
Features:
Strong & Secure Steel Storage unit with internal Tie rails and fitted with external Padlock protector.
Supplied with 40x Felt Furniture blankets and 10x Furniture Tie-downs FREE of charge.
Mobile Self Storage Wantirna
When it comes to storage, extra space is highly valuable so don't settle for anything less than what the industry has to offer. Let 1800 We Store It provide you with a simple, secure and personalised service to address all your storage needs.
As one of the pioneers of mobile self-storage Wantirna, we started our journey in 2002, with the commitment to consistently deliver stress-free storage solutions to households and businesses across Melbourne.
Our mobile storage service gives you the same benefits as traditional self storage but with less hassle. We make storage as simple and as easy as it can be. We are able to do this by bringing the storage unit straight to your doorstep and we offer an end-to-end service where you only deal with one company for all your storage needs.
Mobile storage eliminates the need for expensive truck rental and back and forth trips to a storage facility. Mobile storage units make for the perfect space-saving solution because they are durable, versatile and affordable. In fact, you'll get to save as much as 50% on the cost of transport and storage.
With us, you can choose between 'do it yourself' and full serviced storage service. The DIY option means you pack and load your goods into the storage unit at your own pace. Our serviced mobile storage service means our team will take care of all the hard work and heavy lifting… all you need to do is sit back and relax!
Either way, we get the job done in three simple steps:
1. We deliver the mobile storage unit to your home, office or business premises.
2. You pack or we pack the storage unit. It's your call, but whichever you prefer, we will provide felt furniture blankets and furniture tie downs for FREE.
3. You keep the unit onsite for easy and immediate access or we take it to one of our secure facilities. For the latter, we'll give FREE access to your storage unit on weekdays during business hours. That's from 9:00 am to 3:30 pm.
Mobile Self Storage is Much Better than Traditional Self Storage
Mobile Self Storage Wantirna
Practical and Economical
Your items are loaded into the storage unit once. Double handling and its associated risks are therefore eliminated and you won't have to pay for separate removalist or truck rental fees.
Saves Time
Just give us a call and we'll bring the mobile storage unit to your location. If you decide to store offsite in one of our facilities and you need your goods back, we'll redeliver the unit at your preferred schedule. There's no need to leave the comfort of your home or office!
Guaranteed Safe and Secure
Our mobile storage units are custom-made from industrial-grade steel to ensure that your items get maximum protection. They are also designed and engineered to be fully sealed, fireproof and weatherproof.
In addition, our storage facility is purpose-built to maximise security. We have installed the latest alarm and fire control systems, along with 24/7 surveillance cameras, so you get to enjoy peace of mind knowing that your prized possessions are in good hands.
Traditional Self Storage Wantirna
Tedious and Expensive
Aside from the storage space, you'll pay for removalist and truck hire fees. Items need to be loaded, brought to a storage warehouse, and then unloaded into the space you rented. Remember that the cost of moving your belongings into the storage unit is not considered in the rental price.
Time Consuming
You'll have to set a time to do everything. You need to arrange for a removalist, truck driver, and then travel to the storage facility. For our busy customers, this is a considerable demand on their time.
Risky and Unsafe
By loading and unloading goods and boxes into a traditional storage facility, the chances of your goods sustaining damage is significant. Security is also an issue since there are still some self-storage companies that lack high-tech security systems. This makes them prime targets for thieves looking for high ticket items.
Melbourne's Most Trusted Mobile Storage Company
We have been in the moving and storage business for more than 20 years. We know what it takes to ensure that all your storage requirements are met to the highest standards. You can rely on our wealth of knowledge and experience for all your storage requirements and preferences. We always get the job done and our long list of satisfied clients can attest to this.
We strive to be a one-stop shop for all your storage needs so we offer premium packing materials and professional packing services. Whether you need a few fragile items packed or the contents of your entire home, we can help. Our team has packed homes of all sizes and we can also pack up small to large offices, factories, gyms, commercial establishments, amongst others.
With 1800 We Store It, you are not just renting a mobile storage unit. You'll be receiving personalised support and assistance from our team of highly trained professionals. This means no stress and headaches when you engage our service. From the initial phone call to the end of your rental period, we will be with you every step of the way.
If you have any questions or if you wish to choose our service, please feel free to contact us at 1300 418 166 or email us at [email protected]
Get started today with a free no-obligation quote, and see how we can personalise our storage packages to suit your needs. Our friendly staff are on standby and ready to assist you with any and all of your requirements.
Drop us a line and we will be in touch within 24 hours. We'll get back to you with pricing and a solution.
Wantirna and General Storage Information
Wantirna is a suburb in Melbourne, located 24 kilometres east of the city's Central Business District. At the 2021 census, it recorded a population of 14,237. Its local government area is the City of Knox.
Its name was derived from the aboriginal population's term for 'a gurgling stream'. This lovely leafy suburb witnessed significant residential growth in the 1970s and 1980s. It is bounded by the Dandenong Creek in the north and west, while Burwood Highway flanks it in the south.
Wantirna's major features include the Westfield Knox Shopping Centre with more than 200 designer shops, Knox Private Hospital, Wantirna Mall, a SCOPE mental health facility, and GoodLife Wantirna, the only GoodLife Health Club in the state of Victoria with an indoor swimming pool.
There's a plethora of parks and reserves, with several having access to bike tracks while others offer playgrounds, barbeque facilities, and sports clubs. There is also a wide range of schooling options including preschools, primary schools (Templeton Primary School is one of the top 50 in Victoria), and there's even the Wantirna campus of Swinburne University of Technology.
The East Link Freeway runs through the suburb with interchanges at Burwood Highway and Boronia Road, linking it to the Melbourne and Frankston CBDs. Overall, Wantirna has so much to offer. It is close enough to the city yet far enough to not be congested with traffic. It has an excellent balance of city and country features that make it a great place to live and work.
Wantirna Fast Facts
Area: 8.3 km2 (3.2 sq mi)
Population Density: 1,715/km2
Postcode: 3152
State Electorate: Bayswater
Federal Division: Aston
Median House Price: $1,102,500
Surrounding Suburbs: Vermont, Ringwood, Heathmont, Bayswater, Vermont South, and Wantirna South
Distance from Wantirna to Melbourne CBD:
• 31.2 km or 28 minutes by car via M3
• 42.6 km or 36 minutes by car via M1