Self Storage Belmont
*FURNITURE STORAGE *BUSINESS STORAGE *RENOVATIONS
*DECLUTTERING *GENERAL STORAGE
Self Storage from just $1.10 per day.
Self Storage in Belmont is up to 50% CHEAPER than other storage companies.
Here are just a few of the benefits of choosing 1800 We Store It's Self Storage Services
Hire a Pallet space, Pallet rack or a Mobile Storage unit
Mobile Storage unit sizes: 6ft, 8ft, 10ft & 20ft
No Fixed contracts, simply week by week arrangements
Store the Mobile Storage unit on your site or ours
Let our team do all the Heavy lifting & loading for you or do it yourself
Felt Furniture blankets & Tie downs supplied FREE of charge
Full range of Packing materials & covers available
24/7 monitored CCTV and alarmed security
Request your free no-obligation QUICK QUOTE today
Belmont's most trusted Self Storage Company
Established in 2002, 1800 We Store It has been providing personalised self storage services in Belmont for over 18 years.
You can find us in: Tullamarine, Laverton North, Richmond & Glen Waverley
Belmont's Self Storage Options
We personalise our self storage services to your needs. Here are just some of the options we provide you with.
Our Mobile Storage Unit sizes
6ft MOBILE STORAGE UNIT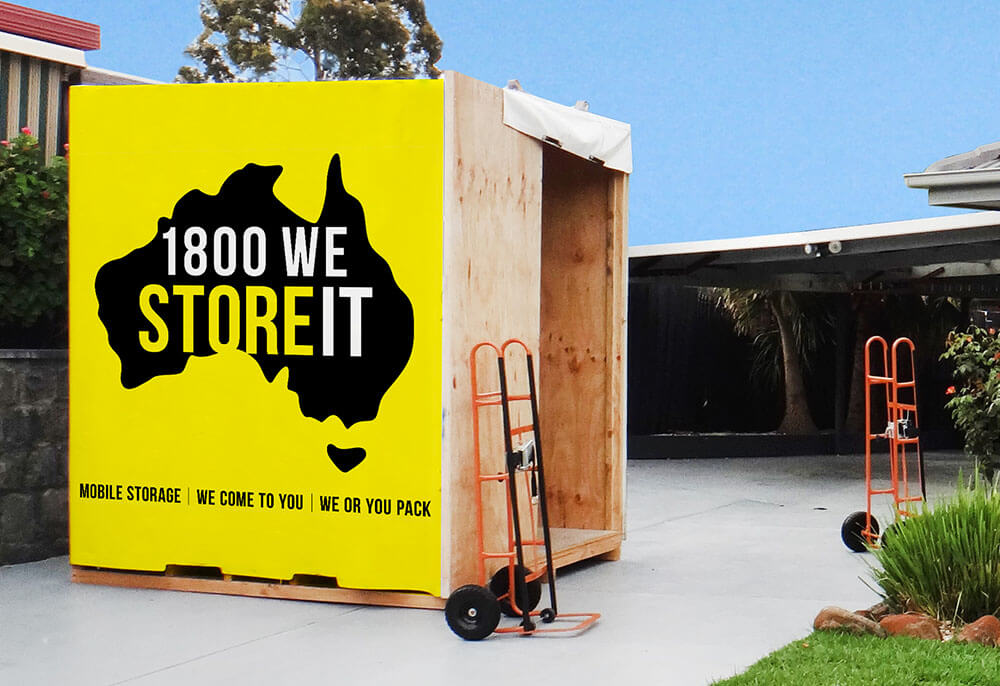 Holds the equivalent of 2 standard
bedrooms of goods.
Max. Dimensions: 
Height 2.6m, Width 1.8m, Length 2.4m
Capacity: 
10 Cubic metres
Features: 
Sturdy construction grade Indoor Storage units.
Supplied with 10 x Felt Furniture blankets FREE of charge.
8FT MOBILE STORAGE UNIT
Holds the equivalent of 2.5 standard
bedrooms of goods.
Dimensions: 
Height 2.4m, Width 2.1m, Length 2.3m
Capacity: 
11.5 Cubic metres
Features: 
Strong & Secure Steel Storage unit with internal Tie rails and fitted with external Padlock protector.
Supplied with 15x Felt Furniture blankets and 5x Furniture Tie-downs FREE of charge.
10FT MOBILE STORAGE UNIT
Holds the equivalent of 3 standard
bedrooms of goods.
Dimensions: 
Height 2.9m, Width 2.4m, Length 3m
Capacity: 
16.5 – 19 Cubic metres
Features: 
Strong & Secure Steel Storage unit with internal Tie rails and fitted with external Padlock protector.
Supplied with 20x Felt Furniture blankets and 5x Furniture Tie-downs FREE of charge.
20FT MOBILE STORAGE UNIT
Holds the equivalent of a standard
3-4 bedroom home.
Dimensions: 
Height 2.9m, Width 2.4m, Length 6m
Capacity: 
33 – 38 Cubic metres
Features: 
Strong & Secure Steel Storage unit with internal Tie rails and fitted with external Padlock protector.
Supplied with 40x Felt Furniture blankets and 10x Furniture Tie-downs FREE of charge.
Self Storage Belmont
We offer affordable and convenient solutions to Belmont households and businesses needing short or long-term Storage. Whether you're decluttering, renovating, moving home, or a business requiring extra Storage space, we've got you covered.
At 1800 We Store It, we know you have more important things to do than dealing with time-consuming and labor-intensive Storage concerns. We are also aware that there are many Self Storage Belmont facilities to choose from. But we can confidently say that only a few – if any – stack up to what we can offer…
The Benefits of Mobile Storage Units
There's a plethora of reasons why may are increasingly using Mobile Storage units. They can prove useful in a variety of residential, business, and commercial situations. Even for temporary use, a Mobile Storage unit offers many benefits that can help you with whatever space issues you have.
Delivered When & Where You Need It Most
While traditional Self Storage has been around for quite a while, it can be a hassle to rent a truck and go back and forth to the facility. With our Mobile Storage service, your unit will be delivered wherever and whenever you need it. This way, you can safely store even the most valuable items while creating that much-needed additional space in your home or office.
Avoid Long-term Leases / Contracts
We simply charge for Storage on a week by week basis via direct debit and you can pay from just $3.30 per day for a Storage option that suits your needs and preferences. Forget about monthly Storage fees or surprise cost increases. And we even offer long-term discounts. The problem's generally associated with long-term Storage will not have to cost you an arm and a leg.
We also offer long-term Storage solutions for clients needing this type of service, particularly those transitioning from a sold house while their new home is under construction or renovation. It's also commonly used for document and equipment storage, warehouse overflow, and to keep vehicles or seasonal items when they are not in use.
Flexible, Safe and Secure
Our Mobile Storage units can be easily positioned in the spot of your choosing, or it can stay on our truck so you won't have to deal with a container blocking your driveway or occupying your lawn. You can pack it on your own or have our team of professional removalists do all the heavy lifting for you.
Either way, when your unit is loaded and locked, we can leave it onsite for immediate access, or we can transport it back to our storage facility. It's totally up to you… Mobile Self Storage Belmont has never been easier!
Another benefit of Mobile Storage units is how flexible and versatile they are. Our units come in four different sizes – 6ft, 8ft, 10ft, and 20ft – so you choose depending on the amount of space you need. Further, you can use them for a variety of purposes and applications.
For instance, if your home is undergoing repair or renovation, you can use a Mobile Storage unit as a temporary place to store your precious belongings. It's also a safe place where retailers can store their stock.
Online stores are now increasingly relying on Mobile Storage units to keep all items packed and ready to ship. This saves the owners from cluttering their physical store or having to look for a larger space.
A Mobile Storage solution is also ideal for other trades and industries like landscaping or construction where there's a need to store equipment and supplies.
Why Choose 1800 We Store It
More Than 18 Years in the Storage Business
We have been catering to the Storage needs of Belmont residents since 2002. This speaks volumes about our level of experience and expertise. Whatever you need Stored, you can bet that we've handled it before. No wonder, we've become the most trusted Mobile Storage company, not only in Belmont, but also in the whole of Geelong!
Custom-made, Heavy-duty Storage Units
Our Mobile Storage units are best in class. They are bigger and up to 50% cheaper when compared to those of other Storage companies. Custom-made from reinforced steel, they are built like a tank so you get maximum protection for your goods. They are fully sealed, fireproof, pest-proof, and weatherproof.
State-of-the-Art Storage Facility
Your belongings are priceless and irreplaceable, so we treat them that way. You can have peace of mind knowing that your goods are handled with utmost care and they will be kept in a facility that's been designed and built with safety and security as the top priorities. You are guaranteed secure storage because we've outfitted our facility with the latest alarm systems and 24/7 CCTV surveillance cameras.
If you have any questions or if you wish to choose our service, please feel free to contact us at 1300 418 166 or email us at info@1800westoreit.com.au
Get started today with a free no-obligation quote, and see how we can personalise our Storage solutions to suit your needs. Our friendly staff are on standby and ready to assist you with any and all of your requirements.
Drop us a line and we will be in touch within 24 hours. We'll get back to you with pricing and a solution.
Belmont and General Storage Info
Belmont is a southern suburb of Geelong and its name means 'beautiful hill'. The Barwon River separates it geographically from the Geelong central business district. At the 2016 census, it had a population of 13,616. It is part of the City of Greater Geelong local government area.
Largely residential, Belmont is one of Geelong's oldest, biggest, and most popular suburbs. It is bounded by the perennial Barwon River to the north and east, the former Kardinia Creek to the west, and Waurn Ponds Creek to the south.
Belmont has several primary and secondary schools. It has a large number of reserves and local sporting clubs, there's some light industry along Barwon Heads Road, and it has the largest strip shopping centre in Geelong. It's just 10 minutes from the city and it is served by multiple bus routes that link it to Highton, Grovedale, Waurn Ponds, and Deakin University.
Belmont Fast Facts
Area: 9.2 km2 (3.6 sq mi)
Population: 13,616
Population Density: 1,528/km2 (3,956/sq mi)
Postal Code: 3216
State Electorates: Geelong and South Barwon
Federal Division: Corio
Surrounding Suburbs: Newtown, Highton, South Geelong, Breakwater, Grovedale, Marshall, and Charlemont
Median House Price: $697,000
Distance from Belmont to 1800 We Store It: 68 km or 47 minutes by car
Distance from Belmont to Geelong City: 3.8 km or 7-10 minutes by car via Moorabool St
Distance from Belmont to Melbourne CBD: 77km or 1 hour by car