Mobile Self Storage Taylors Lakes
*FURNITURE STORAGE *BUSINESS STORAGE *RENOVATIONS
*DECLUTTERING *GENERAL STORAGE
Mobile Self Storage from just $1.10 per day.
Mobile Self Storage in Taylors Lakes is up to 50% CHEAPER than other storage companies.
Here are just a few of the benefits of choosing 1800 We Store It's Mobile Self Storage Services
Hire a pallet space, pallet rack or a Mobile Self Storage Unit
Mobile Self Storage Unit sizes: 6ft, 8ft, 10ft & 20ft
No fixed contracts, simply week by week arrangements
Store the Mobile Self Storage Unit on your site or ours
Let our team do all the heavy lifting & loading for you or do it yourself
Felt furniture blankets & tie downs supplied FREE of charge
Full range of packing materials & covers available
24/7 monitored CCTV and alarmed security
Request your free no-obligation QUICK QUOTE today
Taylors Lakes's most Trusted Mobile Self Storage Company
Established in 2002, 1800 We Store It has been providing personalised Mobile Self Storage Services in Taylors Lakes for over 18 years.
You can find us in: Tullamarine, Laverton North, Richmond & Glen Waverley
Taylors Lakes's Mobile Self Storage Options
We personalise our Mobile Self Storage Services to your needs. Here are just some of the options we provide you with.
Our Mobile Storage Unit sizes
6ft MOBILE STORAGE UNIT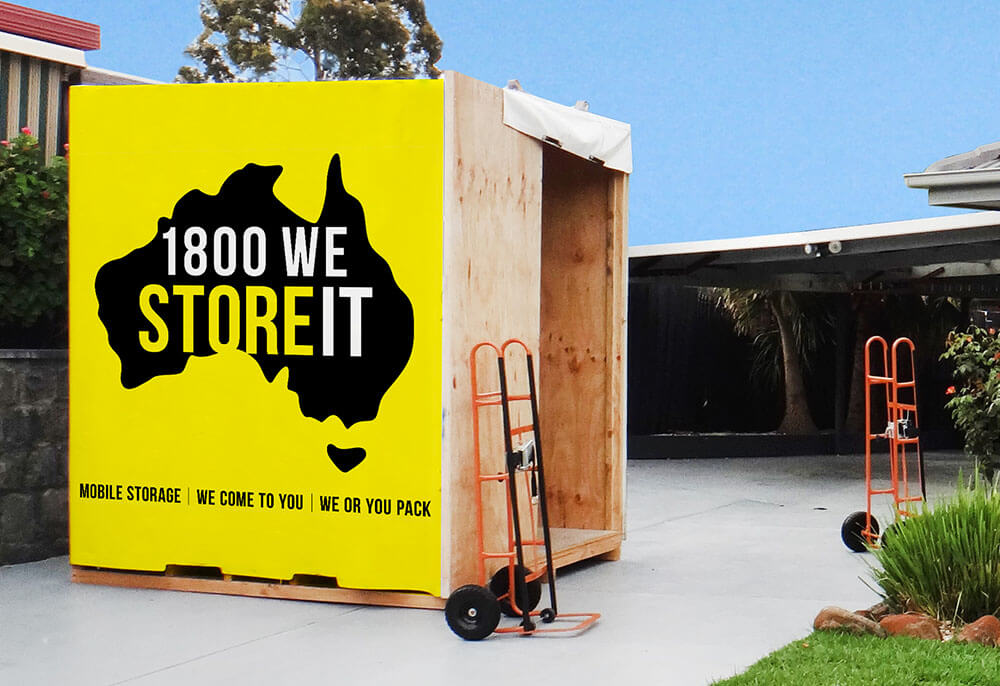 Holds the equivalent of 2 standard
bedrooms of goods.
Max. Dimensions: 
Height 2.6m, Width 1.8m, Length 2.4m
Capacity:
10 Cubic metres
Features:
Sturdy construction grade Indoor Storage units.
Supplied with 10 x Felt Furniture blankets FREE of charge.
8FT MOBILE STORAGE UNIT
Holds the equivalent of 2.5 standard
bedrooms of goods.
Dimensions: 
Height 2.4m, Width 2.1m, Length 2.3m
Capacity:
11.5 Cubic metres
Features:
Strong & Secure Steel Storage unit with internal Tie rails and fitted with external Padlock protector.
Supplied with 15x Felt Furniture blankets and 5x Furniture Tie-downs FREE of charge.
10FT MOBILE STORAGE UNIT
Holds the equivalent of 3 standard
bedrooms of goods.
Dimensions:
Height 2.9m, Width 2.4m, Length 3m
Capacity:
16.5 – 19 Cubic metres
Features:
Strong & Secure Steel Storage unit with internal Tie rails and fitted with external Padlock protector.
Supplied with 20x Felt Furniture blankets and 5x Furniture Tie-downs FREE of charge.
20FT MOBILE STORAGE UNIT
Holds the equivalent of a standard
3-4 bedroom home.
Dimensions:
Height 2.9m, Width 2.4m, Length 6m
Capacity:
33 – 38 Cubic metres
Features:
Strong & Secure Steel Storage unit with internal Tie rails and fitted with external Padlock protector.
Supplied with 40x Felt Furniture blankets and 10x Furniture Tie-downs FREE of charge.
Mobile Self Storage Taylors Lakes
What are you looking for when choosing a Storage solution? Affordability and security? Convenience and accessibility? Help in loading, transporting and unloading your goods? We offer all these and a lot more to ensure you get the best service at the most competitive rate.
Whether you intend to temporarily Store your belongings while downsizing or moving, or you need a long-term Storage solution for your business, 1800 We Store It has you covered every step of the way.
Our Mobile Storage options and solutions are convenient, secure, and cost-effective. No wonder we have become Melbourne's leading expert in highly-secure and highly-customised Storage services.
Problems with Self Storage Taylors Lakes
Traditional Self Storage services are a good way to get some extra space when you need it. However, it has certain limitations:
When you have lots of goods, you'll need to rent a moving truck, load your items and bring everything to the storage facility. This can be expensive, tedious and time-consuming.
The quality and features of Self Storage units vary widely. If you have used Mobile Self Storage before, you may have encountered service providers offering crates that can barely hold your goods together. Some do have steel containers but that's basically it – a metal box without important features like tie rails, specialised vents, padlock protectors, among others.
The security of Self Storage facilities also vary greatly. While they usually have some security measures in place, there are facilities whose security levels leave something to be desired. In addition, large Storage units are externally exposed and can only be secured by a pad lock that you provide.
There can be hidden costs and extra charges. On top of the Storage unit's basic rental fee, hidden costs and additional fees can significantly increase what you expected to pay. There are admin fees, late fees, mandatory insurance, etc. These costs can quickly add up.
Our custom-built Storage units offer a more versatile solution to Self Storage facilities. We drop off and pick up. With us, you simply give one of our customer service agents a call and reserve one or more storage units.
We can deliver the Storage unit straight to your home or office. You can pack it on your own or have our team of professional removalists do all the hard work for you. You simply kick back and relax. No need to break a sweat or lift a finger!
Once the Storage unit is packed and loaded, you choose whether to store it on your premise or store it at our facility. We do all the driving, you won't even need to leave the comfort of your home!
You can access on weekdays from 7:00 am to 4:30 pm. Just give us 48 hours' notice and we'll have your unit ready.
Our Goal is to Make Storage Easy and Economical for You…
Life is tough enough these days, the least we can do is to make moving items into Storage a stress-free experience for everyone. We took the benefits of traditional Self Storage Taylors Lakes and combined it with the selling points of Mobile Storage solutions. The results are nothing short of spectacular:
• No more truck or trailer rentals
• No more tedious trips to the Storage warehouse
• No more double handling of your precious belongings
• No more bad backs and risk of injuries
• No more hassle and headaches!
Here are a Few More Reasons to Engage our Service:
• We have been catering to the Storage needs of home and business owners for more than 18 years and we've established our company as the most reliable Mobile Storage service provider, not only in Taylors Lakes, but also in the whole of Melbourne.
• We keep in stock a complete range of premium packing materials and we offer professional packing services. We've packed homes of all sizes and we can also pack up small to large offices, factories, gyms, commercial establishments, among others.
• We maintain a fleet of custom-built vehicles with hydraulic tailgates for easy loading, and airbag suspension for a smooth and stable ride so your goods won't move during transit.
• Our state-of-the-art storage facility is designed and built to provide maximum protection for your prized possessions. It is strictly private where no one from the general public can enter. We have outfitted it with the latest alarms, fire monitoring system, and 24/7 CCTV surveillance cameras.
If you have any questions or if you wish to choose our service, please feel free to contact us at 1300 418 166 or email us at [email protected]
Get started today with a free no-obligation quote, and see how we can personalise our Storage packages to suit your needs. Our friendly staff are on standby and ready to assist you with any and all of your requirements. It's really that simple and easy, the way Self Storage Taylors Lakes is supposed to be!
Drop us a line and we will be in touch within 24 hours. We'll get back to you with pricing and a solution.
Taylors Lakes and General Storage Information
Taylors Lakes is a suburb in Melbourne, located 20 km northwest of the city's Central Business District. At the 2021 census, it recorded a population of 15,174. Its local government area is the City of Brimbank.
This serene suburb is bounded by the Calder Freeway in the north, Lady Nelson Way in the south, Taylors Creek and Overnewton Road in the east, and the Bendigo railway line in the west. It is composed largely of recent developments dating from the 1990s.
Considered by many as one of Melbourne's best western suburbs, Taylors Lakes boasts of picturesque tree-lined streets and a plethora of amenities like shopping centres, cinemas, elite schools, parks and gardens, sports grounds, bus routes and a railway station. It literally has everything tucked into one gem of a suburb!
It takes about five minutes to reach the freeway and there's excellent public and private transport access to the CBD and the surrounds. Taylors Lake is perfect for those looking for a safe and family-friendly suburb. It has a very homely yet professional feel to it.
Taylors Lakes Fast Facts
Area: 7.8 km2 (3.0 sq mi)
Established: 1970s
Population Density: 1,945/km2 (5,040/sq mi)
Postcode: 3038
State Electorates: Niddrie and Sydenham
Federal Division: Gorton
Median House Price: $920,000
Surrounding Suburbs: Calder Park, Keilor North, Sydenham, Keilor, Delahey, and Keilor Downs
Distance from Taylors Lakes to 1800 We Store It: 20 km or 23 minutes by car
Distance from Taylors Lakes to Melbourne CBD: 25.5 km or 24 minutes by car via Calder Fwy/M79 and M2