Mobile Self Storage Waurn Ponds
*FURNITURE STORAGE *BUSINESS STORAGE *RENOVATIONS
*DECLUTTERING *GENERAL STORAGE
Mobile Self Storage From Just $1.10 Per Day.
Mobile Self Storage in Waurn Ponds is up to 50% CHEAPER than other storage companies.
Here are just a few of the benefits of choosing 1800 We Store It's Mobile Self Storage Services.
Multiple Mobile Self Storage Unit sizes being 6ft, 8ft, 10ft & 20ft

Storage Unit delivery & pickup services
Storage Unit loading & unloading services
Store the Mobile Self Storage Unit at your place or at one of our facilities
Let our team do all the heavy lifting & loading for you or do it yourself
No fixed contracts, simply week by week arrangements
Felt furniture blankets & tie downs supplied FREE of charge
Full range of packing materials & protective covers available
24/7 monitored CCTV and alarmed security
Request your free no-obligation QUICK QUOTE Today
Waurn Ponds's Most Trusted Mobile Self Storage Company
Established in 2002, 1800 We Store It has been providing personalised Mobile Self Storage Services in Waurn Ponds for over 20 years.
You can find us in: Tullamarine, Laverton North, Richmond & Glen Waverley
Waurn Ponds's Mobile Self Storage Options
We personalise our Mobile Self Storage Services to your needs. Here are just some of the options we provide you with.
Our Mobile Storage Unit sizes
6ft MOBILE STORAGE UNIT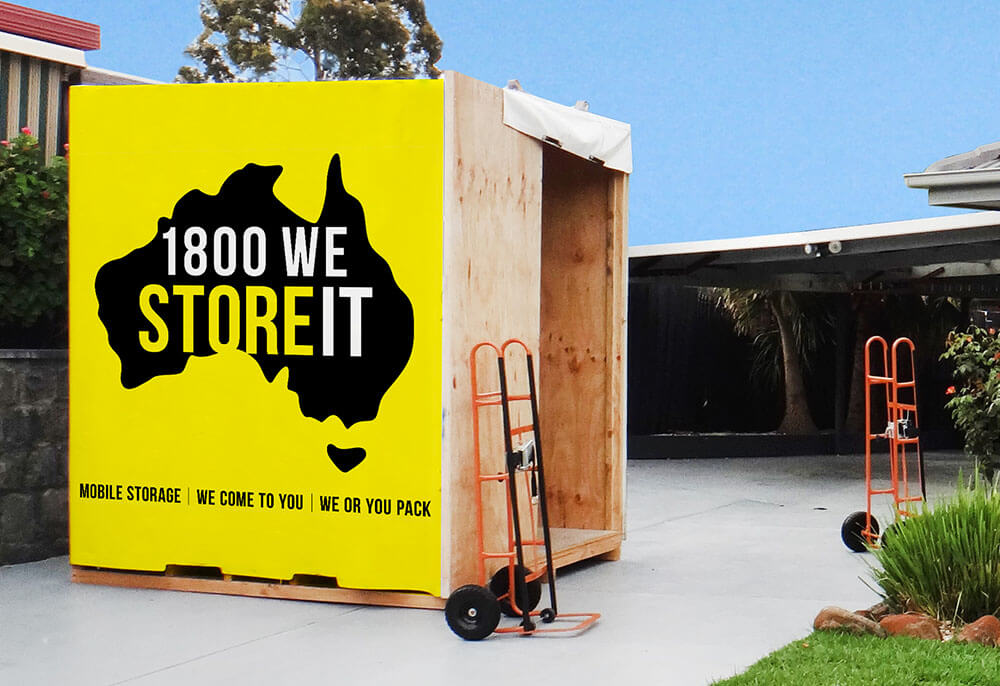 Holds the equivalent of 2 standard
bedrooms of goods.
Max. Dimensions: 
Height 2.6m, Width 1.8m, Length 2.4m
Capacity:
10 Cubic metres
Features:
Sturdy construction grade Indoor Storage units.
Supplied with 10 x Felt Furniture blankets FREE of charge.
8FT MOBILE STORAGE UNIT
Holds the equivalent of 2.5 standard
bedrooms of goods.
Dimensions: 
Height 2.4m, Width 2.1m, Length 2.3m
Capacity:
11.5 Cubic metres
Features:
Strong & Secure Steel Storage unit with internal Tie rails and fitted with external Padlock protector.
Supplied with 15x Felt Furniture blankets and 5x Furniture Tie-downs FREE of charge.
10FT MOBILE STORAGE UNIT
Holds the equivalent of 3 standard
bedrooms of goods.
Dimensions:
Height 2.9m, Width 2.4m, Length 3m
Capacity:
16.5 – 19 Cubic metres
Features:
Strong & Secure Steel Storage unit with internal Tie rails and fitted with external Padlock protector.
Supplied with 20x Felt Furniture blankets and 5x Furniture Tie-downs FREE of charge.
20FT MOBILE STORAGE UNIT
Holds the equivalent of a standard
3-4 bedroom home.
Dimensions:
Height 2.9m, Width 2.4m, Length 6m
Capacity:
33 – 38 Cubic metres
Features:
Strong & Secure Steel Storage unit with internal Tie rails and fitted with external Padlock protector.
Supplied with 40x Felt Furniture blankets and 10x Furniture Tie-downs FREE of charge.
Mobile Self Storage Waurn Ponds
Are you looking for a convenient and economical storage solution? Save precious time and money with our mobile storage service. It works much like the self storage Waurn Ponds you know about; we just made it a lot simpler and easier!
Gone are the days when you had to hire a truck, load your belongings, drive to the storage facility, only to unload and pack everything again into the unit you rented.
At 1800 We Store It, we offer you the convenience of having a storage unit delivered straight to your home or office. You can then choose to pack it yourself or have our team of professional removalists do all the hard work and heavy lifting.
Either way, when loading is complete, you can opt to keep the storage unit onsite at your premises or we can take it to our facility for safekeeping. When you need your goods back, just give us a call and we'll redeliver and unload for you. It's that easy!
We take pride in consistently providing mobile storage services that fit in with your budget and schedule. They are a cost-effective and time-saving solution that's perfect for households and businesses alike.
Storage Solutions Tailored to Your Needs
We have been providing peerless service to Melburnians since 2002, and if there is one thing that decades of experience have taught us, it's the fact that no two clients share the same storage requirements and preferences.
We therefore see to it that we personalise our services to better meet the unique needs of every client. So, if you're running out of space and you're looking for a tailored solution that won't break the bank, you've come to the right place. 1800 We Store It is your best bet!
A Ready-to-Use Storage Solution
Weatherproof and custom-made from industrial-grade reinforced steel, our mobile storage units are used in various settings and for a variety of applications. They are available for delivery today and you can choose from four different sizes and capacities.
Here are their most common uses:
Residential Applications
Decluttering or Preparing Your Home for Staging
Maximise the sale value of your house by decluttering and showing off your property at its best. Make prospective buyers see your home as their own by creating space and temporarily placing your personal items into storage.
Moving or Relocating
Settlement dates don't always align between your old house and your new home when you move. Mobile storage allows you to move your belongings in stages instead of doing it in one go. Simply keep your items in our storage unit for a short- or long-term period with no lock in contracts.
Vacation or Travelling
Let us keep your prized possessions safe while you are away. Our mobile storage units are a great option when you're going somewhere to work or unwind. They're a safe way to keep your items until your return.
Renovation or Remodelling
Make sure your renovation project runs smoothly by giving your tradesmen enough room to move and go about their job efficiently. We can take away your goods and return them when the project is done. Our mobile storage unit(s) will allow you to stay organised and manage logistics while you're upgrading your home.
Business/Commercial Applications
Seasonal Storage
We can help free up space if your business has seasonal space requirements. Our storage units are very useful if you offer products or services that are only used during certain times of the year.
Excess Inventory
If you are overstocked or you are making bulk purchases, we can have a storage unit delivered to your premises so you won't have to rent warehouse space. There are no expensive utilities to pay and no long-term lease commitments to make. Mobile storage is great for the changing space requirements because you can easily upgrade and downsize as needed.
Office Relocation
We have more than 20 years of logistical experience and expertise. We can work with you to make the most efficient and expedient move possible. Whether you are moving a section of the office or the entire workplace, we'll provide the best moving and storage experience.
Equipment, Tools and Materials Storage
Our mobile storage units can help in the safe and efficient operation of construction sites. They will allow you to store tools and equipment onsite, or relocate them. Contractors, landscapers, and building supply wholesalers agree that our storage units are a versatile and cost effective solution for storing or moving your equipment, materials and tools.
So, if boxes upon boxes of goods are making it tough for you to run your business, opt for our mobile storage units. You can rent them for a fraction of the cost of leasing a warehouse or using traditional self-storage Waurn Ponds!
If you have any questions or if you wish to choose our service, please feel free to contact us at 1300 418 166 or email us at [email protected]
Get started today with a free no-obligation quote, and see how we can personalise our storage packages to suit your needs. Our friendly staff are on standby and ready to assist you with any and all of your requirements.
Drop us a line and we will be in touch within 24 hours. We'll get back to you with pricing and a solution.
Waurn Ponds and General Storage Information
Waurn Ponds is a southern suburb of Geelong in the state of Victoria. At the 2016 census, it recorded a population of 5,046. Its local government area is the City of Greater Geelong.
Largely a residential suburb, Waurn Ponds is located on the Princes Highway and bounded by Rossack Drive, the Geelong to Warrnambool railway, Draytons Road, Reservoir Road, Pigdons Road, Deakin University, and Honeys Road.
It was named after the Waurn chain of ponds, a waterway that flows from the Mount Moriac region to the perennial Barwon River. It started to form part of Geelong's outer suburbs from the 1970s, with the opening of the Waurn Ponds Hotel and the Deakin University campus.
However, major development did not start until the early 1990s, and it was centered around the Ghazeepore Road. During the intervening years, housing projects spread across the hillside towards the neighboring suburb of Grovedale.
Waurn Ponds Fast Facts
Area: 23.2 km²
Postcode: 3216
State Electorate: South Barwon
Federal Divisions: Corangamite
Median House Price: $786,000
Surrounding Suburbs and Localities: Barrabool, Ceres, Wandana Heights, Mount Moriac, Highton, Mount Duneed, and Grovedale
Distance from Waurn Ponds to Melbourne CBD: 85.9 km or 1 hour and 7 minutes by car via M1