Mobile Self Storage Brunswick West
*FURNITURE STORAGE *BUSINESS STORAGE *RENOVATIONS
*DECLUTTERING *GENERAL STORAGE
Mobile Self Storage from just $1.10 per day.
Mobile Self Storage in Brunswick West is up to 50% CHEAPER than other storage companies.
Here are just a few of the benefits of choosing 1800 We Store It's Mobile Self Storage Services
Hire a pallet space, pallet rack or a Mobile Self Storage Unit
Mobile Self Storage Unit sizes: 6ft, 8ft, 10ft & 20ft
No fixed contracts, simply week by week arrangements
Store the Mobile Self Storage Unit on your site or ours
Let our team do all the heavy lifting & loading for you or do it yourself
Felt furniture blankets & tie downs supplied FREE of charge
Full range of packing materials & covers available
24/7 monitored CCTV and alarmed security
Request your free no-obligation QUICK QUOTE today
Brunswick West's most Trusted Mobile Self Storage Company
Established in 2002, 1800 We Store It has been providing personalised Mobile Self Storage Services in Brunswick West for over 18 years.
You can find us in: Tullamarine, Laverton North, Richmond & Glen Waverley
Brunswick West's Mobile Self Storage Options
We personalise our Mobile Self Storage Services to your needs. Here are just some of the options we provide you with.
Our Mobile Storage Unit sizes
6ft MOBILE STORAGE UNIT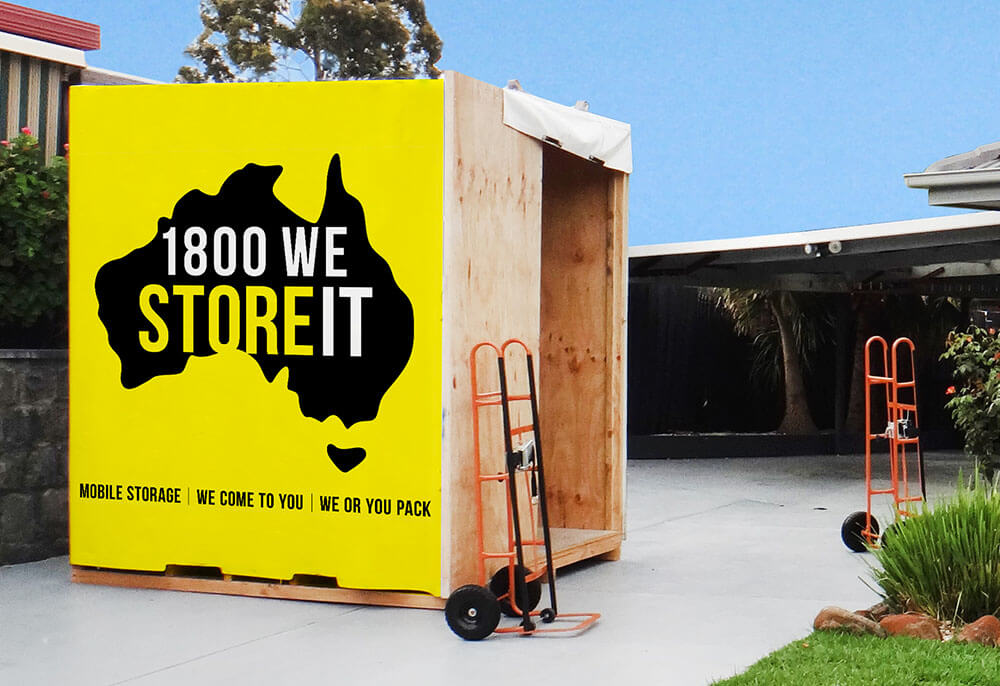 Holds the equivalent of 2 standard
bedrooms of goods.
Max. Dimensions: 
Height 2.6m, Width 1.8m, Length 2.4m
Capacity: 
10 Cubic metres
Features: 
Sturdy construction grade Indoor Storage units.
Supplied with 10 x Felt Furniture blankets FREE of charge.
8FT MOBILE STORAGE UNIT
Holds the equivalent of 2.5 standard
bedrooms of goods.
Dimensions: 
Height 2.4m, Width 2.1m, Length 2.3m
Capacity: 
11.5 Cubic metres
Features: 
Strong & Secure Steel Storage unit with internal Tie rails and fitted with external Padlock protector.
Supplied with 15x Felt Furniture blankets and 5x Furniture Tie-downs FREE of charge.
10FT MOBILE STORAGE UNIT
Holds the equivalent of 3 standard
bedrooms of goods.
Dimensions: 
Height 2.9m, Width 2.4m, Length 3m
Capacity: 
16.5 – 19 Cubic metres
Features: 
Strong & Secure Steel Storage unit with internal Tie rails and fitted with external Padlock protector.
Supplied with 20x Felt Furniture blankets and 5x Furniture Tie-downs FREE of charge.
20FT MOBILE STORAGE UNIT
Holds the equivalent of a standard
3-4 bedroom home.
Dimensions: 
Height 2.9m, Width 2.4m, Length 6m
Capacity: 
33 – 38 Cubic metres
Features: 
Strong & Secure Steel Storage unit with internal Tie rails and fitted with external Padlock protector.
Supplied with 40x Felt Furniture blankets and 10x Furniture Tie-downs FREE of charge.
Mobile Self Storage Brunswick West
Our mobile storage service offers the best option when it comes to space for storing your precious belongings. It's a huge help to those who happen to be moving, doing some renovation work, or businesses going for office relocation, or just about anyone requiring some extra space when the attic, cellar or garage is not enough.
What is Mobile Storage?
Mobile storage is a relatively new concept that has gained wide acceptance and is now considered as the most efficient and cost-effective way to store your goods.
With traditional self storage Brunswick West, you must first book a storage unit, then rent a truck, load all your items into it, drive to the storage warehouse, and then unload all your stuff. When you need your goods back, you must go through the same process in reverse. It can be costly and time consuming.
Why go through all the hassle of taking your items to a storage facility when the space can come to you? We'll bring the mobile storage unit straight to your home or office! More importantly, you can choose this amazing service at half the price of traditional self-storage and with twice the value!
Here's How Mobile Storage Works…
We get everything sorted out in three simple steps:
Step 1: We bring the mobile storage unit to your place.
Give us a call and get in touch with our customer service representatives. We'll deliver your storage unit as scheduled, wherever you are in Brunswick West. No more lugging a dolly load of fragile items from your vehicle to a storage warehouse.
Step 2: We pack or you pack the storage unit…it's your call.
With our mobile storage service, you can choose between 'we pack or you pack solution'. This means you have the option to load your belongings into the storage unit yourself or you can just leave the task to us and let our expert packers and movers do all the heavy loading and lifting for you.
Step 3. You keep the storage unit onsite or we store it offsite in our facility.
When all your goods have been safely packed and secured inside the storage unit, you close it with your padlock or we can provide one for you. You can then choose to keep the unit in your premises for immediate access or we can transport it directly to our facility to store your goods until you need them again.
Professional Packing Service and Packing Supplies
At 1800 We Store It, we go above and beyond to ensure that the needs of our valued clients are catered to in the best way possible. We strive to be a one-stop shop for all your storage needs so we keep on stock a complete range of premium packing materials including porta robe cartons, book and wine cartons, bubble wrap, packing paper, tape, and a lot more.
We also provide professional packing services, with our staff focusing on the safety of your belongings. Whether you need a few items packed or an entire home, we can help. We can also pack up small to large offices, commercial establishments, gyms, factories, and more.
Here are a Few More Benefits of Choosing Our Service:
• Being one of the pioneers of mobile self-storage, we commenced our journey in 2002 with the goal of providing stress-free storage solutions to households and businesses across Brunswick West.
• With more than 18 years of service under our belt, you can rely on our wealth of experience and expertise to get the job done in the most efficient and affordable manner.
• We use custom-made storage units equipped with padlock protectors and tie rails. Forger about cheap wooden containers that barely hold together & store your goods, much less our units provide ample protection.
• Our mobile storage units are custom-built from reinforced steel so your goods get vault-like protection. They are fully sealed, fireproof, pest proof, and weatherproof so you can enjoy peace of mind knowing that your prized possessions are 100% safe and secure.
• We take pride in our state-of-the-art storage facility which features a comprehensive security system. From the provision of access to 24/7 CCTV surveillance, nothing is left to chance.
• You get the best value for your hard-earned money. Aside from peerless service, we provide lots of freebies including FREE quote and consultation; FREE packing quilts and furniture tie downs; and FREE access to your unit Monday to Friday from 9:00am to 3:30pm.
As the most trusted self storage Brunswick West company, we've made it a commitment to consistently deliver the best services at the most competitive rates. If you have any questions or if you wish to choose our service, please feel free to contact us at 1300 418 166 or email us at [email protected]
Get started with a free no-obligation quote, and see how we can personalise our storage packages to suit your needs. Our friendly staff are on standby and ready to assist you with any and all of your requirements.
Brunswick West and General Storage Information
Brunswick West is a predominantly residential inner suburb of Melbourne, located 6 km north from the central business district. At the 2016 Census, it had a population of 14,159. Its local government area is the City of Moreland.
This family-friendly suburb adjoins Pascoe Vale South and Coburg along Moreland Road to the north, Parkville to the south, Brunswick along Grantham, Pearson and Shamrock Streets to the east, and Moonee Ponds at the Moonee Ponds Creek to the west.
There are six bus routes on the main east-west streets and there is easy access to CityLink and the Tullamarine Freeway. Brunswick West offers a more laid back lifestyle than its more bustling neighbours, but it still has the convenience of their cafés and shopping centres.
Brunswick West Fast Facts:
Area: 3.2 km2 (1.2 sq mi)
Population: 14,159
Population Density: 4,420/km2 (11,460/sq mi)
Postcode: 3055
LGA: City of Moreland
State electorate: Brunswick
Federal division: Wills
Surrounding suburbs: Ascot Vale, Brunswick, Coburg, Essendon, Moonee Ponds, Parkville, and Pascoe Vale South
Median house price: $1,300,000
Distance from Brunswick West to 1800 We Store It: 25 km or 23 minutes by car
Distance from Brunswick West to Melbourne CBD: 10.5 km or 17 minutes by car via M2 / 9.0 km or 18 minutes by car via M2 and Flemington Rd