Mobile Self Storage Lovely Banks
*FURNITURE STORAGE *BUSINESS STORAGE *RENOVATIONS
*DECLUTTERING *GENERAL STORAGE
Mobile Self Storage from just $1.10 per day.
Mobile Self Storage in Lovely Banks is up to 50% CHEAPER than other storage companies.
Here are just a few of the benefits of choosing 1800 We Store It's Mobile Self Storage Services
Hire a pallet space, pallet rack or a Mobile Self Storage Unit
Mobile Self Storage Unit sizes: 6ft, 8ft, 10ft & 20ft
No fixed contracts, simply week by week arrangements
Store the Mobile Self Storage Unit on your site or ours
Let our team do all the heavy lifting & loading for you or do it yourself
Felt furniture blankets & tie downs supplied FREE of charge
Full range of packing materials & covers available
24/7 monitored CCTV and alarmed security
Request your free no-obligation QUICK QUOTE today
Lovely Banks' most Trusted Mobile Self Storage Company
Established in 2002, 1800 We Store It has been providing personalised Mobile Self Storage Services in Lovely Banks for over 18 years.
You can find us in: Tullamarine, Laverton North, Richmond & Glen Waverley
Lovely Banks' Mobile Self Storage Options
We personalise our Mobile Self Storage Services to your needs. Here are just some of the options we provide you with.
Our Mobile Storage Unit sizes
6ft MOBILE STORAGE UNIT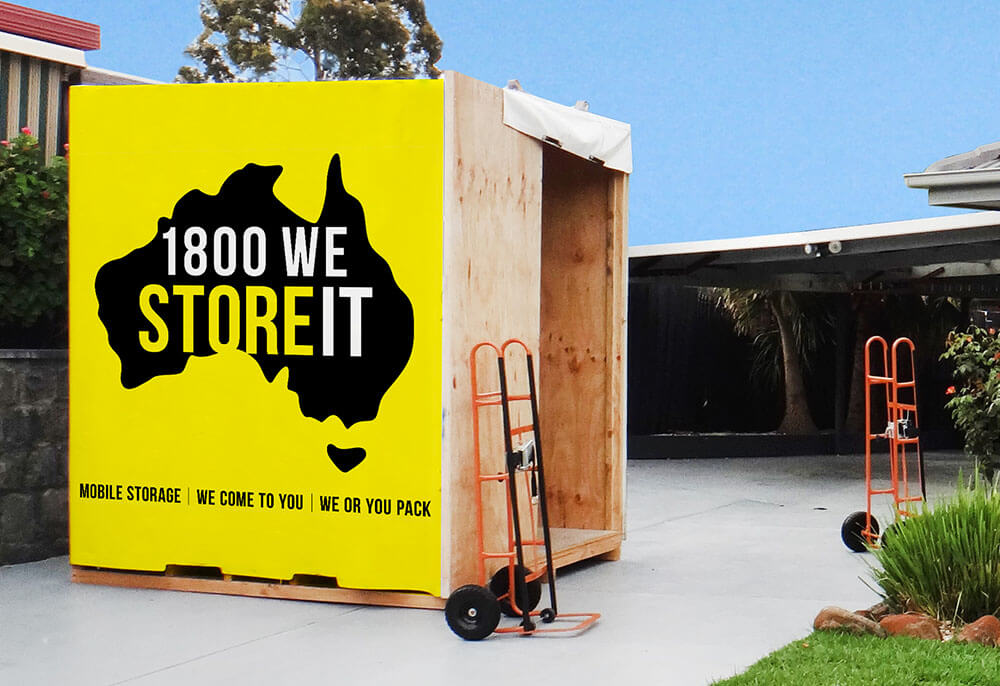 Holds the equivalent of 2 standard
bedrooms of goods.
Max. Dimensions: 
Height 2.6m, Width 1.8m, Length 2.4m
Capacity:
10 Cubic metres
Features:
Sturdy construction grade Indoor Storage units.
Supplied with 10 x Felt Furniture blankets FREE of charge.
8FT MOBILE STORAGE UNIT
Holds the equivalent of 2.5 standard
bedrooms of goods.
Dimensions: 
Height 2.4m, Width 2.1m, Length 2.3m
Capacity:
11.5 Cubic metres
Features:
Strong & Secure Steel Storage unit with internal Tie rails and fitted with external Padlock protector.
Supplied with 15x Felt Furniture blankets and 5x Furniture Tie-downs FREE of charge.
10FT MOBILE STORAGE UNIT
Holds the equivalent of 3 standard
bedrooms of goods.
Dimensions:
Height 2.9m, Width 2.4m, Length 3m
Capacity:
16.5 – 19 Cubic metres
Features:
Strong & Secure Steel Storage unit with internal Tie rails and fitted with external Padlock protector.
Supplied with 20x Felt Furniture blankets and 5x Furniture Tie-downs FREE of charge.
20FT MOBILE STORAGE UNIT
Holds the equivalent of a standard
3-4 bedroom home.
Dimensions:
Height 2.9m, Width 2.4m, Length 6m
Capacity:
33 – 38 Cubic metres
Features:
Strong & Secure Steel Storage unit with internal Tie rails and fitted with external Padlock protector.
Supplied with 40x Felt Furniture blankets and 10x Furniture Tie-downs FREE of charge.
Mobile Self Storage Lovely Banks

Convenient and Cost-effective Solutions to ALL Your Storage Needs…
Our Mobile Storage units are ideal for providing that much-needed space in the home, office, or commercial establishments. You can keep the Storage unit on your premises or in our state-of-the-art facility. Plus, we give you the option to have it delivered and/or picked up on your preferred schedule.
Just give us a call at 1800 We Store It and we'll come up with personalised solutions to your Storage woes, guaranteed! We've got your back every step of the way. Self Storage Lovely Banks has never been easier!
Whether you're decluttering, renovating, traveling, in between homes or simply needing extra Storage space, we will deliver exceptional services that will suit your budget, schedule, and any special requirements that you may have.
Mobile Storage and How It Works

Mobile Storage is a relatively new entry in the industry, but it has rapidly grown in popularity and widespread acceptance as it eliminates all the stress and hassles associated with standard Self Storage facilities.
It's basically Self Storage delivered straight to your door! Our clients love it and we took it to a whole new level by offering two personalised options…

1.  Mobile Serviced Storage

This is our premium service which we recommend if you want our team to take care of all the hard and heavy lifting and loading. It's a 'set and forget' type of service that works in 3 simple steps:
• We come to you – we'll deliver the Mobile Storage unit straight to your premise.
• We pack and load – we'll wrap your items in felt blankets and then load them into your Storage unit. We use furniture tie-downs to secure everything in place and ensure that nothing moves during transit.
Note: We provide the felt blankets and tie downs absolutely FREE!
• We Store – the Storage unit will be transported and kept at our facility until you need your goods back.
2. Mobile Self-Storage
This is practically the same as Mobile Serviced Storage, the only difference is that you will be responsible for loading your goods into the Storage unit. This works well if you have some spare time and you've got friends and family around to help out. 
Once you're done loading your belongings, we will collect the Storage unit and take it back to our facility for safekeeping.
Choose from One of Our Heavy Duty Storage Units

Traditional Self Storage Lovely Banks companies usually rely on wire cages with open tops, so your prized possessions are exposed to the elements, and even theft. Well, forget about those cheap and flimsy wire cages because we have Mobile Storage units that are custom-made from the highest grade industrial materials.
You can therefore rest assured that they are 100% secure, fireproof, pest-proof, and weatherproof. They come in four different sizes – 6ft, 8ft, 10ft and 20ft – so you choose the one that suits the amount of space you need. More importantly, they are bigger and are up to 50% cheaper than those of other service providers.
• Our 6ft unit [10 cubic metres] is big enough to store approximately 2 standard bedrooms of goods
• Our 8ft unit [11.5 cubic metres] can accommodate approximately 2.5 standard bedrooms of goods
• Our 10ft unit [19 cubic metres] is capable of holding approximately 3 standard bedrooms of goods
• Our 20ft unit [38 cubic metre] can stow approximately 3-4 bedroom house worth of goods
Packing Materials and Packing Services Available

We want to make 1800 We Store It a one-stop Storage shop so when you come to us, you won't have to deal with another company. We want to ensure that we can cater to all your needs so we keep in stock a complete range of premium packing materials including moving boxes, protective covers, bubble wrap, tape, etc.
We also have a team of expert packers and industry-accredited removalists. So, whether you need to pack the entire house or just a part of it, we can help. Whatever the case may be, you'll have clearly labelled boxes and logically grouped items that will make unpacking a breeze. We can also pack up small to large offices, factories, gyms, commercial spaces, and more.
Store with Confidence in Our Modern Facility

We take utmost pride in our Storage facility which boasts some of the latest alarm, pest, and fire control systems. On top of those, we have roving security personnel and every square foot of our premises is under 24/7 CCTV surveillance monitoring. You can have peace of mind knowing that we have cutting-edge security measures in place to guarantee that your precious belongings will stay safe and in pristine condition while under our care.

If you have any questions or if you wish to choose our service, please feel free to contact us at 1300 418 166 or email us at [email protected]
Get started today with a free no-obligation quote, and see how we can personalise our Storage packages to suit your needs. Our friendly staff are on standby and ready to assist you with any and all of your requirements.
Drop us a line and we will be in touch within 24 hours. We'll get back to you with pricing and a solution.
Lovely Banks and General Storage Information

Lovely Banks is a northern suburb of Geelong in the state of Victoria. It is situated 62 kilometres southwest of Melbourne's Central Business District. At the 2016 Census, it had a population of 2,301. Its local government area is the City of Greater Geelong.
The origin of its name is believed to be a graphic representation of the area. The land located to the west rises steeply from 30 to 100 metres above sea level, offering sweeping views of Geelong and the majestic Corio Bay.
In general, Lovely Banks is a haven for those looking for fresh air, manicured gardens, a laid back lifestyle, and lots of open spaces as it is home to some notable parks like the Goldsworthy Reserve, the Banksia Reserve, and the Fountain of Friendship Park.
There are some chic cafes and restaurants on Anakie Road and along Cox Road. As for retail, Lovely Banks offers access to Corio Village, Bellpost Hill Shopping Centre, and Westfield Geelong. Overall, this green and tranquil suburb is a great place to call home!
Lovely Banks Fast Facts

Postcode: 3213
State Electorate: Lara
Federal Division: Corio
Surrounding Suburbs/Towns/Localities: Anakie, Lara, Moorabool, Corio, Bell Post Hill, Norlane, and Bell Park
Median House Price: $750,500
Distance from Lovely Banks to 1800 We Store It: 52 km or 35 minutes by car
Distance from Lovely Banks to Geelong:
• 11.0 km or 12 minutes by car via Midland Hwy/A300
• 10.5 km or 13 minutes by car via Anakie Rd/C118 and Midland Hwy/A300
• 15.3 km or 14 minutes by car via M1 and Hamilton Hwy/B140