Self Storage Essendon
*FURNITURE STORAGE *BUSINESS STORAGE *RENOVATIONS
*DECLUTTERING *GENERAL STORAGE
Self Storage from just $1.10 per day.
Self Storage in Essendon is up to 50% CHEAPER than other storage companies.
Here are just a few of the benefits of choosing 1800 We Store It's Self Storage Services
Hire a Pallet space, Pallet rack or a Mobile Storage unit
Mobile Storage unit sizes: 6ft, 8ft, 10ft & 20ft
No Fixed contracts, simply week by week arrangements
Store the Mobile Storage unit on your site or ours
Let our team do all the Heavy lifting & loading for you or do it yourself
Felt Furniture blankets & Tie downs supplied FREE of charge
Full range of Packing materials & covers available
24/7 monitored CCTV and alarmed security
Request your free no-obligation QUICK QUOTE today
Essendon's most trusted Self Storage Company
Established in 2002, 1800 We Store It has been providing personalised self storage services in Essendon for over 18 years.
You can find us in: Tullamarine, Laverton North, Richmond & Glen Waverley
Essendon's Self Storage Options
We personalise our self storage services to your needs. Here are just some of the options we provide you with.
Our Mobile Storage Unit sizes
6ft MOBILE STORAGE UNIT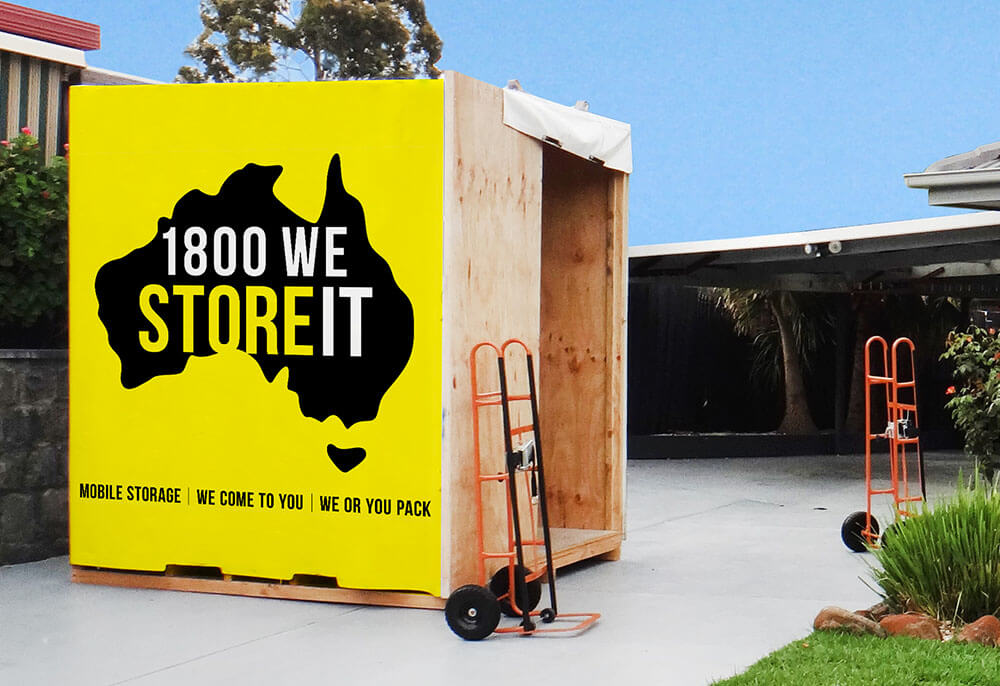 Holds the equivalent of 2 standard
bedrooms of goods.
Max. Dimensions: 
Height 2.6m, Width 1.8m, Length 2.4m
Capacity:
10 Cubic metres
Features:
Sturdy construction grade Indoor Storage units.
Supplied with 10 x Felt Furniture blankets FREE of charge.
8FT MOBILE STORAGE UNIT
Holds the equivalent of 2.5 standard
bedrooms of goods.
Dimensions: 
Height 2.4m, Width 2.1m, Length 2.3m
Capacity:
11.5 Cubic metres
Features:
Strong & Secure Steel Storage unit with internal Tie rails and fitted with external Padlock protector.
Supplied with 15x Felt Furniture blankets and 5x Furniture Tie-downs FREE of charge.
10FT MOBILE STORAGE UNIT
Holds the equivalent of 3 standard
bedrooms of goods.
Dimensions:
Height 2.9m, Width 2.4m, Length 3m
Capacity:
16.5 – 19 Cubic metres
Features:
Strong & Secure Steel Storage unit with internal Tie rails and fitted with external Padlock protector.
Supplied with 20x Felt Furniture blankets and 5x Furniture Tie-downs FREE of charge.
20FT MOBILE STORAGE UNIT
Holds the equivalent of a standard
3-4 bedroom home.
Dimensions:
Height 2.9m, Width 2.4m, Length 6m
Capacity:
33 – 38 Cubic metres
Features:
Strong & Secure Steel Storage unit with internal Tie rails and fitted with external Padlock protector.
Supplied with 40x Felt Furniture blankets and 10x Furniture Tie-downs FREE of charge.
Self Storage Essendon
Mobile storage offers the most practical option when it comes to storing and keeping your belongings safe. It is a relatively new service that has rapidly gained popularity because of the benefits it offers.
Affordability and convenience are on top of the list. Mobile self storage Essendon is easy on the pocket since you only pay for the space you use and there's no need to shell out extra cash for truck rental to haul your items to the storage facility.
As for convenience, mobile storage allows you to pack and unpack your goods only once, so the risk of getting your goods damaged is minimal. More importantly, the storage unit will be delivered to your place so you get to store your stuff without leaving the comfort of your home or office!
Uses of Mobile Storage Units
People rent storage space for a variety of reasons. Majority of those who do are decluttering their living or working areas, doing some renovation, or they happen to be moving out, while others simply don't have enough room in their attics, basements, and garages.
Households and businesses in Essendon commonly use our mobile storage units for the following:
• General Storage
• Furniture Storage
• Decluttering and Organising
• Home Renovation / Remodeling
• Long/Short Distance Residential Moves
• Office / Business Relocation
• Additional Business Storage
• Trades and Inventory (e.g. tools, equipment, stock, general goods)
• Vehicle / Motorbike / Caravan / Yacht Storage
• Temporary Storage Shed, and more…
Mobile Storage vs. Traditional Self Storage
Mobile storage is very different from traditional self storage that was very popular a decade ago. You needed to rent or borrow a truck, van or ute. You then have to load your goods and then drive to the storage warehouse. When you arrive, you needed to unload your goods into the storage unit.
With mobile storage, what you get is convenience, security, and less handling. There's no need to make multiple trips to and from the storage facility. What's more, the cost of mobile self-storage can be up to 50% cheaper than conventional self-storage. It is very versatile and the storage units come in different sizes to suit different needs and requirements.
At 1800 We Store It, we take it a step further as we're the first and only company in Australia that can send a truck and trailer along with a 7-tonne forklift with the power to lift all storage unit sizes, including our 6-meter long shipping container – a massive unit with a capacity of 38 cubic meters.
Ultimately, there's a whole lot of hassle and headaches taken out of needing to store your belongings. Whether you're looking for short term or long term storage doesn't matter since we offer both. So, if you're seeking for the perfect alternative to typical self storage Essendon, mobile storage is the way to go.
Here's How Mobile Storage Works:
Wherever you live in Essendon, we'll come to you! We've made storage stress and hassle-free by coming to you, not the other way round.
We'll bring the mobile storage unit directly to your place.
We are just a phone call away…get in touch with our customer service staff for a FREE quote and to help you choose the storage unit size that suits your needs. Before you know it, we're knocking on your door with your unit in tow!
You pack or we pack the storage unit for you.
If you have the luxury of time or if you have some friends around to help with the loading of your boxes and belongings, then you can take charge of packing the storage unit. Otherwise, our expert team of packers and movers can do all the heavy lifting for you. Either way, we'll provide felt blankets and tie downs for FREE.
Keep your unit onsite or we store it in our secure facility.
When loading is complete, you can opt to keep the storage unit in your premises for easy and immediate access, or we can take it to our facility for safekeeping. You can access your unit Monday to Friday between 9am and 3:30 pm.
Here Are a Few More Benefits of Choosing 1800 We Store It:
More than 18 years of outstanding service in the industry
Custom-made storage units that are bigger and up to 50% cheaper than those of other storage companies
Multiple mobile storage unit sizes including 6ft, 8ft, 10ft, and 20ft
Packing supplies and professional packing services available
Custom-built vehicles equipped with hydraulic tailgates and airbag suspension
100% secure storage, 24/7 CCTV surveillance, and fully insured
We have been storing all sorts of stuff with loving care since 2002. Our mission is to be an industry leader by providing personalised storage solutions and delivering quality service at the most competitive rates.
If you have any questions or if you wish to choose our service, please feel free to contact us at 1300 418 166 or email us at info@1800westoreit.com.au
Get started with a free no-obligation quote, and see how we can personalise our storage packages to suit your needs. Our friendly staff are on standby and ready to assist you with any and all of your requirements.
Essendon and General Storage Information
Essendon is a residential suburb of Melbourne, located 8 km northwest of the central business district. At the 2016 census, it had a population of 20,596. Its local government area is the City of Moonee Valley.
Essendon is the largest and most affluent suburb of Moonee Valley. It is bounded in the north by Keilor Road and Woodland Street, in the south by Buckley Street, in the east by the Moonee Ponds Creek, and in the west by Hoffmans Road.
Essendon Fast Facts:
Area: 6.2 km2 (2.4 sq mi)
Population: 20,596
Population density: 3,322/km2 (8,600/sq mi)
Postal code: 3040
State electorates: Essendon and Niddrie
Federal division: Maribyrnong
Median house price: $1,623,750
Surrounding suburbs: Aberfeldie, Brunswick West, Essendon North, Essendon West, Moonee Ponds, Niddrie, Pascoe Vale South, and Strathmore
Distance from Essendon to 1800 We Store It: 20.8 km or 18 minutes by car
Distance from Essendon to Melbourne CBD: 8.4 km or 18 minutes by car via Mt Alexander Rd/A60 / 11.4 km or 16 minutes by car via M2 /