Mobile Self Storage Glenroy
*FURNITURE STORAGE *BUSINESS STORAGE *RENOVATIONS
*DECLUTTERING *GENERAL STORAGE
Mobile Self Storage from just $1.10 per day.
Mobile Self Storage in Glenroy is up to 50% CHEAPER than other storage companies.
Here are just a few of the benefits of choosing 1800 We Store It's Mobile Self Storage Services
Hire a pallet space, pallet rack or a Mobile Self Storage Unit
Mobile Self Storage Unit sizes: 6ft, 8ft, 10ft & 20ft
No fixed contracts, simply week by week arrangements
Store the Mobile Self Storage Unit on your site or ours
Let our team do all the heavy lifting & loading for you or do it yourself
Felt furniture blankets & tie downs supplied FREE of charge
Full range of packing materials & covers available
24/7 monitored CCTV and alarmed security
Request your free no-obligation QUICK QUOTE today
Glenroy's most Trusted Mobile Self Storage Company
Established in 2002, 1800 We Store It has been providing personalised Mobile Self Storage Services in Glenroy for over 18 years.
You can find us in: Tullamarine, Laverton North, Richmond & Glen Waverley
Glenroy's Mobile Self Storage Options
We personalise our Mobile Self Storage Services to your needs. Here are just some of the options we provide you with.
Our Mobile Storage Unit sizes
6ft MOBILE STORAGE UNIT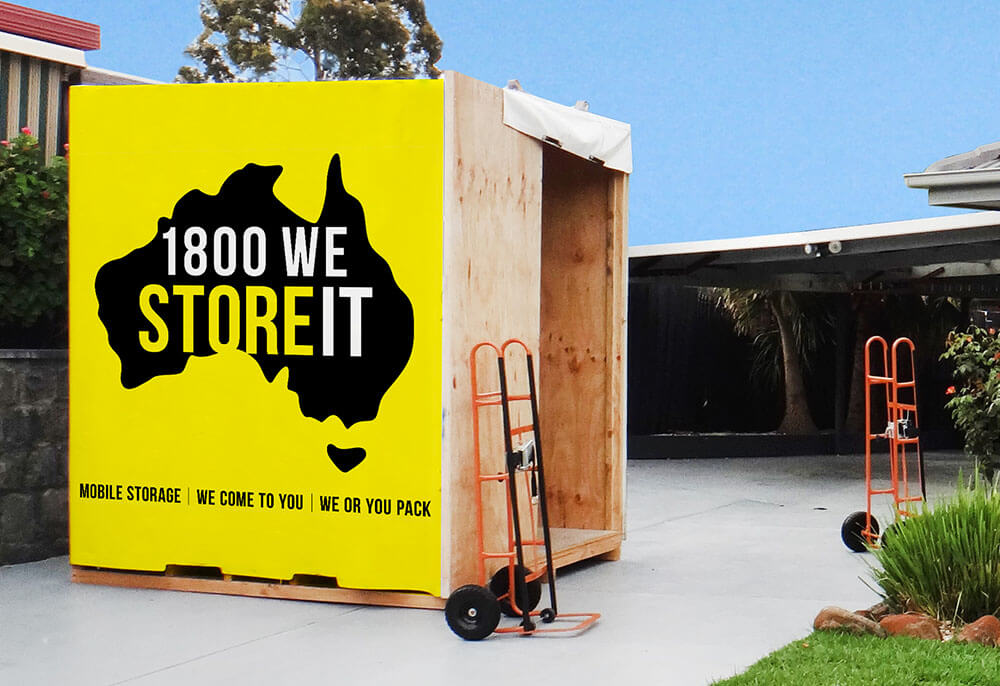 Holds the equivalent of 2 standard
bedrooms of goods.
Max. Dimensions: 
Height 2.6m, Width 1.8m, Length 2.4m
Capacity:
10 Cubic metres
Features:
Sturdy construction grade Indoor Storage units.
Supplied with 10 x Felt Furniture blankets FREE of charge.
8FT MOBILE STORAGE UNIT
Holds the equivalent of 2.5 standard
bedrooms of goods.
Dimensions: 
Height 2.4m, Width 2.1m, Length 2.3m
Capacity:
11.5 Cubic metres
Features:
Strong & Secure Steel Storage unit with internal Tie rails and fitted with external Padlock protector.
Supplied with 15x Felt Furniture blankets and 5x Furniture Tie-downs FREE of charge.
10FT MOBILE STORAGE UNIT
Holds the equivalent of 3 standard
bedrooms of goods.
Dimensions:
Height 2.9m, Width 2.4m, Length 3m
Capacity:
16.5 – 19 Cubic metres
Features:
Strong & Secure Steel Storage unit with internal Tie rails and fitted with external Padlock protector.
Supplied with 20x Felt Furniture blankets and 5x Furniture Tie-downs FREE of charge.
20FT MOBILE STORAGE UNIT
Holds the equivalent of a standard
3-4 bedroom home.
Dimensions:
Height 2.9m, Width 2.4m, Length 6m
Capacity:
33 – 38 Cubic metres
Features:
Strong & Secure Steel Storage unit with internal Tie rails and fitted with external Padlock protector.
Supplied with 40x Felt Furniture blankets and 10x Furniture Tie-downs FREE of charge.
Mobile Self Storage Glenroy
Welcome to 1800 We Store It, Glenroy's most reliable Storage company. Whenever you need short or long-term Storage, we have an extensive range of Storage options available.
We offer an affordable and convenient way to Store your belongings. Our Mobile Self Storage Glenroy service is a cost-effective solution that's perfect for households and business owners. We provide the extra space that you need at the most competitive rates.
Discover how simple and easy Mobile Storage can be. From the first phone call, you will realise the many benefits and the huge difference that personalised Storage service makes. You will get on-time delivery, flexible pricing, and a team of professional removalists.
A Storage Solution for Any Situation
There's a myriad of reasons for using Mobile Storage, but here are the most common ones…
Renovation
Thinking of giving your bathroom or kitchen a makeover? Some items will surely get in the way and must be moved out. We can take them away and return them safely when the job is done. Our Storage units will help you stay organised and manage logistics while you're upgrading your home or office.
Moving or Relocating
Mobile Storage makes life a lot easier during this stressful and emotional experience. Use one or more of our Storage units to move your goods in stages instead of one go. Simply keep your items in the unit(s) until you are ready to settle into your new place.
Business Storage
For most businesses, space is of paramount importance. If boxes upon boxes of documents, excess supplies, tools and equipment are making it impossible for you to work efficiently, our Mobile Storage units are the ideal solution.
We have 6ft, 8ft, 10ft and 20ft units available for delivery today. Simply pick one that you can use and forget about leasing additional warehouse space or moving to larger premises. They are both expensive and time-consuming.
Vacation or Travelling
If you're often on the move or you're off to a much-needed break from work or school, there are items that you must leave behind while you're away. Our Mobile Storage units are a great option when you're going somewhere, especially if you will be gone for an extended period. They're a safe place to store your items until your return.
Melbourne's Most Trusted Storage Company
We ventured into the industry more than 18 years ago with the notion that Storage is an essential service. Over the years, we have gained a wealth of experience and expertise. We know quite well what it takes to ensure that all your storage requirements are met to the highest standards.
Today, our passion and commitment to consistently deliver personalised Storage solutions is stronger than ever. Our quick response times and our track record of outstanding service have established us not only as Glenroy's premier Mobile Storage company, but also the most trusted and most reliable service provider in the whole of Melbourne!
This means virtually no stress and headaches for you when you engage our service – from the initial phone call till you get your belongings back. Compare it to the time, effort, and expense that traditional Self Storage demands from its users. We guarantee that we will get the job done in the easiest, most efficient, and most cost-effective way possible.
A Few Reasons to Choose 1800 We Store It
Low-cost Storage solutions delivered straight to your doorstep…
With our practical and economical approach to Mobile Storage, you can save up to 50% compared to other Self Storage Glenroy companies, and that's without having to leave the comfort of your home or office.
One-stop shop for all your storage needs…
We have everything you need under one roof… you don't have to look elsewhere! We have storage experts and professional removalists. They are ready to serve and can be at your place in a moment's notice. We also have a complete range of premium packing materials and we offer professional packing services. Simply put, we got all your needs covered…and we have the best deals in the suburb!
100% Safe and Secure…
Engaging our service means you get to enjoy peace of mind, knowing we've got your back and your prized possessions are in good hands. Our Storage units are custom-made from reinforced steel and they are specifically designed to be weatherproof so your goods get maximum protection, even from the harshest of elements.
Lastly, our Storage facility is the safest in the business. We made security of your goods our top priority so we went above and beyond to ensure that our facility is outfitted with state-of-the-art alarm and fire control systems, along with high-definition CCTV cameras that monitor our premises 24/7.
If you have any questions or if you wish to choose our service, please feel free to contact us at 1300 418 166 or email us at [email protected]
Get started today with a free no-obligation quote, and see how we can personalise our Storage packages to suit your needs. Our friendly staff are on standby and ready to assist you with any and all of your requirements.
Drop us a line and we will be in touch within 24 hours. We'll get back to you with pricing and a solution.
Glenroy and General Suburb Information
Glenroy is a suburb in Melbourne, located 12 kilometres north of the city's Central Business District. At the 2021 census, it recorded a population of 23,792. Its local government area is the City of Moreland.
This diverse and multicultural suburb is approximately 9.1 square kilometres in size, including 18 parks that cover nearly 6.5% of total land area. It is bounded by the Western Ring Road in the north; New Road, Victoria Street and Rhodes Parade in the south; West Street, Hilton Street, Box Forest Road and the Upfield railway line in the east; and the Moonee Ponds Creek in the west.
What the locals love about Glenroy is that it has all the basic amenities and services they need. There's a range of coffee shops, restaurants, grocery stores, pharmacies, childcare centres, medical facilities, library, post office, and great shopping options in DFO Essendon and Westfield Airport West.
Glenroy is also close to the airport and to two freeways (the Citylink and Ring Road), making getting around by car easy. It actually seems like a bridge point around Melbourne! On the whole, it's an excellent boutique suburb with big potential for growth and development. It is a unique blend of inner grid and safe suburban experience.
Glenroy Fast Facts
Established: 1880s
Area: 9.1 km2 (3.5 sq mi)
Population Density: 2,615/km2 (6,770/sq mi)
Postcode: 3046
State Electorates: Broadmeadows and Pascoe Vale
Federal Division: Wills
Median House Price: $831,000
Surrounding Suburbs: Gladstone Park, Broadmeadows, Jacana, Gowanbrae, Fawkner, Hadfield, Oak Park, Strathmore Heights, and Pascoe Vale
Distance from Glenroy to 1800 We Store It: 22 km or 22 minutes by car
Distance from Glenroy to Melbourne CBD:
• 14.6 km or 18 minutes by car via M2
• 13.1 km or 18 minutes by car via Pascoe Vale Rd/State Route 35 and M2