Mobile Self Storage East Geelong
*FURNITURE STORAGE *BUSINESS STORAGE *RENOVATIONS
*DECLUTTERING *GENERAL STORAGE
Mobile Self Storage From Just $1.10 Per Day.
Mobile Self Storage in East Geelong is up to 50% CHEAPER than other storage companies.
Here are just a few of the benefits of choosing 1800 We Store It's Mobile Self storage services.
Multiple Mobile Self storage Unit sizes being 6ft, 8ft, 10ft & 20ft

Mobile Self Storage Unit delivery & pickup services
Mobile Self Storage Unit loading & unloading services
Store the Mobile Self Storage Unit at your place or at one of our facilities
Let our team do all the heavy lifting & loading for you or do it yourself
No fixed contracts, simply week by week arrangements
Felt furniture blankets & tie downs supplied FREE of charge
Full range of packing materials & protective covers available
24/7 monitored CCTV and alarmed security
Request your free no-obligation QUICK QUOTE Today
East Geelong's Most Trusted Mobile Self Storage Company
Established in 2002, 1800 We Store It has been providing personalised Mobile Self Storage Services in East Geelong for over 20 years.
You can find us in: Tullamarine, Laverton North, Richmond & Glen Waverley
East Geelong's Mobile Self Storage Options
We personalise our Mobile Self Storage Services to your needs. Here are just some of the options we provide you with.
Our Mobile Storage Unit sizes
6ft MOBILE STORAGE UNIT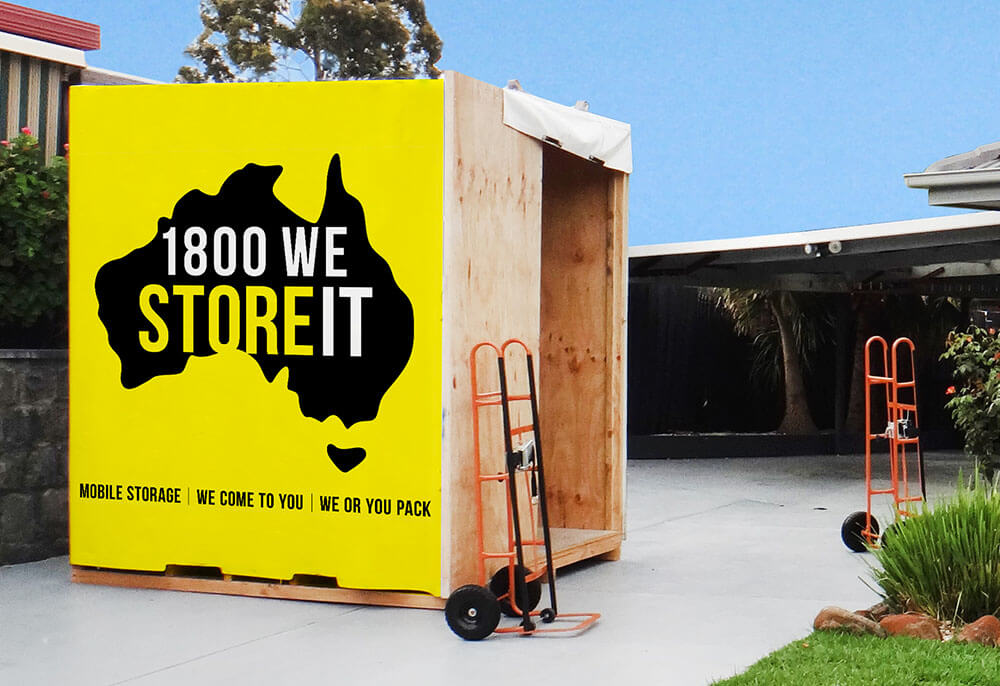 Holds the equivalent of 2 standard
bedrooms of goods.
Max. Dimensions: 
Height 2.6m, Width 1.8m, Length 2.4m
Capacity:
10 Cubic metres
Features:
Sturdy construction grade Indoor Storage units.
Supplied with 10 x Felt Furniture blankets FREE of charge.
8FT MOBILE STORAGE UNIT
Holds the equivalent of 2.5 standard
bedrooms of goods.
Dimensions: 
Height 2.4m, Width 2.1m, Length 2.3m
Capacity:
11.5 Cubic metres
Features:
Strong & Secure Steel Storage unit with internal Tie rails and fitted with external Padlock protector.
Supplied with 15x Felt Furniture blankets and 5x Furniture Tie-downs FREE of charge.
10FT MOBILE STORAGE UNIT
Holds the equivalent of 3 standard
bedrooms of goods.
Dimensions:
Height 2.9m, Width 2.4m, Length 3m
Capacity:
16.5 – 19 Cubic metres
Features:
Strong & Secure Steel Storage unit with internal Tie rails and fitted with external Padlock protector.
Supplied with 20x Felt Furniture blankets and 5x Furniture Tie-downs FREE of charge.
20FT MOBILE STORAGE UNIT
Holds the equivalent of a standard
3-4 bedroom home.
Dimensions:
Height 2.9m, Width 2.4m, Length 6m
Capacity:
33 – 38 Cubic metres
Features:
Strong & Secure Steel Storage unit with internal Tie rails and fitted with external Padlock protector.
Supplied with 40x Felt Furniture blankets and 10x Furniture Tie-downs FREE of charge.
Want Safe and Affordable Mobile Self Storage with No Hassle?
At 1800 We Store It, our goal is to make the storage process as convenient and cost-effective as possible for our valued clients. Traditional self storage East Geelong has been a bane for households and businesses for a long time.
We changed all that by adopting mobile storage and streamlining the whole process. What we offer to you now is a turn-key solution, one that is tailored around your specific needs.
Whether you need storage during a home renovation, office relocation, or you're simply looking for a reliable solution that will give you that much-needed space, our self storage East Geelong services have got you covered!
What is Mobile Storage?
Mobile storage is an innovative concept that has revolutionised the industry and is now widely regarded as the simplest, quickest, and most efficient way to move your goods into storage.
With conventional self storage East Geelong, you must rent a unit, hire a truck, load all your goods, drive to the storage facility, and then unload all your belongings. When you need them back, you must go through the entire process but in reverse! It's both expensive and time consuming.
Why go through the hassle when the storage unit can come to you! Our team will deliver the mobile storage unit direct to your door. More importantly, our service costs half the price of traditional self storage East Geelong. That's huge savings and you'll still get the same outstanding service that's been the trademark of our company.
Here's How Mobile Storage Works…
• We deliver the storage unit to you in East Geelong.
Our team of professional removalists will bring a weatherproof storage unit to your location according to your preferred schedule.
• You pack the storage unit… or we can do it for you.
You can choose to load the goods yourself or have us do all the hard work and heavy lifting. It's your call. Either way, we can supply all the necessary packing materials to make it as easy and convenient as possible.
• Keep the storage unit onsite…or we store it at our facility.
Once everything has been safely loaded, you can secure the unit with your own padlock or we can provide one free of charge. You can also choose to keep the storage unit onsite for easy and immediate access, or we can take it to our storage facility for safekeeping.
• Call us when you want your items back. We'll deliver the storage unit with all your belongings intact – no damage, not even a single scratch! Self storage East Geelong has never been easier!
Residential Storage Solutions
Mobile storage is perfect for homeowners, whether you are decluttering, doing some DIY improvements, moving or travelling.
Renovation / Remodeling: If you're contemplating a full bathroom or kitchen makeover, some items will get in the way and must be moved out. A mobile storage unit will prove handy in this case as it will allow you to manage logistics and stay organised while you are renovating your home.
Moving / Relocating: Mobile storage definitely makes life easier in most moving scenarios. It will allow you to move your belongings in stages, instead of doing it all at once. Whether you're preparing for home staging, looking to incrementally pack it up or needing temporary storage between moves, our self storage East Geelong service is the best way to go.
Business Storage Solutions
We cater to a wide range of industries and we provide solutions to different business needs including the following:
Seasonal Storage – We can help free up space if your business has a seasonal component. A mobile storage unit will be very useful if you sell products that are mostly used during a certain time of the year.
Office Relocation – We have over 20 years of logistical experience and expertise. We can work closely with you for the most efficient move possible.
Excess Inventory – The key to optimal inventory monitoring is space. Optimise yours and generate additional revenue by storing excess fixtures and supplies in one of our mobile storage units. It's just a fraction of the cost of renting a warehouse or using traditional self storage East Geelong.
A Few More Reasons to Choose 1800 We Store It…
• Our storage units are bigger and up to 50% cheaper than those of other self storage East Geelong companies. You can choose from four different sizes: 6ft, 8ft, 10ft, and 20ft. You'll get to pick the one that suits the amount of space you need.
• Professional packing services are available. Our team has packed homes of all sizes and we can also pack up small to large offices, factories, gyms, commercial establishments, and more.
• We charge for storage per week via direct debit. There are no complicated leases or hidden extras. You can access your unit Monday to Friday from 9:00am to 3:30pm.
• FREE quote and storage consultation. Packing quilts and furniture tie downs are also provided at no extra cost.
• We maintain a fleet of custom-built vehicles along with a state-of-the-art facility that features some of the latest alarm systems and 24/7 CCTV surveillance cameras.
If you have any questions or if you wish to choose our service, please feel free to contact us at 1300 418 166 or email us at [email protected]
Get started today with a free no-obligation quote, and see how we can personalise our self storage East Geelong packages to suit your needs. Our friendly staff are on standby and ready to assist you with any and all of your requirements.
Drop us a line and we will be in touch within 24 hours. We'll get back to you with pricing and a solution.
East Geelong and General Storage Information
East Geelong is a suburb of Geelong, Victoria. At the 2016 census, it had a population of 3,862. Its local government area is the City of Greater Geelong.
This highly sought-after residential suburb features the 81-hectare Eastern Park which runs down to the waterfront. It's a massive green space and considered as Geelong's premier regional park. The Geelong Botanic Gardens are situated at its centre and on the eastern outskirts of the central business district. Established in 1851, they are Australia's fourth oldest botanic garden.
Two primary roads and bus routes traverse East Geelong, although several enclosed courts and avenues give the suburb privacy.
There are local shopping centres at the intersections of Ormond Road and Garden Street and Breakwater and St. Albans roads. This gem of a suburb offers quick access to the city centre – you get to enjoy inner-city living sans the inner-city price tag.
East Geelong Fast Facts
Area: 3.1 km2 (1.2 sq mi)
Population: 3,862
Population Density: 1,246/km2 (3,230/sq mi)
Postcode: 3219
State Electorate: Geelong
Federal Division: Corio
Median House Price: $910,000
Surrounding Suburbs: Newcomb, South Geelong, and Thomson
Distance from East Geelong to 1800 We Store It: ____ km or ____ minutes by car