Self Storage Niddrie
*FURNITURE STORAGE *BUSINESS STORAGE *RENOVATIONS
*DECLUTTERING *GENERAL STORAGE
Self Storage from just $1.10 per day.
Self Storage in Niddrie is up to 50% CHEAPER than other storage companies.
Here are just a few of the benefits of choosing 1800 We Store It's Self Storage Services
Hire a Pallet space, Pallet rack or a Mobile Storage unit
Mobile Storage unit sizes: 6ft, 8ft, 10ft & 20ft
No Fixed contracts, simply week by week arrangements
Store the Mobile Storage unit on your site or ours
Let our team do all the Heavy lifting & loading for you or do it yourself
Felt Furniture blankets & Tie downs supplied FREE of charge
Full range of Packing materials & covers available
24/7 monitored CCTV and alarmed security
Request your free no-obligation QUICK QUOTE today
Niddrie's most trusted Self Storage Company
Established in 2002, 1800 We Store It has been providing personalised self storage services in Niddrie for over 18 years.
You can find us in: Tullamarine, Laverton North, Richmond & Glen Waverley
Niddrie's Self Storage Options
We personalise our self storage services to your needs. Here are just some of the options we provide you with.
Our Mobile Storage Unit sizes
6ft MOBILE STORAGE UNIT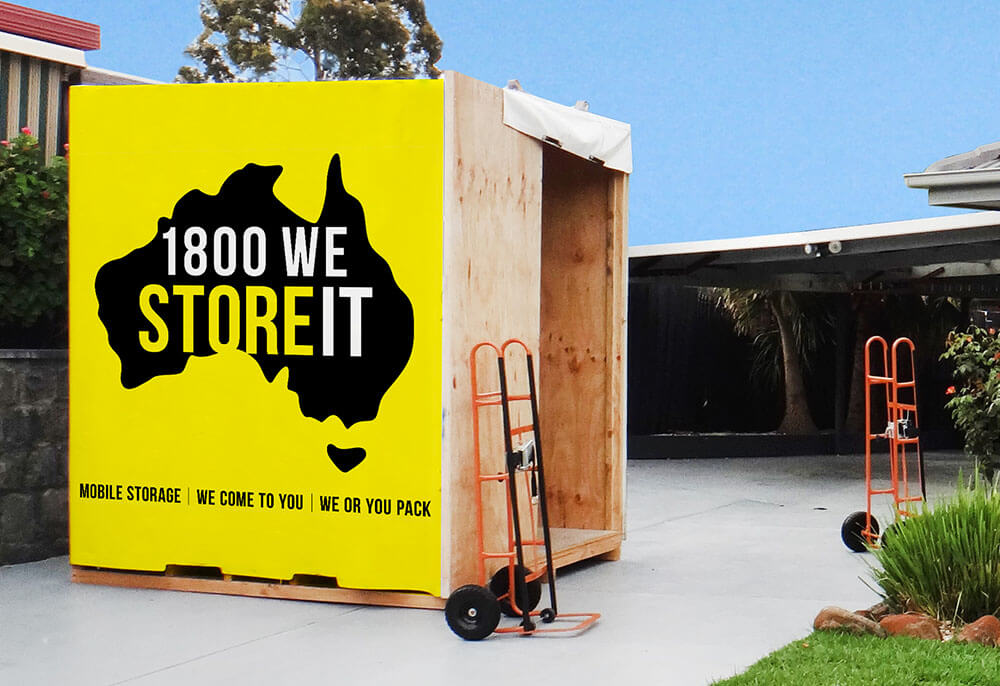 Holds the equivalent of 2 standard
bedrooms of goods.
Max. Dimensions: 
Height 2.6m, Width 1.8m, Length 2.4m
Capacity: 
10 Cubic metres
Features: 
Sturdy construction grade Indoor Storage units.
Supplied with 10 x Felt Furniture blankets FREE of charge.
8FT MOBILE STORAGE UNIT
Holds the equivalent of 2.5 standard
bedrooms of goods.
Dimensions: 
Height 2.4m, Width 2.1m, Length 2.3m
Capacity: 
11.5 Cubic metres
Features: 
Strong & Secure Steel Storage unit with internal Tie rails and fitted with external Padlock protector.
Supplied with 15x Felt Furniture blankets and 5x Furniture Tie-downs FREE of charge.
10FT MOBILE STORAGE UNIT
Holds the equivalent of 3 standard
bedrooms of goods.
Dimensions: 
Height 2.9m, Width 2.4m, Length 3m
Capacity: 
16.5 – 19 Cubic metres
Features: 
Strong & Secure Steel Storage unit with internal Tie rails and fitted with external Padlock protector.
Supplied with 20x Felt Furniture blankets and 5x Furniture Tie-downs FREE of charge.
20FT MOBILE STORAGE UNIT
Holds the equivalent of a standard
3-4 bedroom home.
Dimensions: 
Height 2.9m, Width 2.4m, Length 6m
Capacity: 
33 – 38 Cubic metres
Features: 
Strong & Secure Steel Storage unit with internal Tie rails and fitted with external Padlock protector.
Supplied with 40x Felt Furniture blankets and 10x Furniture Tie-downs FREE of charge.
Self Storage Niddrie
Whether you're decluttering, planning a trip overseas, storing in-between moves, or needing to free up space in the office, you'll find that our Mobile storage service is the perfect solution.
Mobile storage is the same as traditional Self storage Niddrie, but more convenient and cost-effective. It's easy, economical, and practical…the way it's supposed to be. So if you're looking for the best storage solution, look no further than 1800 We Store It.
How Simple and Affordable is Mobile Storage?
We'll come to you and deliver a Mobile storage unit, saving you precious time and money with things like:
Hiring a truck, van or ute
Loading and unloading the vehicle
Minimizing the risk of damage to your belongings by only loading them once
Our Mobile storage units are bigger and up to 50% cheaper when compared to those of other storage companies
Free Furniture blankets and tie downs when you choose our service
Simply a week by week direct debit payment system
We move your items into storage in three simple steps:
Step 1: Give us a call, pick the size of the Mobile storage unit you require, and we'll deliver it direct to you. We come to you instead of the other way around!
Step 2: You pack the Mobile storage unit at your own pace or have our team of professional removalists do all the heavy lifting for you.
Step 3: You can opt to keep the storage unit onsite for immediate access or we can transport it to our facility for storage. When you need your goods back, we'll deliver them at your preferred date, time, and location.
Store with Confidence in Our Custom-Made Storage Units
Our mobile storage units are best in class and available for delivery today!
Built from reinforced steel, but with a fraction of the weight of a standard shipping container, they provide a safe and secure solution to all your storage needs. They are available in four sizes – 6ft, 8ft,10ft and 20ft – so there's a storage unit that will surely meet your requirements and you won't end up paying for empty space.
You can store with confidence knowing that your prized possessions are protected by our fireproof, pest proof, and weatherproof storage units, whether at your home, office, business premises, or out on the field at the jobsite.
Discover the 1800 We Store It Difference
As a pioneer in the storage industry, we have been catering to the needs of our valued clients for more than 18 years. We strive to go above and beyond to meet your expectations, giving you the best possible service at the lowest possible price.
Our versatility is our greatest strength. Drawing on our diverse experience, we are able to offer a variety of solutions, unlike other self storage Niddrie companies that restrict you to only one type of storage. In addition, we can tailor our storage options to suit your specific needs.
Our goal is to provide a reliable end-to-end storage service: a single point of contact and one reputable company to take care of all your storage requirements. From delivering your unit and safely loading your belongings to transportation and safekeeping, 1800 We Store It is committed to providing the highest standard of service in the industry.
Here are a Few More Benefits of Choosing Our Service
Professional Packers and Movers
We have meticulously screened and trained every single member of our team so they strictly adhere to industry standards. You can rest assured that they will get the job done efficiently when we send them over to your place.
Safe, Secure, and State-of-the-Art Storage Facility
Our facility is purpose-built and designed to maximise security and space for both short-and long-term storage. We have installed the most advanced alarm and fire control systems, along with 24/7 CCTV surveillance to ensure your belongings get the ultimate protection while in our care.
One-Stop Shop for all Your Storage Needs
Aside from having storage specialists, professional removalists, and expert packers who are ready to serve in a moment's notice, we also have in stock a complete range of high-quality protective covers and packing materials. You don't need to shop elsewhere because we have everything under one roof!
Niddrie's Most Trusted Storage Company
We are proud to be the most trusted Mobile storage unit provider, not only in Niddrie, but also in the whole of Melbourne. We have established customer confidence and loyalty by consistently delivering outstanding service without the hefty price tag.
If you have any questions or if you wish to choose our service, please feel free to contact us at 1300 418 166 or email us at info@1800westoreit.com.au
Get started with a FREE no-obligation quote and see how we can personalise our storage packages for you. Our friendly staff are on standby and ready to assist you with any and all of your requirements.
Niddrie and General Storage Information
Niddrie is a suburb of Melbourne, located 11 km (6.8 mi) northwest of the central business district. At the 2011 Census it had a population of 4,876. Its local government area is the City of Moonee Valley.
This friendly suburb is bounded by the Calder Freeway to the north, Rosehill Road to the south, Hoffmans Road to the east, and Steele Creek to the west.
Niddrie is generally a middle class suburb with affordable housing, excellent public transport, and many residents that are university educated or have kids that have completed university qualification. Public transport includes Tram route 59 and seven bus routes.
Niddrie Fast Facts
Area: 2.2 km2 (0.8 sq mi)
Population: 4,876
Population density: 2,490/km2 (6,450/sq mi)
Postal code: 3042
State electorate: Niddrie
Federal division: Maribyrnong
Median house price: $1,150,000
Surrounding suburbs: Aberfeldie, Airport West, Essendon, Essendon North, Essendon West, and Keilor East
Distance from Niddrie to 1800 We Store It: 18.3km or 17 minutes by car
Distance from Niddrie to Melbourne CBD: 16.6 km or 20 minutes by car via M2 / 16.1 km or 23 minutes by car via Calder Fwy/M79 and M2