Self Storage Clayton
*FURNITURE STORAGE *BUSINESS STORAGE *RENOVATIONS
*DECLUTTERING *GENERAL STORAGE
Self Storage from just $1.10 per day.
Self Storage in Clayton is up to 50% CHEAPER than other storage companies.
Here are just a few of the benefits of choosing 1800 We Store It's Self Storage Services
Hire a Pallet space, Pallet rack or a Mobile Storage unit
Mobile Storage unit sizes: 6ft, 8ft, 10ft & 20ft
No Fixed contracts, simply week by week arrangements
Store the Mobile Storage unit on your site or ours
Let our team do all the Heavy lifting & loading for you or do it yourself
Felt Furniture blankets & Tie downs supplied FREE of charge
Full range of Packing materials & covers available
24/7 monitored CCTV and alarmed security
Request your free no-obligation QUICK QUOTE today
Clayton's most trusted Self Storage Company
Established in 2002, 1800 We Store It has been providing personalised self storage services in Clayton for over 18 years.
You can find us in: Tullamarine, Laverton North, Richmond & Glen Waverley
Clayton's Self Storage Options
We personalise our self storage services to your needs. Here are just some of the options we provide you with.
Our Mobile Storage Unit sizes
6ft MOBILE STORAGE UNIT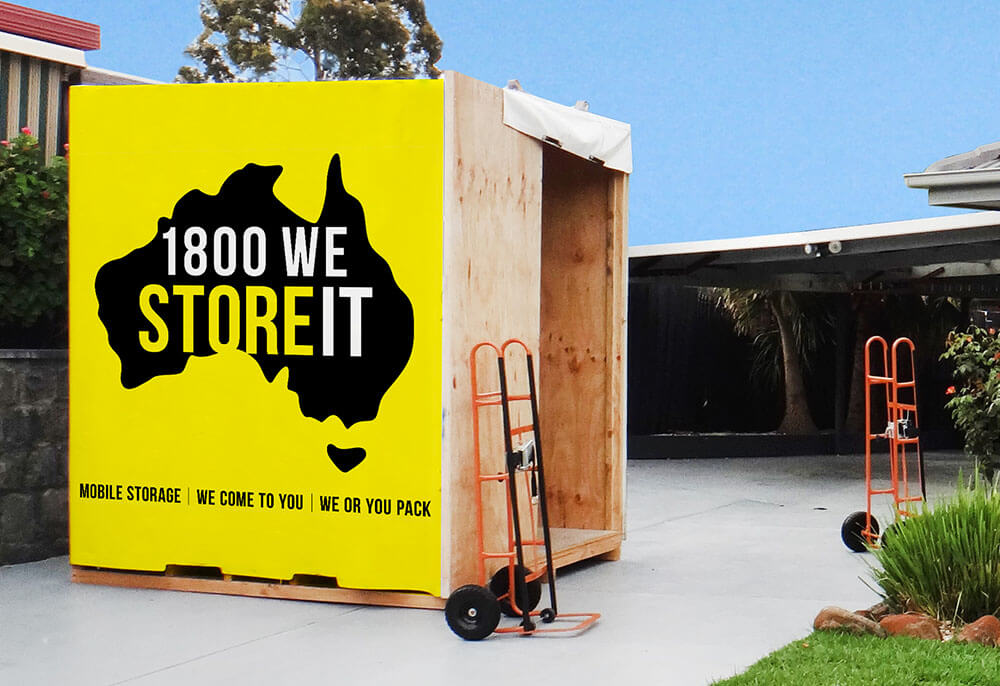 Holds the equivalent of 2 standard
bedrooms of goods.
Max. Dimensions: 
Height 2.6m, Width 1.8m, Length 2.4m
Capacity:
10 Cubic metres
Features:
Sturdy construction grade Indoor Storage units.
Supplied with 10 x Felt Furniture blankets FREE of charge.
8FT MOBILE STORAGE UNIT
Holds the equivalent of 2.5 standard
bedrooms of goods.
Dimensions: 
Height 2.4m, Width 2.1m, Length 2.3m
Capacity:
11.5 Cubic metres
Features:
Strong & Secure Steel Storage unit with internal Tie rails and fitted with external Padlock protector.
Supplied with 15x Felt Furniture blankets and 5x Furniture Tie-downs FREE of charge.
10FT MOBILE STORAGE UNIT
Holds the equivalent of 3 standard
bedrooms of goods.
Dimensions:
Height 2.9m, Width 2.4m, Length 3m
Capacity:
16.5 – 19 Cubic metres
Features:
Strong & Secure Steel Storage unit with internal Tie rails and fitted with external Padlock protector.
Supplied with 20x Felt Furniture blankets and 5x Furniture Tie-downs FREE of charge.
20FT MOBILE STORAGE UNIT
Holds the equivalent of a standard
3-4 bedroom home.
Dimensions:
Height 2.9m, Width 2.4m, Length 6m
Capacity:
33 – 38 Cubic metres
Features:
Strong & Secure Steel Storage unit with internal Tie rails and fitted with external Padlock protector.
Supplied with 40x Felt Furniture blankets and 10x Furniture Tie-downs FREE of charge.
Self Storage Clayton
Being one of the pioneers of Mobile Self Storage Clayton, 1800 We Store It began its journey in 2002, with the commitment to deliver stress-free Storage solutions to households and businesses across Melbourne and its suburbs.
We set out to rectify the shortcomings of traditional Self Storage, and we succeeded by bringing Mobile Storage units straight to your doorstep – saving you time, money, and effort while ensuring the safety of your belongings.
With nearly two decades of experience and expertise under our belt, you can rest assured that our team of professional packers and movers will handle your goods with utmost care and attention.
So, whether you are decluttering, renovating, moving, or storing office documents, supplies, and equipment, we have the perfect personalised Storage solution for you.
What Exactly is Mobile Storage?
Mobile Storage is a relatively new service that adds a whole new dimension to Storage options and solutions. It has already gained widespread acceptance and is now considered as the most efficient and cost-effective way of moving goods into Storage.
Instead of hauling your belongings to a Storage facility, we will deliver a Storage unit to you, thus eliminating all the hassle associated with traditional Self Storage. You won't have to hire a truck, load your goods, and then drive to the facility, only to unload and pack everything to the unit you rented.
You can forget about all those as we offer flexible options so you can address your need for space without having to go out of your way. We bring the solution to you, instead of you coming to us.
Why Mobile Storage is Your Best Bet
Using our Mobile Storage units is easy, affordable, and efficient. You won't need to lift a finger to pack your unit if you don't want to – all you need to do is give us a call. This convenient option is extremely helpful in a variety of situations and applications.
We can load and transport your goods to our Storage facility, no matter how large or small, and regardless of the volume of goods you wish to store. More importantly, our Mobile Storage service can be as little as half the price of traditional Self Storage Clayton, but with twice the value!
And, when you need your belongings back, we just load the Storage unit on our truck and deliver it to your door. Simple and easy, the way it's supposed to be!
Storage Solutions Tailored to Your Needs
We know that our clients Storage requirements and preferences vary greatly, so we see to it that we personalise our services. We discuss with you your specific needs and concerns and then we come up with a tailored solution.
For a start, you can check out these options…
Mobile Serviced Storage
This is our premium service where we take care of everything from start to finish. It's a set-and-forget type of service where one call does it all! We'll do all of the hard work and heavy lifting for you.
It works in three simple steps: (1) We'll bring the Storage unit to your home or office; (2) Our professional removalists will load your goods; (3) We'll take the unit back to our facility for Storage.
All of your fragile items will be wrapped in felt blankets and we secure them inside the Storage unit with tie downs so they won't move and get damaged during transit. We provide the blankets and tie downs FREE of charge.
Zero stress and zero hassle…it's no wonder this service is very popular among our valued clients. We get the job done right and we won't charge you an arm and a leg!
Mobile Self-Storage
This is basically the same as Mobile Serviced Storage. You'll get the same quality service as above; the only difference is that you'll be the one responsible for loading the boxes and all the other items into the unit.
The upside is that you can do so at your own pace and you can call in some friends and family to help out. When you're done, simply give us a call and we'll collect the Storage unit and transport it to our facility.
Professional Packing Service Also Available
1800 We Store It is your first point of call when it comes to Mobile Storage, and you don't need to look elsewhere for related services like packing and moving. Consider us as your one stop shop for all your Storage needs.
We keep in stock a complete range of premium packing materials including moving boxes, packing paper, tape, bubble wrap, etc. We also provide professional packing services, with a focus on the safety of your belongings.
We've got your back whether you only need a few items packed or an entire house. Our team can also pack up small to large offices, commercial establishments, gyms, factories, and more.
If you have any questions or if you wish to choose our service, please feel free to contact us at 1300 418 166 or email us at info@1800westoreit.com.au
Get started today with a free no-obligation quote, and see how we can personalise our Storage packages to suit your needs. Our friendly staff are on standby and ready to assist you with any and all of your requirements.
Drop us a line and we will be in touch within 24 hours. We'll get back to you with pricing and a solution.
Clayton and General Storage Information
Clayton is a suburb in Melbourne, located 18 km southeast of the central business district. At the 2016 Census, it had a population of 19,358. Its local government area is the City of Monash.
This multicultural, family-friendly university suburb is one of Australia's biggest hubs of science, technology, and research. It is situated in Melbourne's southeastern suburbs, which features the highest density of technology industries in the state of Victoria. Clayton is also a centre for local and international businesses (i.e Bosch and PPG), with a long history of local manufacturing.
Being home to the prestigious Monash University means Clayton's main demographic is young, independent people, though the lifestyle and amenities make it appealing to families too. Overall, the suburb revolves around tertiary education and research, while also being a multicultural community with lots of schools, medical facilities, and a cosy shopping strip.
Clayton Fast Facts
Area: 7.7 km2 (3.0 sq mi)
Population: 19,358
Population Density: 2,514/km2 (6,510/sq mi)
Postal Code: 3168
State Electorates: Clarinda and Oakleigh
Federal Division: Hotham
Surrounding Suburbs: Oakleigh East, Mount Waverley, Notting Hill, Oakleigh South, Mulgrave, Clarinda, Springvale, and Clayton South
Median House Price: $1,239,000
Distance from Clayton to 1800 We Store It: 38 km or 45 minutes by car
Distance from Clayton to Melbourne CBD: 24.3 km or 38 minutes by car via M1