Mobile Self Storage Docklands
*FURNITURE STORAGE *BUSINESS STORAGE *RENOVATIONS
*DECLUTTERING *GENERAL STORAGE
Mobile Self Storage from just $1.10 per day.
Mobile Self Storage in Docklands is up to 50% CHEAPER than other storage companies.
Here are just a few of the benefits of choosing 1800 We Store It's Mobile Self Storage Services
Hire a pallet space, pallet rack or a Mobile Self Storage Unit
Mobile Self Storage Unit sizes: 6ft, 8ft, 10ft & 20ft
No fixed contracts, simply week by week arrangements
Store the Mobile Self Storage Unit on your site or ours
Let our team do all the heavy lifting & loading for you or do it yourself
Felt furniture blankets & tie downs supplied FREE of charge
Full range of packing materials & covers available
24/7 monitored CCTV and alarmed security
Request your free no-obligation QUICK QUOTE today
Docklands most Trusted Mobile Self Storage Company
Established in 2002, 1800 We Store It has been providing personalised Mobile Self Storage Services in Docklands for over 18 years.
You can find us in: Tullamarine, Laverton North, Richmond & Glen Waverley
Docklands Mobile Self Storage Options
We personalise our Mobile Self Storage Services to your needs. Here are just some of the options we provide you with.
Our Mobile Storage Unit sizes
6ft MOBILE STORAGE UNIT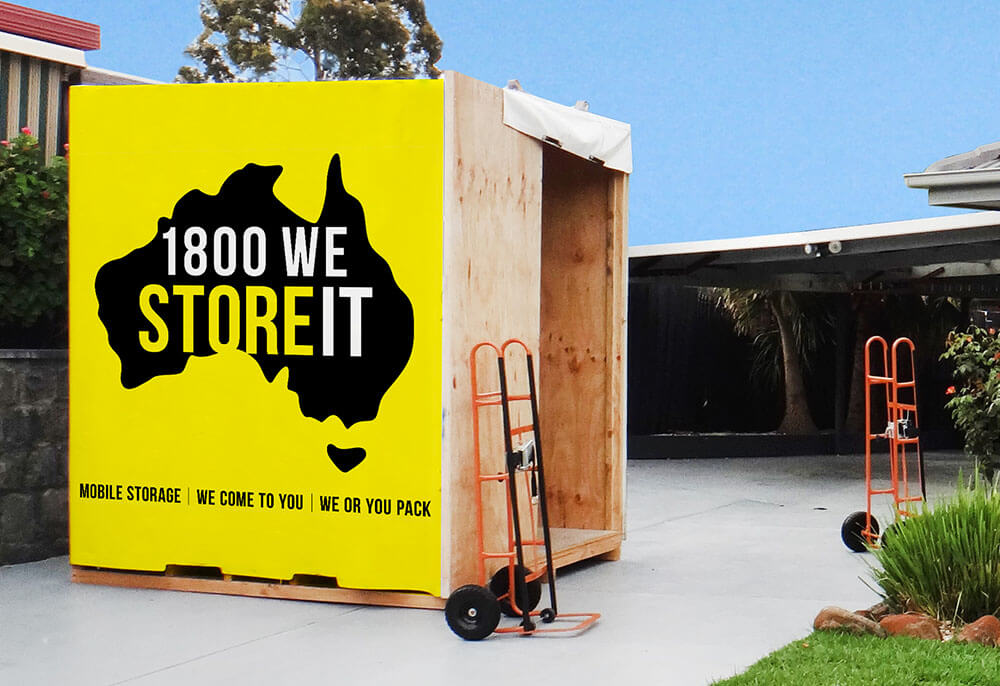 Holds the equivalent of 2 standard
bedrooms of goods.
Max. Dimensions: 
Height 2.6m, Width 1.8m, Length 2.4m
Capacity:
10 Cubic metres
Features:
Sturdy construction grade Indoor Storage units.
Supplied with 10 x Felt Furniture blankets FREE of charge.
8FT MOBILE STORAGE UNIT
Holds the equivalent of 2.5 standard
bedrooms of goods.
Dimensions: 
Height 2.4m, Width 2.1m, Length 2.3m
Capacity:
11.5 Cubic metres
Features:
Strong & Secure Steel Storage unit with internal Tie rails and fitted with external Padlock protector.
Supplied with 15x Felt Furniture blankets and 5x Furniture Tie-downs FREE of charge.
10FT MOBILE STORAGE UNIT
Holds the equivalent of 3 standard
bedrooms of goods.
Dimensions:
Height 2.9m, Width 2.4m, Length 3m
Capacity:
16.5 – 19 Cubic metres
Features:
Strong & Secure Steel Storage unit with internal Tie rails and fitted with external Padlock protector.
Supplied with 20x Felt Furniture blankets and 5x Furniture Tie-downs FREE of charge.
20FT MOBILE STORAGE UNIT
Holds the equivalent of a standard
3-4 bedroom home.
Dimensions:
Height 2.9m, Width 2.4m, Length 6m
Capacity:
33 – 38 Cubic metres
Features:
Strong & Secure Steel Storage unit with internal Tie rails and fitted with external Padlock protector.
Supplied with 40x Felt Furniture blankets and 10x Furniture Tie-downs FREE of charge.
Mobile Self Storage Docklands
Need the best Storage solution? Onsite or offsite… short term or long term?
1800 We Store It offers an affordable, convenient, and secure service that eliminates the stress and hassle of traditional Self Storage Docklands.
We are proud to be Melbourne's most reliable Mobile Storage company with more than 18 years of experience and expertise, catering to all residential and commercial Storage needs.
We have blazed a trail all our own with top-notch customer service and patented safety practices in a state-of-the-art facility utilising the latest security and operating systems.
Why Mobile Storage?
When you need Storage for your home or office, it must be convenient and cost-effective – and these are precisely what we offer! Our Mobile Storage units were designed and built specifically for your convenience, with all the features that will make it easy to move your items in and out.
You can load the Storage unit at your own pace and schedule and have our team pick it up when you're done. Or we can send a team of professional removalists to pack the unit for you. This way, you can sit back, relax or attend to more important matters.
With us, your belongings are loaded and unloaded once, saving you precious time, money, and effort. No need to rent a truck and you get to spare yourself from the hassle of making multiple trips back and forth from a Storage facility. Everything takes place on your terms, and more importantly, you pay as little as half the price of traditional Self Storage.
Uses and Applications of Mobile Storage
Having a Mobile Storage unit can be very useful when you need extra space in the following situations…
Moving
This can be tedious and time-consuming, be it when you're moving house or office. Using a Mobile Storage unit makes the entire process more manageable. You can arrange for the Storage unit to be delivered to your new location whenever you need it. Should you require more time to organise and settle in your new home, you can choose to extend the Storage period.
Decluttering
We all spend our lifetime collecting all sorts of items, be it clothes, shoes, books, toys, etc. However, keeping a lot of things can lead to a messy home. If you can relate, fret not, because having a Mobile Storage unit will help you store special things or those with sentimental value. No need to throw away such items simply because you need extra space.
Downsizing
Some people sell their home due to certain circumstances and they are often left with an overwhelming amount of items for which they no longer have space to store. This is where a Mobile Storage unit comes in really handy. It will allow you to pack your belongings and keep them in a safe place until you are settled comfortably in your new home.
Renovation / Remodeling
Whether you are renovating your bathroom, kitchen or your office, Mobile Storage units can provide space for these projects. They are perfect for storing furniture and equipment that must be moved out. They also provide a safe place to store materials that may come in early like cabinets, flooring, lighting fixtures, etc.
Business Storage
Mobile Storage units are the ideal solution for storing bulky items that take up precious space at your store or workplace. From retail supplies to files and paperwork, mobile storage units are a smart solution for storing excess wares and any business related materials.
Why Choose Us for Your Storage Needs?
• One company, one phone call. We offer end-to-end solutions that are the fastest, most convenient, and most affordable ways to move your goods into storage. Mobile Self Storage Docklands has never been easier!
• We have been in business for over 18 years and we've established 1800 We Store It as Melbourne's premier and most trusted Mobile Storage service provider. We consistently deliver personalised services that are unrivalled in the industry and we're recommended by a long list of happy and satisfied clients.
• Our Mobile Storage units are custom-made from reinforced steel. They are fully sealed and weatherproof. You can choose from four different sizes – 6ft, 8ft, 10ft, and 20ft – so only pay for the exact space you need.
• We maintain a fleet of custom-built vehicles with hydraulic tailgates so your goods and other cargo can easily be loaded and unloaded. They also have airbag suspension for a smooth ride so your items won't budge an inch during transit.
• Our cutting-edge Storage facility is designed to provide the ultimate protection for your prized possessions. We have outfitted it with the latest alarm, fire, and pest control systems, along with 24/7 CCTV monitoring.
• We offer professional packing and moving service. Whether you're dealing with a single item or a hundred, we can help. Our removalists that pack, load/unload your goods are industry accredited. We have the experience, equipment, and techniques for packing and moving large, fragile, and valuable items. You can count on us to get the job done right every single time!
If you have any questions or if you wish to choose our service, please feel free to contact us at 1300 418 166 or email us at [email protected]
Get started today with a free no-obligation quote, and see how we can personalise our Storage packages to suit your needs. Our friendly staff are on standby and ready to assist you with any and all of your requirements.
Drop us a line and we will be in touch within 24 hours. We'll get back to you with pricing and a solution.
Docklands and General Storage Information
Docklands is an inner suburb of Melbourne, located 2 km west of the city's Central Business District (CBD). At the 2016 Census, it had a population of 10,964. Its local government area is the City of Melbourne.
Renowned for its distinct modern architecture centred on the banks of the Yarra River, Docklands is bounded by the Charles Grimes Bridge and Wurundjeri Way to the east, CityLink to the west, and Lorimer Street to the south. This largely waterfront area is comparable to any CBD area – mostly high rise, well-served for virtually all amenities, and close to everything else in the CBD.
The location of modern-day Docklands used to be swamp land that became a bustling dock area in the 1880s. By the turn of the millennium, Docklands experienced an apartment boom and became a coveted business address, drawing the national headquarters of several major enterprises including the National Australia Bank, Medibank, ANZ, AXA, Myer, the Bureau of Meteorology, and even the regional headquarters for Swedish telecom giant Ericsson.
Docklands is also home to a number of heritage buildings and is likewise the site of landmarks such as the Southern Cross Station, the Docklands Stadium, and the Melbourne Star Observation wheel.
Docklands Fast Facts
Area: 3 km2 (1.2 sq mi)
Population: 10,964
Population Density: 3,700/km2 (9,500/sq mi)
Postcode: 3008
State Electorates: Albert Park and Melbourne
Federal Divisions: Macnamara and Melbourne
Median House Price: $1,800,000
Surrounding Suburbs: Footscray, West Melbourne, North Melbourne, Port Melbourne, Southbank, and Yarraville
Distance from Docklands to 1800 We Store It: 17 km or 33 minutes by car
Distance from Docklands to Melbourne CBD: 2.4 km or 7 minutes by car via La Trobe St / 2.5 km or 7 minutes by car via Collins St and Lonsdale St.