Mobile Self Storage NewQuay
*FURNITURE STORAGE *BUSINESS STORAGE *RENOVATIONS
*DECLUTTERING *GENERAL STORAGE
Mobile Self Storage From Just $1.10 Per Day.
Mobile Self Storage in NewQuay is up to 50% CHEAPER than other storage companies.
Here are just a few of the benefits of choosing 1800 We Store It's Mobile Self storage services.
Multiple Mobile Self Storage Unit sizes being 6ft, 8ft, 10ft & 20ft

Mobile Self Storage Unit delivery & pickup services
Mobile Self Storage Unit loading & unloading services
Store the Mobile Self Storage Unit at your place or at one of our facilities
Let our team do all the heavy lifting & loading for you or do it yourself
No fixed contracts, simply week by week arrangements
Felt furniture blankets & tie downs supplied FREE of charge
Full range of packing materials & protective covers available
24/7 monitored CCTV and alarmed security
Request your free no-obligation QUICK QUOTE Today
NewQuay's Most Trusted Mobile Self Storage Company
Established in 2002, 1800 We Store It has been providing personalised Mobile Self Storage Services in NewQuay for over 20 years.
You can find us in: Tullamarine, Laverton North, Richmond & Glen Waverley
NewQuay's Mobile Self Storage Options
We personalise our Mobile Self Storage Services to your needs. Here are just some of the options we provide you with.
Our Mobile Storage Unit sizes
6ft MOBILE STORAGE UNIT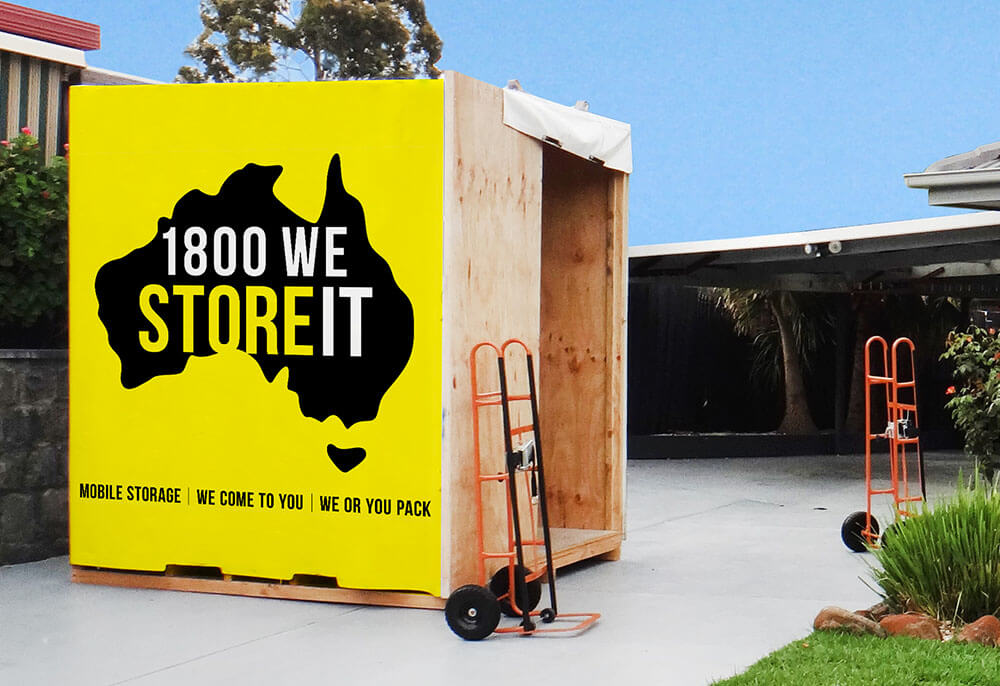 Holds the equivalent of 2 standard
bedrooms of goods.
Max. Dimensions: 
Height 2.6m, Width 1.8m, Length 2.4m
Capacity:
10 Cubic metres
Features:
Sturdy construction grade Indoor Storage units.
Supplied with 10 x Felt Furniture blankets FREE of charge.
8FT MOBILE STORAGE UNIT
Holds the equivalent of 2.5 standard
bedrooms of goods.
Dimensions: 
Height 2.4m, Width 2.1m, Length 2.3m
Capacity:
11.5 Cubic metres
Features:
Strong & Secure Steel Storage unit with internal Tie rails and fitted with external Padlock protector.
Supplied with 15x Felt Furniture blankets and 5x Furniture Tie-downs FREE of charge.
10FT MOBILE STORAGE UNIT
Holds the equivalent of 3 standard
bedrooms of goods.
Dimensions:
Height 2.9m, Width 2.4m, Length 3m
Capacity:
16.5 – 19 Cubic metres
Features:
Strong & Secure Steel Storage unit with internal Tie rails and fitted with external Padlock protector.
Supplied with 20x Felt Furniture blankets and 5x Furniture Tie-downs FREE of charge.
20FT MOBILE STORAGE UNIT
Holds the equivalent of a standard
3-4 bedroom home.
Dimensions:
Height 2.9m, Width 2.4m, Length 6m
Capacity:
33 – 38 Cubic metres
Features:
Strong & Secure Steel Storage unit with internal Tie rails and fitted with external Padlock protector.
Supplied with 40x Felt Furniture blankets and 10x Furniture Tie-downs FREE of charge.
Mobile Self Storage NewQuay
Free up space for more room to live and work.
Extra space can be hard to come by, especially nowadays when we all tend to accumulate more and more in our homes. The growing need for more storage space prompted us to create a storage service that Melburnians deserve. Whether you are decluttering, downsizing, moving house, or need a safe place to store excess business stock, 1800 We Store It is here to help.
Our mobile self storage NewQuay service is a convenient and cost-effective way to keep your belongings safe when you don't have enough room. We'll provide the extra space that you need at the most competitive rate.
Simply give us a call and we'll solve all your storage woes, guaranteed! Whether you're a home or business owner, you can rest assured that we'll deliver the highest quality storage units, along with outstanding service that is the trademark of our company.
Having been in business since 2002, we know that our valued clients have hectic schedules and competing priorities. But whatever the case may be, moving items into storage is often viewed by many as a needed but stressful undertaking.
Most of the stress comes from working to a tight schedule because time constraints mean you need to get the job done before returning the moving truck at the end of the day. With 1800 We Store It, there is no need for expensive truck hire and making multiple trips to and from a storage facility. Our mobile storage service is the perfect space-saving solution and you'll save up to 50% on the cost of transport and storage unit rental.
With us, you can choose between our self storage or our serviced solutions. The DIY option means you can pack your belongings into the storage unit at your own pace, while our serviced option means our team will take care of everything…all you need to do is sit back and relax.
Either way, we'll get the job done in three simple steps:
1. We bring the mobile storage unit direct to your preferred location.
2. You pack or we pack the storage unit. Whichever you choose, we'll provide felt furniture blankets and tie downs at no extra cost.
3. You keep the unit onsite in your premises or we take it to our secure storage facility. For the latter, you can access your unit on weekdays from 9:00 am to 3:30 pm. Access is FREE, all we ask is you give us 48 hours' advance notice.
Our Mobile Storage Units are Ready for Delivery Today!
We are proud to say that our storage units are at the cutting edge of the industry standard. Built with a unique steel frame and designed to withstand the harshest of Australian weather conditions, they can be delivered straight to your doorstep, using our own fleet of trucks and company drivers.
We know that there's no such thing as 'one-size-fits-all' when it comes to storage units, so we offer four different sizes and capacities. Whether you are storing seasonal items or you're in need of long-term storage for a car, motorbike, boat, caravan or trailer, we have a unit that will suit your requirements.
• 6ft / 10 cubic metre unit – holds approximately 2 standard bedrooms of goods
• 8ft / 11.5 cubic metre unit – capable of fitting the furnishings of approximately 2.5 standard bedrooms of goods
• 10ft / 19 cubic metre unit – holds approximately 3 standard bedrooms of goods
• 20ft / 38 cubic metre unit – capable of holding the contents of a 3 to 4 bedroom home
Keeping your belongings safe is our top priority, so aside from having each unit custom-made from reinforced steel, we have outfitted them with impact and weather-resistant wall paneling. They are also fireproof and vermin proof.
Store with Confidence in Our State-of-the-Art Storage Facility
You don't just want to go with the first storage facility you find in NewQuay. You want to choose the one that will offer the best service. 1800 We Store It is your best bet. You can count on us to provide a safe and secure place for your prized possessions, all at a reasonable rental rate. You'll want to store your goods in our facility for the following reasons:
• Our facility is purpose-built to maximise security and space for both short-and long-term Storage
• We have installed the latest alarm and fire control systems, along with 24/7 CCTV surveillance cameras to ensure your items get the ultimate protection while in our care.
• It is strictly private where no one from the general public can enter
• Roving security personnel and on-site managers available
• Well-lit to help deter criminals and for proper functioning of our video surveillance systems
A few More Reasons to Choose 1800 We Store It?
With more than two decades of peerless service in the industry, it's really a no brainer. It's no surprise that we have become the most trusted storage company in the whole of Melbourne!
• FREE quote and storage consultation
• Australian owned and operated
• Rates up to 50% cheaper and mobile storage from only $3.30 per day
• We keep in stock a complete range of premium packing materials including porta robe cartons, book and wine cartons, packing paper, tape, bubble wrap, and a lot more.
• Professional packing service is available. Whatever you need packed, we've got you covered. Our team has packed homes of all sizes and we can also pack up small to large offices, commercial establishments, gyms, factories, etc.
Need we say more? Without a doubt, mobile self storage NewQuay has never been easier, more convenient or economical.
If you have any questions or if you wish to choose our service, please feel free to contact us at 1300 418 166 or email us at [email protected]
Get started today with a free no-obligation quote, and see how we can personalise our Storage packages to suit your needs. Our friendly staff are on standby and ready to assist you with any and all of your requirements.
Drop us a line and we will be in touch within 24 hours. We'll get back to you with pricing and a solution.
NewQuay and General Storage Information
NewQuay is Melbourne's life on the waterfront. It is strategically located on the western section of Victoria Harbour, and bordered by Harbour Esplanade and Footscray Road. One of Docklands' precincts, this vibrant promenade has been meticulously planned to consolidate residential, retail and commercial development.
NewQuay features landmark towers along the mighty Yarra River. It is home to the NewQuay Marina along with a menagerie of chic bars, cafes, shops, and diverse restaurants serving Asian and European cuisine, with some boasting marina and river views.
Stretching a kilometre along the shore of Victoria Harbour, NewQuay is a serene oasis on the edge of Melbourne's CBD, with public transport options including the City Circle tram. Less than a kilometre away is CityLink which connects this well-established precinct to greater Melbourne.
Residents have easy access to the city's popular cultural and sporting facilities as well as prestigious universities and training institutes. NewQuay also offers a number of green public spaces including NewQuay Central Park, NewQuay West Linear Park, Monument Park, and a sculpture park on NewQuay Promenade, featuring nine iconic art pieces.
Overall, locals and visitors are treated to panoramic water views with the backdrop of Melbourne's skyline. Everyone gets to enjoy fresh sea air, lush greeneries and a bustling waterfront.