Self Storage Charlemont
*FURNITURE STORAGE *BUSINESS STORAGE *RENOVATIONS
*DECLUTTERING *GENERAL STORAGE
Self Storage from just $1.10 per day.
Self Storage in Charlemont is up to 50% CHEAPER than other storage companies.
Here are just a few of the benefits of choosing 1800 We Store It's Self Storage Services
Hire a Pallet space, Pallet rack or a Mobile Storage unit
Mobile Storage unit sizes: 6ft, 8ft, 10ft & 20ft
No Fixed contracts, simply week by week arrangements
Store the Mobile Storage unit on your site or ours
Let our team do all the Heavy lifting & loading for you or do it yourself
Felt Furniture blankets & Tie downs supplied FREE of charge
Full range of Packing materials & covers available
24/7 monitored CCTV and alarmed security
Request your free no-obligation QUICK QUOTE today
Charlemont's most trusted Self Storage Company
Established in 2002, 1800 We Store It has been providing personalised self storage services in Charlemont for over 18 years.
You can find us in: Tullamarine, Laverton North, Richmond & Glen Waverley
Charlemont's Self Storage Options
We personalise our self storage services to your needs. Here are just some of the options we provide you with.
Our Mobile Storage Unit sizes
6ft MOBILE STORAGE UNIT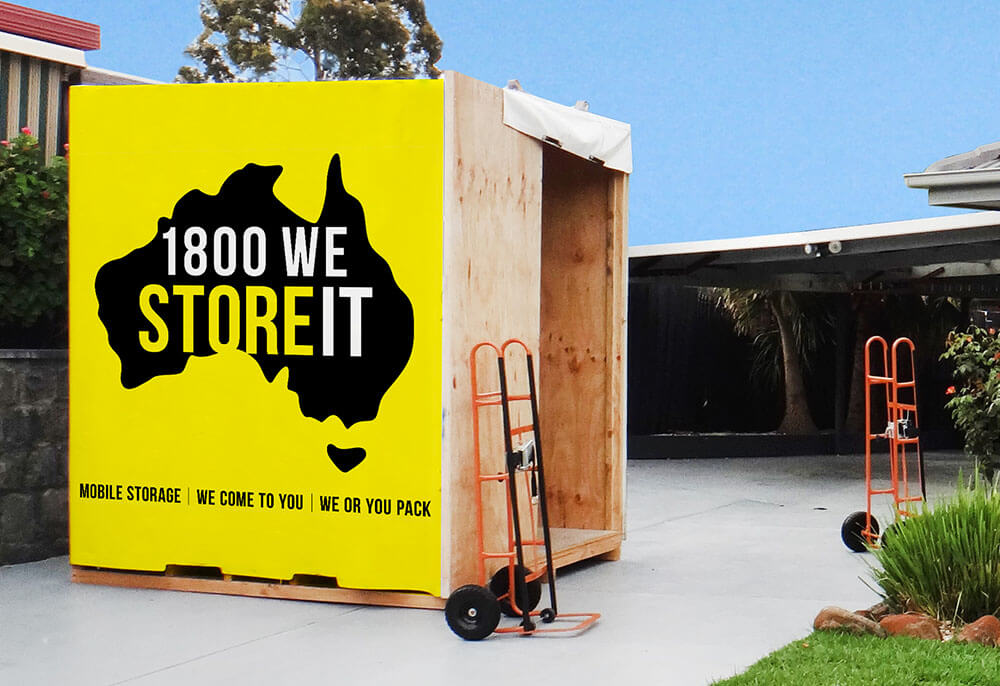 Holds the equivalent of 2 standard
bedrooms of goods.
Max. Dimensions: 
Height 2.6m, Width 1.8m, Length 2.4m
Capacity:
10 Cubic metres
Features:
Sturdy construction grade Indoor Storage units.
Supplied with 10 x Felt Furniture blankets FREE of charge.
8FT MOBILE STORAGE UNIT
Holds the equivalent of 2.5 standard
bedrooms of goods.
Dimensions: 
Height 2.4m, Width 2.1m, Length 2.3m
Capacity:
11.5 Cubic metres
Features:
Strong & Secure Steel Storage unit with internal Tie rails and fitted with external Padlock protector.
Supplied with 15x Felt Furniture blankets and 5x Furniture Tie-downs FREE of charge.
10FT MOBILE STORAGE UNIT
Holds the equivalent of 3 standard
bedrooms of goods.
Dimensions:
Height 2.9m, Width 2.4m, Length 3m
Capacity:
16.5 – 19 Cubic metres
Features:
Strong & Secure Steel Storage unit with internal Tie rails and fitted with external Padlock protector.
Supplied with 20x Felt Furniture blankets and 5x Furniture Tie-downs FREE of charge.
20FT MOBILE STORAGE UNIT
Holds the equivalent of a standard
3-4 bedroom home.
Dimensions:
Height 2.9m, Width 2.4m, Length 6m
Capacity:
33 – 38 Cubic metres
Features:
Strong & Secure Steel Storage unit with internal Tie rails and fitted with external Padlock protector.
Supplied with 40x Felt Furniture blankets and 10x Furniture Tie-downs FREE of charge.
Self Storage Charlemont
Melbourne's most trusted expert in secure, customized, and cost-effective Storage solutions is just a phone call away to help maximise your space.
Our Mobile Storage units are guaranteed to keep your most valuable belongings safe and secure, so you can focus on more important matters like family or your business.
From home renovation and construction projects to office relocation, our Mobile Storage units offer an affordable and reliable solution to your quest for extra space.
Will Mobile Storage Suit Your Needs?
Traditional Self Storage Charlemont is good, but as the industry evolves, a new option has emerged, which is Mobile Storage.
But to whom is Mobile Storage meant for? Well, to put it bluntly… for everyone!
At 1800 We Store It, we specialize in both residential and commercial services. With 18 years of experience in the industry, we can work with anyone – from homeowners doing some renovation work to entrepreneurs needing extra space to store equipment and supplies.
We have a long list of happy and satisfied clients. If Mobile Storage suits them, it should work wonders for you too!
Store with Confidence in Our Mobile Storage Units
Gone are the days of flimsy Storage boxes. What we offer are Storage units that are custom-made from the highest quality steel available in the market today. Every one of our Storage units is specifically designed and built to hold practically anything.
They are built like a tank and once locked, they are virtually impenetrable. Pests and vermin are kept out, along with the harshest of elements and unwanted intruders. They are also self-contained and isolated, which means that whatever happens adjacent to your unit, your goods are completely secluded because there are no common walls, floors or doors.
Lastly and more importantly, our Mobile Storage units are generally bigger and are up to 50% cheaper than those of other service providers.
Portable, Reliable and Convenient
Mobile Storage units let you store your goods on your own terms. When you go with a traditional Self Storage Charlemont facility, you have to deal with nuisances like:
Hiring of a truck, van or ute
Wasted time packing a truck and driving to a Storage facility, only to unload and pack everything into the unit you rented. It gets even worse when you need your goods back because you need to do it all again but in reverse!
Double handling of your goods which increases the risk of damage
Risk of injury while lifting heavy items
Here's How Our Mobile Storage Solutions Work
We are well aware that there is no such thing as a one-size-fits-all solution so we give you options on how you want to make the most out of our storage services.
We Deliver
Our team will bring a Mobile Storage unit straight to your home or office.
You Pack or We can do It all for You
We can provide affordable packing supplies for your DIY needs. You can load your belongings at your own pace and schedule. BUT if you prefer professional packing services, we can assist. Our professional team of removalists will wrap your fragile goods in custom-made felt blankets and use tie downs to secure all items inside your Storage unit.
You Store Onsite at Your Premises or Offsite at Our Facility
Once your unit is fully packed, you close it with your own padlock or we can provide one free of charge. You can keep the Storage unit close by for easy access and for as long as you need it. BUT if you prefer to have it stored in our facility, no problem… it's your call.
A Few More Reasons to Choose 1800 We Store It for Your Storage Needs
With less stress and hassle, better security, and competitive rates, it's really a no brainer. Our Mobile Storage solutions are:
Easier, Simpler and More Convenient
You're just a phone call away from solving your Storage problems. We streamlined our service to make it easier, cheaper, and less stressful than traditional Self Storage. If you choose to store in our facility, Just give us 24 hours' notice and we will arrange access to your unit during business hours. That's Monday-Friday from 9:00 am to 3:30 pm.
Practical, Economical and Cost-Efficient
No funny biz or hidden charges, only peerless service at the lowest possible rates. We simply charge per week via direct debit, regardless of how much stuff you store inside your unit.
In addition, our Mobile Storage units are available in four different sizes – 6ft, 8ft, 10ft and 20ft – so you get to pick the one that perfectly suits your needs and you don't end up paying for empty space.
Safer and More Secure Storage
We may have the most competitive rates but this doesn't mean we compromise on quality or the safety of your prized possessions. We treat and handle them like they're our own. This is why we invested in custom-made Storage units, custom-built vehicles, and a state-of-the-art Storage facility. It's no wonder we earned the distinction as the most trusted Storage company, not only in Charlemont, but also in the whole of Melbourne!
If you have any questions or if you wish to choose our service, please feel free to contact us at 1300 418 166 or email us at info@1800westoreit.com.au
Get started today with a free no-obligation quote, and see how we can personalise our Storage packages to suit your needs. Our friendly staff are on standby and ready to assist you with any and all of your requirements.
Drop us a line and we will be in touch within 24 hours. We'll get back to you with pricing and a solution.
Charlemont and General Storage Information
Charlemont is a suburb of Geelong, Victoria. At the 2016 Census, it had a population of 364. In February 2012, it was gazetted as part of the Armstrong Creek Growth Area, from mostly undeveloped land that used to form part of Grovedale and Marshall. Charlemont's local government area is the City of Greater Geelong.
This sprawling suburb features the Charlemont Rise residential development on the magnificent Horseshoe Bend Road. This new masterplanned community contains streets named after characters and shooting locations from the Game of Thrones fantasy drama television series and George Raymond Richard Martin's A Song of Ice and Fire novels on which the TV series is based.
Charlemont Fast Facts
Postal Code: 3217
State Electorate: South Barwon
Federal Division: Corangamite
Median House Price: $575,000
Surrounding Suburbs: Armstrong Creek, Belmont, Breakwater, Grovedale, Marshall, Moolap, Mount Duneed, and St. Albans Park
Distance from Charlemont to 1800 We Store It: 76 km or 58 minutes by car
Distance from Charlemont to Melbourne: 91 km or 1 hour and 13 minutes by car via M1