Mobile Self Storage Windsor
*FURNITURE STORAGE *BUSINESS STORAGE *RENOVATIONS
*DECLUTTERING *GENERAL STORAGE
Mobile Self Storage From Just $1.10 Per Day.
Mobile Self Storage in Windsor is up to 50% CHEAPER than other storage companies.
Here are just a few of the benefits of choosing 1800 We Store It's Mobile Self Storage Services.
Multiple Mobile Self Storage Unit sizes being 6ft, 8ft, 10ft & 20ft

Storage Unit delivery & pickup services
Storage Unit loading & unloading services
Store the Mobile Self Storage Unit at your place or at one of our facilities
Let our team do all the heavy lifting & loading for you or do it yourself
No fixed contracts, simply week by week arrangements
Felt furniture blankets & tie downs supplied FREE of charge
Full range of packing materials & protective covers available
24/7 monitored CCTV and alarmed security
Request your free no-obligation QUICK QUOTE Today
Windsor's Most Trusted Mobile Self Storage Company
Established in 2002, 1800 We Store It has been providing personalised Mobile Self Storage Services in Windsor for over 20 years.
You can find us in: Tullamarine, Laverton North, Richmond & Glen Waverley
Windsor's Mobile Self Storage Options
We personalise our Mobile Self Storage Services to your needs. Here are just some of the options we provide you with.
Our Mobile Storage Unit sizes
6ft MOBILE STORAGE UNIT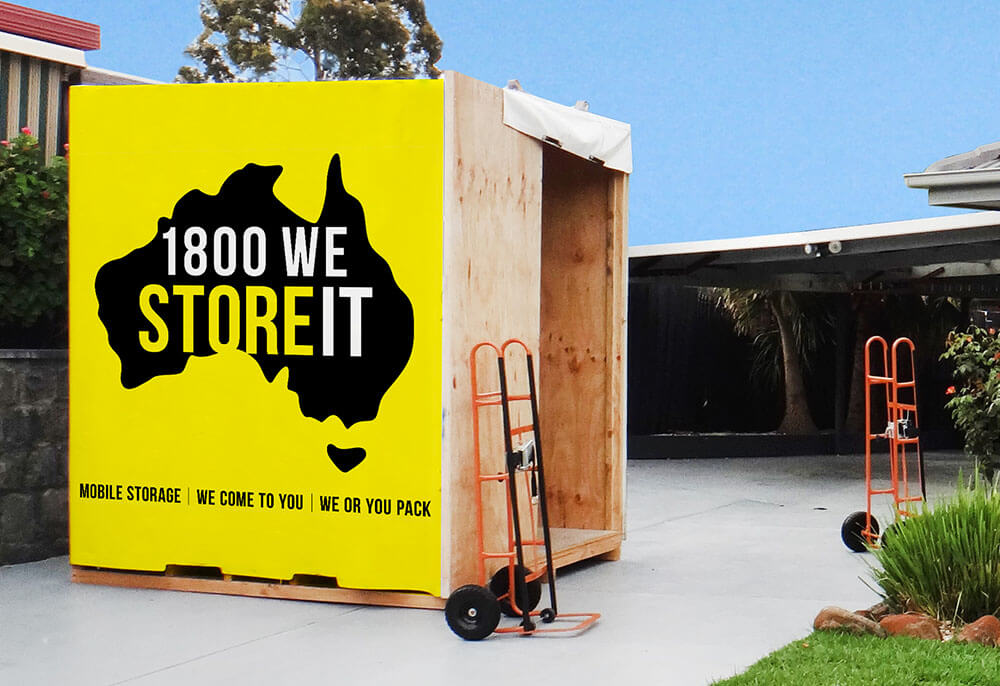 Holds the equivalent of 2 standard
bedrooms of goods.
Max. Dimensions: 
Height 2.6m, Width 1.8m, Length 2.4m
Capacity:
10 Cubic metres
Features:
Sturdy construction grade Indoor Storage units.
Supplied with 10 x Felt Furniture blankets FREE of charge.
8FT MOBILE STORAGE UNIT
Holds the equivalent of 2.5 standard
bedrooms of goods.
Dimensions: 
Height 2.4m, Width 2.1m, Length 2.3m
Capacity:
11.5 Cubic metres
Features:
Strong & Secure Steel Storage unit with internal Tie rails and fitted with external Padlock protector.
Supplied with 15x Felt Furniture blankets and 5x Furniture Tie-downs FREE of charge.
10FT MOBILE STORAGE UNIT
Holds the equivalent of 3 standard
bedrooms of goods.
Dimensions:
Height 2.9m, Width 2.4m, Length 3m
Capacity:
16.5 – 19 Cubic metres
Features:
Strong & Secure Steel Storage unit with internal Tie rails and fitted with external Padlock protector.
Supplied with 20x Felt Furniture blankets and 5x Furniture Tie-downs FREE of charge.
20FT MOBILE STORAGE UNIT
Holds the equivalent of a standard
3-4 bedroom home.
Dimensions:
Height 2.9m, Width 2.4m, Length 6m
Capacity:
33 – 38 Cubic metres
Features:
Strong & Secure Steel Storage unit with internal Tie rails and fitted with external Padlock protector.
Supplied with 40x Felt Furniture blankets and 10x Furniture Tie-downs FREE of charge.
Mobile Self Storage Windsor
When it comes to finding convenient, secure and cost-effective mobile self storage in Windsor, 1800 We Store It is the company to trust.
Whether you are looking for a household or business storage facility, we offer a variety of storage solutions that make it easy to find a safe place for your prized possessions, either on a short- or long-term basis.
And the best thing is you don't even need to bring your belongings to us because our team will deliver a mobile storage unit straight to your home, office or business premises.
Store Your Goods the Easy Way
We have taken the stress out of moving your items into storage. We'll send a mobile storage unit direct to your door, so you can fill it at your leisure or have our team of professional removalists do all the packing and loading for you.
Once your storage unit is full, you can opt to keep it onsite at your premises or we can take it to our fully secure storage facility, where it will be monitored 24/7 by our state-of-the-art security system.
Of course, we'll give you access to your goods during weekdays, but in the meantime, you can enjoy peace of mind knowing that you're getting the most reliable storage service in Melbourne.
There are so many benefits to using mobile storage over traditional self storage Windsor for your furniture, documents, equipment, and other storage needs. If you've tried using a traditional self storage facility, you know how tedious and inconvenient it is to hire a moving truck, load up your goods and drive across town just to find that you need to unload everything and then repack it into the space you rented.
The benefits of using mobile storage units include:
• No need to rent a moving truck
• No need to take time out from your busy schedule
• No more struggle loading bulky and heavy items
• No double handling of your belongings
• We deliver in and around most Melbourne suburbs
• Pay as low as half the price of conventional self storage but get double the value!
The Ultimate Storage Solution
most durable and weatherproof containers on the market today. They are also fireproof and fully sealed, making them impenetrable to dust, dirt and vermin.
You can choose from four different sizes:
• 6ft unit w/ 10 cubic metre capacity – holds approx. 2 standard bedrooms of goods
• 8ft unit w/ 11.5 cubic metre capacity – stows approx. 2.5 standard bedrooms of goods
• 10ft unit w/ 19 cubic metre capacity – stores approx. 3 standard bedrooms of goods
• 20ft unit w/ 38 cubic metre capacity – capable of storing approx. 3 to 4-bedroom house worth of goods
All our storage units have internal rails so your items can be tied securely to ensure they stay put during transit. Every unit also comes with padlock protectors welded onto the doors to avoid any tampering or theft.
Practical and Multi-Purpose
People use mobile storage units for a variety of reasons. The majority our customers find our units practical for decluttering their living or working areas, undergoing renovations or remodeling, or they happen to be relocating office. Others simply don't have enough room in their attic, basement, garage or warehouse.
Households and businesses in Windsor typically use our storage units for the following:
• General storage
• Furniture storage
• Decluttering or downsizing
• Home or office renovation
• Long/Short distance residential moves
• Office / Business relocation
• Additional business storage
• Trades and inventory (e.g. tools and equipment)
• Vehicle / Motorbike / Caravan / Yacht Storage
• Temporary storage shed, and more…
Professional Packing and Moving Assistance
We want to ensure that all of your needs are catered to, so we also offer professional packing and moving services.
Sometimes packing can be more stressful than moving items into storage. If you're short on time and you want to leave the task to the experts, we've got you covered. Our team has been trained in the art of the perfect pack!
Whether it's packing up just a few fragile items or the contents of your entire home, we're ready to help. We can also pack up small to large offices, gyms, commercial establishments, factories, and more.
As for moving, well, we've done it all! From home removals to commercial and corporate relocations, you can count on us to make your move easy and hassle-free. Our removal specialists offer a wide range of seamless services including…
• Household furniture removals
• Antique and art removals
• Office furniture removals
• Shopfitting removals
• Piano removals
• Pool table removals
• Gym equipment removals
There's no job too small or too big for our team to handle. Our objective is to consistently provide high-quality moving services that are both economical and stress-free. Our professional and experienced removalists will assist you in completing a quick, safe, and efficient move.
If you have any questions or if you wish to choose our service, please feel free to contact us at 1300 418 166 or email us at [email protected]
Get started today with a free no-obligation quote, and see how we can personalise our storage packages to suit your needs. Our friendly staff are on standby and ready to assist you with any and all of your requirements.
Drop us a line and we will be in touch within 24 hours. We'll get back to you with pricing and a solution.
Windsor and General Storage Information
Windsor is an inner suburb in Melbourne, located 5 kilometres southeast of the city's Central Business District. At the 2021 census, it recorded a population of 7,273. Its local government areas are the Cities of Port Phillip and Stonnington
Known at first as Prahran South, this small suburb of mostly residential streets is bounded by Dandenong Road, High Street, St Kilda Road and Williams Road. It is bordered on the north and east by Prahran and on the south and west by St Kilda.
Locals depend on a growing number of independent clothing stores, op shops, cafes, lounges, restaurants, gastro pubs and bars for entertainment, many of which are situated along a shopping strip on Punt Road. The popular shopping destination of Chapel Street also courses through Windsor, giving locals even more designer stores, theaters, and music venues to visit.
Like most suburbs in Australia, Windsor is littered with green spaces and parks. The streets are lined with a diverse blend of housing, including Victorian terrace homes, medium density apartments, semi-detached cottages, and high-rise public housing towers.
Windsor is a southside version of what you'd expect from a quintessential suburb like Fitzroy. It is close to everything, with easy access to the city or the outer eastern and southern suburbs. It's walking distance to the beach, Albert Park Lake, Alma Park, St Kilda and Victoria Gardens. There are several transport options available – locals have their choice of bus and train to commute to the CBD or explore the neighboring suburbs.
Windsor Fast Facts
Area: 1 km2 (0.4 sq mi)
Established: 1860s
Population Density: 7,000/km2 (19,000/sq mi)
Postcode: 3181
State Electorate: Prahran
Federal Division: Macnamara
Median House Price: $1,640,000
Surrounding Suburbs: Prahran, St Kilda and St Kilda East
Distance from Windsor to Melbourne CBD:
• 7.5 km or 15 minutes by car via Princes Hwy/A60
• 7.5 km or 19 minutes by car via Punt Rd/State Route 29