Mobile Self Storage Ravenhall
*FURNITURE STORAGE *BUSINESS STORAGE *RENOVATIONS
*DECLUTTERING *GENERAL STORAGE
Mobile Self Storage from just $1.10 per day.
Mobile Self Storage in Ravenhall is up to 50% CHEAPER than other storage companies.
Here are just a few of the benefits of choosing 1800 We Store It's Mobile Self Storage Services
Hire a pallet space, pallet rack or a Mobile Self Storage Unit
Mobile Self Storage Unit sizes: 6ft, 8ft, 10ft & 20ft
No fixed contracts, simply week by week arrangements
Store the Mobile Self Storage Unit on your site or ours
Let our team do all the heavy lifting & loading for you or do it yourself
Felt furniture blankets & tie downs supplied FREE of charge
Full range of packing materials & covers available
24/7 monitored CCTV and alarmed security
Request your free no-obligation QUICK QUOTE today
Ravenhall's most Trusted Mobile Self Storage Company
Established in 2002, 1800 We Store It has been providing personalised Mobile Self Storage Services in Ravenhall for over 18 years.
You can find us in: Tullamarine, Laverton North, Richmond & Glen Waverley
Ravenhall's Mobile Self Storage Options
We personalise our Mobile Self Storage services to your needs. Here are just some of the options we provide you with.
Our Mobile Storage Unit sizes
6ft MOBILE STORAGE UNIT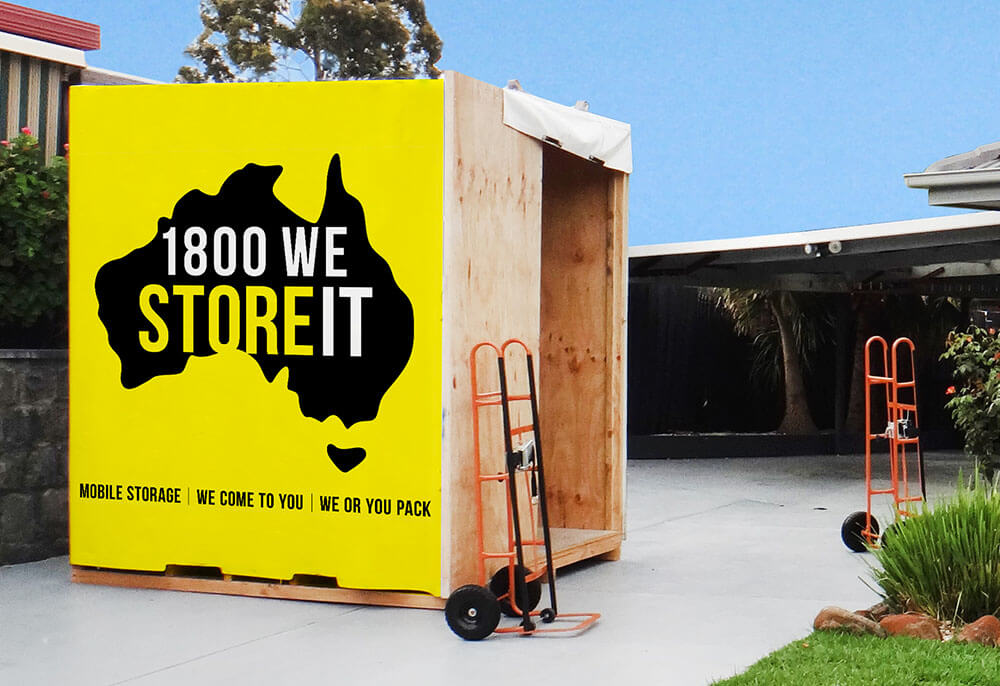 Holds the equivalent of 2 standard
bedrooms of goods.
Max. Dimensions: 
Height 2.6m, Width 1.8m, Length 2.4m
Capacity:
10 Cubic metres
Features:
Sturdy construction grade Indoor Storage units.
Supplied with 10 x Felt Furniture blankets FREE of charge.
8FT MOBILE STORAGE UNIT
Holds the equivalent of 2.5 standard
bedrooms of goods.
Dimensions: 
Height 2.4m, Width 2.1m, Length 2.3m
Capacity:
11.5 Cubic metres
Features:
Strong & Secure Steel Storage unit with internal Tie rails and fitted with external Padlock protector.
Supplied with 15x Felt Furniture blankets and 5x Furniture Tie-downs FREE of charge.
10FT MOBILE STORAGE UNIT
Holds the equivalent of 3 standard
bedrooms of goods.
Dimensions:
Height 2.9m, Width 2.4m, Length 3m
Capacity:
16.5 – 19 Cubic metres
Features:
Strong & Secure Steel Storage unit with internal Tie rails and fitted with external Padlock protector.
Supplied with 20x Felt Furniture blankets and 5x Furniture Tie-downs FREE of charge.
20FT MOBILE STORAGE UNIT
Holds the equivalent of a standard
3-4 bedroom home.
Dimensions:
Height 2.9m, Width 2.4m, Length 6m
Capacity:
33 – 38 Cubic metres
Features:
Strong & Secure Steel Storage unit with internal Tie rails and fitted with external Padlock protector.
Supplied with 40x Felt Furniture blankets and 10x Furniture Tie-downs FREE of charge.
Mobile Self Storage Ravenhall
Imagine having all the convenience of Self-Storage, but right at your doorstep! That's Mobile Storage.
1800 We Store It is one of the pioneers of this innovative service that combines the benefits of traditional Self Storage Ravenhall with the convenience and security of Mobile Storage solutions. We are an end-to-end service provider where you only deal with one reliable company for all your storage, packing, and removal needs.
We've been in the industry for more than 18 years and we know that moving items into Storage can be stressful and you may need a little help from the pros. Let's work together to find the best storage solution for you today!
Give us a call at 1300 418 166 and we'll come up with personalised approach to your Storage woes, guaranteed! Whether you're decluttering, renovating, in between moves or simply needing extra Storage space at home or in the office, you can count on us to deliver exceptional services that will suit your budget and schedule.
The Storage Industry Reinvented
The conventional way to store your goods goes something like this… you load your car, van or truck with your belongings and then you have to drive to the Storage facility. There you need to unload your goods and then get the next load back at your place. You hope this doesn't take all day, but it usually does.
It doesn't have to be this way, let's take the stress out of your Storage and moving needs.
With our Mobile Storage service, our team will deliver the Storage unit straight to your doorstep for easy loading at your own pace. But if you have more important matters to attend to, or you simply want to kick back, relax and let the experts take on all the hard work, we got you covered as well. It's your call…after all, we serve at your pleasure!
We also give you the option to keep the Mobile Storage unit at your premises for immediate access or you can have us pick up the unit and take it to your new place or back to our state-of-the-art storage facility. You can keep it with us for as long as you want.
Our goal is to make things easy and convenient for you…
• No more truck or van rentals
• No more tedious trips to the storage facility
• No more double handling of your belongings
• No more bad backs and risk of injuries
• No more hassle and headaches!
Our Storage Units are Available for Delivery TODAY!
Bigger and Cheaper
Our Mobile Storage units are 'best in class' when it comes to size, durability and value for money. Not only are they larger than typical Storage containers, but they are also up to 50% cheaper! You therefore get more space at the lowest possible rate.
Custom-built and Weatherproof
Forget about flimsy wooden crates that can barely hold your goods together, much less provide adequate protection for your prized possessions. Our Mobile Storage units are custom-made from reinforced steel so your belongings stay safe and damage-free. They are also fully sealed, fire proof, pest proof, and designed to withstand even the harshest Australian weather conditions.
Guaranteed Safe and Secure
All our Storage units have internal tie rails so your goods can be held in place and won't move during transit. They also come with padlock protectors welded onto the doors to prevent cutting, prying, and smashing, thereby adding an extra layer of security.
Choose from Four Different Sizes:
• 6ft unit [10 cubic metres] is big enough to store approximately 2 standard bedrooms of goods
• 8ft unit [11.5 cubic metres] can accommodate approximately 2.5 standard bedrooms of goods
• 10ft unit [19 cubic metres] is capable of holding approximately 3 standard bedrooms of goods
• 20ft unit [38 cubic metres] can stow approximately 3-4 bedroom house worth of goods
You can get as little or as much Storage space as you need. This means you only pay for what you use. You'll surely find the exact size that best suits its intended use and the one that is ideally suited to your particular circumstances.
Practical and Multi-Purpose
Households and businesses in Ravenhall commonly use our Mobile Storage units for the following:
Household Use:
Decluttering | Renovation, Remodeling, Home Improvements | Relocating or Moving | Travelling or Extended Vacation | Furniture Storage | Vehicle Storage, Motorbike Storage, Boat Storage, and more!
Business Use:
Office Relocation | Document or Records Storage | Free Up Office or Warehouse Space | Excess Stock or Help with Industrial Removals | Short-term Storage on Site (tools, equipment, supplies, etc.)
We work with business to remedy a variety of Storage requirements and preferences. Whether permanent or seasonal, we have something for you. We will go the extra mile to help you add square footage whenever and wherever you need more space.
Experience the difference and have peace of mind knowing that you have chosen the most trusted Mobile Self Storage Ravenhall company. We guarantee that we will get the job done in the easiest, most efficient and most cost-effective way possible.
If you have any questions or if you wish to use our service, please feel free to contact us at 1300 418 166 or email us at [email protected]
Get started today with a free no-obligation quote, and see how we can personalise our Storage packages to suit your needs. Our friendly staff are on standby and ready to assist you with any and all of your requirements.
Drop us a line and we will be in touch within 24 hours. We'll get back to you with pricing and a solution.
Ravenhall and General Storage Information
Ravenhall is a suburb in Melbourne, located 20 km west of the city's Central Business District. At the 2021 census, it recorded a population of 2,295. Its local government area is the City of Melton.
Ravenhall is named after the Ravenhall Munitions Siding which was constructed by the Commonwealth Government in 1943 to store weapons for World War II. This outer suburban locality adjoins the Melbourne metropolitan area and situated south of Caroline Springs and the Western Freeway. To the east, outside the City of Melton boundary is the serene suburb of Deer Park.
The nearest railway station to Ravenhall is in Caroline Springs, along Christies Road. The suburb is home to the Metropolitan Remand Centre, a maximum-security prison, as well as the Ravenhall Correctional Centre which is Victoria's largest correctional centre.
Ravenhall Fast Facts
Area: 13.651 square kilometres
Population: 2,295
Postcode: 3023
State Electorate: Kororoit
Federal Division: Gorton
Median House Price: $400,000
Surrounding Suburbs: Deanside, Caroline Springs, Burnside, Deer Park, Truganina and Derrimut
Distance from Ravenhall to 1800 We Store It: 10.5 km or 17 minutes by car
Distance from Ravenhall to Melbourne CBD:
• 25.8 km or 31 minutes by car via M1
• 29.8 km or 30 minutes by car via M2
• 21 km or 31 minutes by car via Ballarat Rd/State Route 8