Mobile Self Storage Wheelers Hill
*FURNITURE STORAGE *BUSINESS STORAGE *RENOVATIONS
*DECLUTTERING *GENERAL STORAGE
Mobile Self Storage From Just $1.10 Per Day.
Mobile Self Storage in Wheelers Hill is up to 50% CHEAPER than other storage companies.
Here are just a few of the benefits of choosing 1800 We Store It's Mobile Self Storage Services.
Multiple Mobile Self Storage Unit sizes being 6ft, 8ft, 10ft & 20ft

Storage Unit delivery & pickup services
Storage Unit loading & unloading services
Store the Mobile Self Storage Unit at your place or at one of our facilities
Let our team do all the heavy lifting & loading for you or do it yourself
No fixed contracts, simply week by week arrangements
Felt furniture blankets & tie downs supplied FREE of charge
Full range of packing materials & protective covers available
24/7 monitored CCTV and alarmed security
Request your free no-obligation QUICK QUOTE Today
Wheelers Hill's Most Trusted Mobile Self Storage Company
Established in 2002, 1800 We Store It has been providing personalised Mobile Self Storage Services in Wheelers Hill for over 20 years.
You can find us in: Tullamarine, Laverton North, Richmond & Glen Waverley
Wheelers Hill's Mobile Self Storage Options
We personalise our Mobile Self Storage Services to your needs. Here are just some of the options we provide you with.
Our Mobile Storage Unit sizes
6ft MOBILE STORAGE UNIT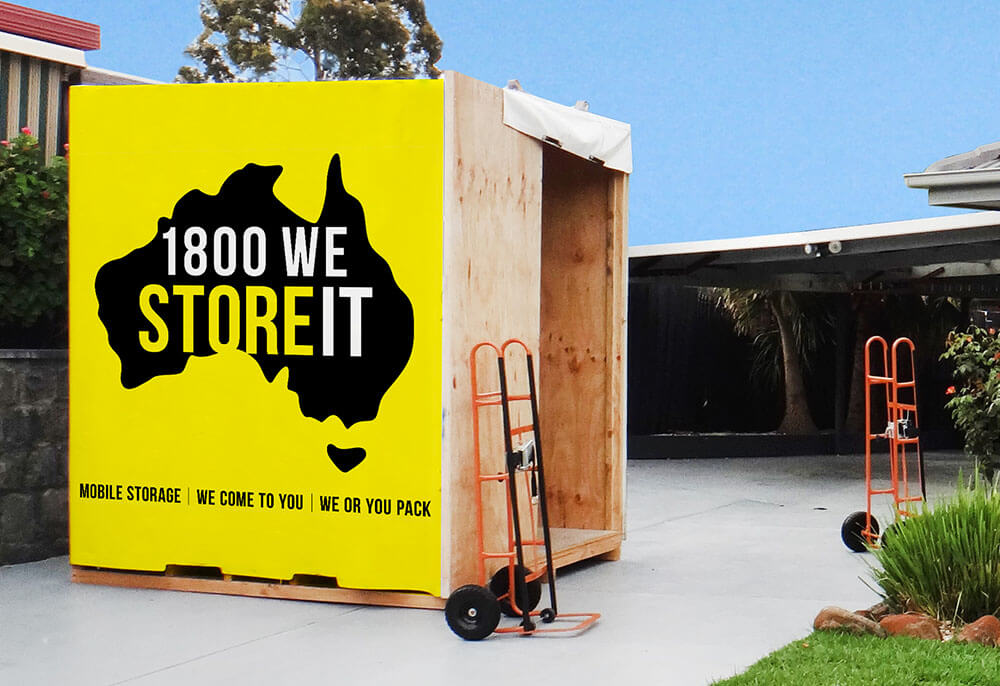 Holds the equivalent of 2 standard
bedrooms of goods.
Max. Dimensions: 
Height 2.6m, Width 1.8m, Length 2.4m
Capacity:
10 Cubic metres
Features:
Sturdy construction grade Indoor Storage units.
Supplied with 10 x Felt Furniture blankets FREE of charge.
8FT MOBILE STORAGE UNIT
Holds the equivalent of 2.5 standard
bedrooms of goods.
Dimensions: 
Height 2.4m, Width 2.1m, Length 2.3m
Capacity:
11.5 Cubic metres
Features:
Strong & Secure Steel Storage unit with internal Tie rails and fitted with external Padlock protector.
Supplied with 15x Felt Furniture blankets and 5x Furniture Tie-downs FREE of charge.
10FT MOBILE STORAGE UNIT
Holds the equivalent of 3 standard
bedrooms of goods.
Dimensions:
Height 2.9m, Width 2.4m, Length 3m
Capacity:
16.5 – 19 Cubic metres
Features:
Strong & Secure Steel Storage unit with internal Tie rails and fitted with external Padlock protector.
Supplied with 20x Felt Furniture blankets and 5x Furniture Tie-downs FREE of charge.
20FT MOBILE STORAGE UNIT
Holds the equivalent of a standard
3-4 bedroom home.
Dimensions:
Height 2.9m, Width 2.4m, Length 6m
Capacity:
33 – 38 Cubic metres
Features:
Strong & Secure Steel Storage unit with internal Tie rails and fitted with external Padlock protector.
Supplied with 40x Felt Furniture blankets and 10x Furniture Tie-downs FREE of charge.
Mobile Self Storage Wheelers Hill
It's no secret that most of us have too much clutter at home or in the office. Has your spare room become more of a storage space? Have random boxes taken over your vehicle's spot in the garage? Perhaps the scenario is the same in your workplace where piles of paperwork and supplies have lowered your productivity or clogged up your movement… and it seems like the piles just keep growing!
If your answer is 'yes' then it's time to consider using mobile self Storage Wheelers Hill so you can start living a clutter-free home or working life! All you have to do is give us a call and we will tailor our service especially for you. And the best part is, we'll deliver the storage unit straight to your doorstep!
At 1800 We Store It, we take pride in being the most trusted storage company in Melbourne. With more than 20 years of experience in the industry, we know what works and what doesn't. We took the concept of traditional self storage and improved on it.
Instead of bringing your belongings to us, we come to you with a mobile storage unit in tow! You can pack the unit yourself or let our team of professional removalists do all the hard work and heavy lifting.
Once packed and loaded, you can close and secure the unit with your own padlock or we can provide one for FREE. You can then decide whether you want to keep the storage unit onsite at your premises for ongoing access or have our team take it to our facility for safekeeping.
Your convenience and satisfaction are our priorities so we give you options at every step of the way. We put you in control and we'll strive to go the extra mile to give you a hassle-free experience from start to finish.
Benefits of Mobile Storage
More Convenient
The good thing about mobile storage is that you don't have to pack multiple times or rent a truck to load and unload. Mobile storage units can be delivered straight to your place so you don't have to drive anywhere. And if you choose our premium service, you won't break a sweat or lift a finger because we'll take care of everything. We pack, load and then unload and place your goods at their final destination, once your storage requirements are complete. You can simply sit back and relax!
Competitively Priced
The cost of using mobile storage is much cheaper than renting a traditional storage facility. In fact, our rates are up to 50% cheaper and you can rent a unit for as little as $1.10 per day! In addition, there are no hidden fees or lock-in contracts, unlike self storage solutions that try to bind you to long-term agreements.
More Personalised Service
Our team offers a hands-on customer service experience. We know Wheelers Hill well and can confidently answer all of your moving and storage questions. Two decades of catering to the storage needs of Melburnians have taught us that there is no one size fits all approach, so we see to it that we tailor our service to your specific needs and preferences.
Safer and More Secure
You can rest assured that your belongings are safe with us. We know how precious and important they are so we make sure they get maximum protection and security. Our mobile storage units are built to world-class standards.
Each one is crafted from industrial grade steel and designed to be fireproof, pest proof and weatherproof. You can therefore store with confidence knowing that your goods are getting vault-like protection. And if you choose to store your goods in our facility, you get an added layer of security because we have installed the latest alarm and fire control systems, along with and high-resolution CCTV surveillance cameras.
We have an access gate, perimeter fencing, and the entire facility is well-lit. Excellent lighting deters thieves, while a controlled access gate limits the number of people that can move in and out of our premises. We also see to it that our facility is kept clean and free from pests so your prized possessions stay in pristine condition.
Dare to compare and experience the difference of storing with the most trusted mobile self storage Wheelers Hill company. Our commitment to consistently delivering outstanding service makes us a clear choice for mobile storage services. We guarantee that we will get the job done in the easiest, most efficient and most cost-effective way possible.
If you have any questions or if you wish to choose our service, please feel free to contact us at 1300 418 166 or email us at [email protected]
Get started today with a free no-obligation quote, and see how we can personalise our Storage packages to suit your needs. Our friendly staff are on standby and ready to assist you with any and all of your requirements.
Drop us a line and we will be in touch within 24 hours. We'll get back to you with pricing and a solution.
Wheelers Hill and General Storage Info
Wheelers Hill is a suburb in Melbourne, located 22 kilometres southeast of the city's Central Business District. At the 2021 census, it recorded a population of 20,652. Its local government area is the City of Monash.
This serene suburb is known for its tree-lined streets and abundance of prestige homes. The infrastructure was set up during the 1980s and is the envy of neighboring suburbs. Wheelers Hill has four major shopping centres, excellent public and private schools, and immediate access to two freeways that provide easy commute to the city.
The locals love the area because everything is close by – schools, sporting facilities, chic pubs, quality restaurants, transport networks, the beach and The Dandenongs. There are lots of greenery and open spaces, with parklands occupying approximately 31% of the total land area.
Wheelers Hill is also home to Jells Park, a 127-hectare recreational facility that attracts more than 900,000 visitors a year. It includes 9 kilometres of bike paths and walking trails that surround a huge lake.
Wheelers Hill Fast Facts
Area: 10.3 km2 (4.0 sq mi)
Population Density: 2,005/km2 (5,193/sq mi)
Postcode: 3150
State Electorates: Glen Waverley and Mulgrave
Federal Division: Hotham
Median House Price: $1,401,000
Surrounding Suburbs: Mount Waverley, Glen Waverley, Scoresby, Notting Hill, Mulgrave and Rowville
Distance from Wheelers Hill to Melbourne CBD:
• 29.4 km or 30 minutes by car via M1
• 38.9 km or 35 minutes by car via M3