Self Storage Geelong West
*FURNITURE STORAGE *BUSINESS STORAGE *RENOVATIONS
*DECLUTTERING *GENERAL STORAGE
Self Storage from just $1.10 per day.
Self Storage in Geelong West is up to 50% CHEAPER than other storage companies.
Here are just a few of the benefits of choosing 1800 We Store It's Self Storage Services
Hire a Pallet space, Pallet rack or a Mobile Storage unit
Mobile Storage unit sizes: 6ft, 8ft, 10ft & 20ft
No Fixed contracts, simply week by week arrangements
Store the Mobile Storage unit on your site or ours
Let our team do all the Heavy lifting & loading for you or do it yourself
Felt Furniture blankets & Tie downs supplied FREE of charge
Full range of Packing materials & covers available
24/7 monitored CCTV and alarmed security
Request your free no-obligation QUICK QUOTE today
Geelong West's most trusted Self Storage Company
Established in 2002, 1800 We Store It has been providing personalised self storage services in Geelong West for over 18 years.
You can find us in: Tullamarine, Laverton North, Richmond & Glen Waverley
Geelong West's Self Storage Options
We personalise our self storage services to your needs. Here are just some of the options we provide you with.
Our Mobile Storage Unit sizes
6ft MOBILE STORAGE UNIT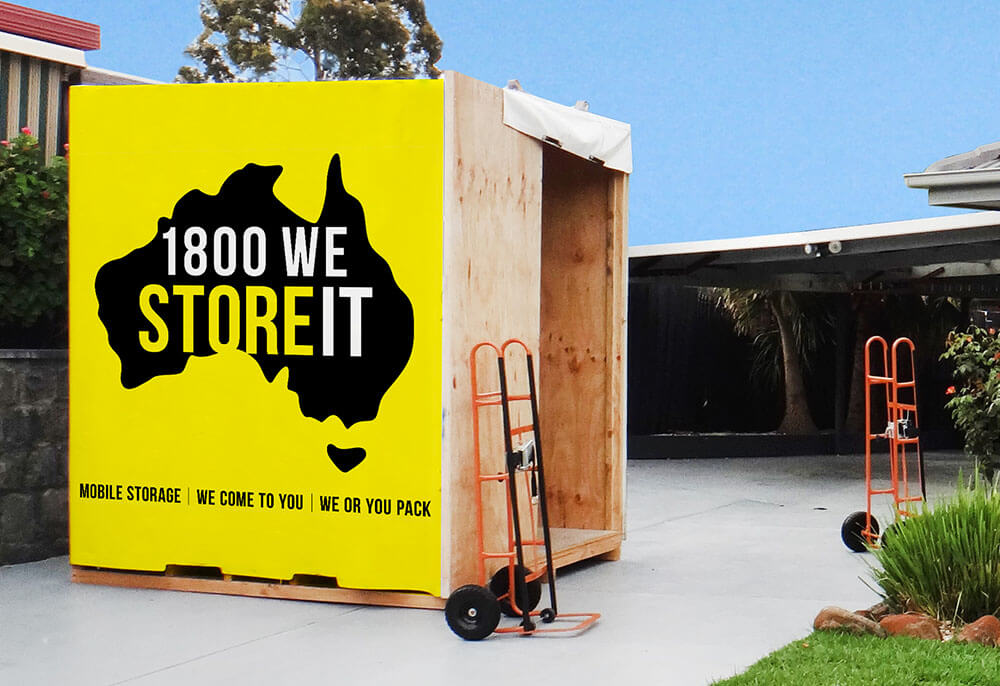 Holds the equivalent of 2 standard
bedrooms of goods.
Max. Dimensions: 
Height 2.6m, Width 1.8m, Length 2.4m
Capacity:
10 Cubic metres
Features:
Sturdy construction grade Indoor Storage units.
Supplied with 10 x Felt Furniture blankets FREE of charge.
8FT MOBILE STORAGE UNIT
Holds the equivalent of 2.5 standard
bedrooms of goods.
Dimensions: 
Height 2.4m, Width 2.1m, Length 2.3m
Capacity:
11.5 Cubic metres
Features:
Strong & Secure Steel Storage unit with internal Tie rails and fitted with external Padlock protector.
Supplied with 15x Felt Furniture blankets and 5x Furniture Tie-downs FREE of charge.
10FT MOBILE STORAGE UNIT
Holds the equivalent of 3 standard
bedrooms of goods.
Dimensions:
Height 2.9m, Width 2.4m, Length 3m
Capacity:
16.5 – 19 Cubic metres
Features:
Strong & Secure Steel Storage unit with internal Tie rails and fitted with external Padlock protector.
Supplied with 20x Felt Furniture blankets and 5x Furniture Tie-downs FREE of charge.
20FT MOBILE STORAGE UNIT
Holds the equivalent of a standard
3-4 bedroom home.
Dimensions:
Height 2.9m, Width 2.4m, Length 6m
Capacity:
33 – 38 Cubic metres
Features:
Strong & Secure Steel Storage unit with internal Tie rails and fitted with external Padlock protector.
Supplied with 40x Felt Furniture blankets and 10x Furniture Tie-downs FREE of charge.
Self Storage Geelong West
Storage shouldn't be stressful and expensive so we've made it easy and affordable for you!
At 1800 We Store It, we offer a range of Mobile Storage solutions for all your Storage needs. Whether you are decluttering, renovating, traveling, moving house, or simply needing extra space for your home or office, we can provide a personalised service that will meet your budget and schedule.
Our team of professional removalists, along with custom-built Storage units and state-of-the-art facility, make us your best bet for residential or commercial Storage. We are proud to be the most reliable Mobile Self Storage Geelong West company with more than 18 years of experience in the industry.
 
We have established trust and earned a spotless reputation for consistently delivering efficient and cost-effective service. So, if you are running short on space and you're looking for a solution that won't cost a fortune, then you've come to the right place!

Mobile Storage and How It Works

You are likely familiar with traditional Self Storage companies or you may have even used their service. There's a need to hire a truck, load your goods, drive to the Storage facility, then unload everything into the unit you rented. It's tedious, costly, and time consuming. It gets even worse when you need your goods back because you'll have to repeat the whole process, but in reverse!
Fortunately, times have changed and today Mobile Storage provides a cheaper and more convenient way to move your items into Storage. Instead of you hauling your belongings to our Storage facility, we will deliver the Storage unit straight to your doorstep!
You can pack at your own time and pace, or you can have our team do all of the hard work and heavy lifting for you.
Once the unit is fully loaded, we'll collect it and transport it back to our secure facility. There's no double handling of your goods, so the risk of damage is greatly reduced. The Storage unit will be picked up, stored, and delivered back to you when you need your belongings back. It really is that simple, the way it's supposed to be!

Choose from One of Our Custom-Built Storage Units

Custom-made from the highest industrial grade steel, our Mobile Storage units provide a safe and secure solution to all your Storage requirements. They are available in four different sizes so you're sure to find one that perfectly suits the amount of space you need…
• 6ft / 10 cubic metre unit – holds approximately 2 standard bedroom of goods
• 8ft / 11.5 cubic metre unit – stores about 2.5 standard bedroom of goods
• 10 ft / 19 cubic metre unit – stows roughly 3 standard bedroom of goods
• 20 ft / 38 cubic metre unit – capable of holding the contents of a 3-4 bedroom home
You can store with confidence because all of our Storage units are fully sealed, pest proof, and weatherproof. Each one comes with padlock protectors to prevent theft and tampering. With us, you don't only get the best value for your money, you also get to save a sizeable sum as our units are 50% cheaper than those of other Self Storage Geelong West companies.

Professional Packing Services

For some of our valued clients, packing is just as equally stressful as moving items into Storage. While there are those who can handle everything on their own, others need assistance from professionals. If you belong to the latter, no worries… we've got you covered. We have packing experts trained in the art of the perfect pack!
Whether it's packing up your entire house or just a few items, we can help. We can also pack up small to large offices, gyms, commercial establishments, factories, and more. We have the experience, tools, and techniques for packing and moving large and valuable items. Our team gets the job done right every single time!

Our dedicated packing service includes:
Industry accredited removalists

Premium quality packing materials including moving boxes, packing paper, tape, bubble wrap, etc.

Packing quilts and furniture tie-downs provided FREE of charge

The packing of personal items, office documents, equipment, and supplies, as well as fragile items like antiques, artwork, crystals, fine china, etc.
State-of-the-Art Storage Facility

The safety of your belongings is further ensured thanks to our self-contained and CCTV-monitored facility. We have outfitted it with the latest alarm and fire control systems, plus we do have security personnel roving the premises 24/7. With all these, you should be able to sleep soundly knowing that your prized possessions are secure and in good hands.

If you have any questions or if you wish to avail our service, please feel free to contact us at 
1300 418 166
 or email us at 
info@1800westoreit.com.au

Get started today with a free no-obligation quote, and see how we can personalise our Storage packages to suit your needs. Our friendly staff are on standby and ready to assist you with any and all of your requirements.
Drop us a line and we will be in touch within 24 hours. We'll get back to you with pricing and a solution.

Geelong West and General Storage Information

Geelong West is a residential and commercial suburb of Geelong, in the state of Victoria. At the 2016 Census, it had a population of 6,966. Its local government area is the City of Greater Geelong.
When Geelong was founded, Geelong West was known as Kildare but it was changed to its present name in 1875. The main thoroughfare is Pakington Street where the annual Pako Festa is held to advocate cultural diversity and show recognition for the artwork and fashion designed by residents of the Geelong area.
What's great about Geelong West is that it's in close proximity to what people need – supermarkets and retail stores on Shannon Avenue, café and shopping centres on Pako, and the Deakin Waterfront Campus which now includes the Faculty of Medicine. It is likewise just a stone's throw away from Geelong station and the central business district.
Aside from having all convenient amenities and attractions, Geelong West also has parks and nature reserves sprinkled throughout for families to enjoy.

Geelong West Fast Facts

Postcode: 3218
State Electorate: Geelong
Federal Division: Corio
Median House Price: $880,000
Surrounding Suburbs: Hamlyn Heights, North Geelong, Drumcondra, Manifold Heights, and Newtown
Distance from Geelong West to 1800 We Store It: 58 km or 51 minutes by car
Distance from Geelong West to Geelong CBD:
• 1.5 km or 3 minutes by car via Gordon Ave and Ryrie St/C123
• 1.6 km or 3 minutes by car via Pakington St, Aberdeen St/Hamilton Hwy/B140 and Ryrie St/C123