Mobile Self Storage Taylors Hill
*FURNITURE STORAGE *BUSINESS STORAGE *RENOVATIONS
*DECLUTTERING *GENERAL STORAGE
Mobile Self Storage from just $1.10 per day.
Mobile Self Storage in Taylors Hill is up to 50% CHEAPER than other storage companies.
Here are just a few of the benefits of choosing 1800 We Store It's Mobile Self Storage Services
Hire a pallet space, pallet rack or a Mobile Self Storage Unit
Mobile Self Storage Unit sizes: 6ft, 8ft, 10ft & 20ft
No Fixed contracts, simply week by week arrangements
Store the Mobile Self Storage Unit on your site or ours
Let our team do all the heavy lifting & loading for you or do it yourself
Felt furniture blankets & tie downs supplied FREE of charge
Full range of packing materials & covers available
24/7 monitored CCTV and alarmed security
Request your free no-obligation QUICK QUOTE today
Taylors Hill's most Trusted Mobile Self Storage Company
Established in 2002, 1800 We Store It has been providing personalised Mobile Self Storage Services in Taylors Hill for over 18 years.
You can find us in: Tullamarine, Laverton North, Richmond & Glen Waverley
Taylors Hill's Mobile Self Storage Options
We personalise our Mobile Self Storage Services to your needs. Here are just some of the options we provide you with.
Our Mobile Storage Unit sizes
6ft MOBILE STORAGE UNIT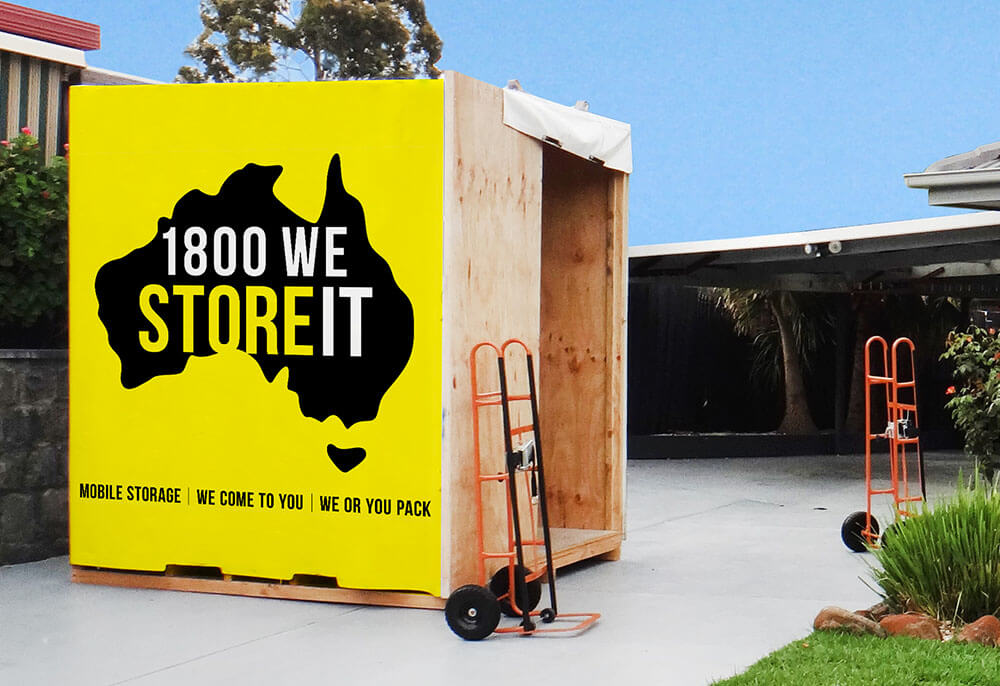 Holds the equivalent of 2 standard
bedrooms of goods.
Max. Dimensions: 
Height 2.6m, Width 1.8m, Length 2.4m
Capacity:
10 Cubic metres
Features:
Sturdy construction grade Indoor Storage units.
Supplied with 10 x Felt Furniture blankets FREE of charge.
8FT MOBILE STORAGE UNIT
Holds the equivalent of 2.5 standard
bedrooms of goods.
Dimensions: 
Height 2.4m, Width 2.1m, Length 2.3m
Capacity:
11.5 Cubic metres
Features:
Strong & Secure Steel Storage unit with internal Tie rails and fitted with external Padlock protector.
Supplied with 15x Felt Furniture blankets and 5x Furniture Tie-downs FREE of charge.
10FT MOBILE STORAGE UNIT
Holds the equivalent of 3 standard
bedrooms of goods.
Dimensions:
Height 2.9m, Width 2.4m, Length 3m
Capacity:
16.5 – 19 Cubic metres
Features:
Strong & Secure Steel Storage unit with internal Tie rails and fitted with external Padlock protector.
Supplied with 20x Felt Furniture blankets and 5x Furniture Tie-downs FREE of charge.
20FT MOBILE STORAGE UNIT
Holds the equivalent of a standard
3-4 bedroom home.
Dimensions:
Height 2.9m, Width 2.4m, Length 6m
Capacity:
33 – 38 Cubic metres
Features:
Strong & Secure Steel Storage unit with internal Tie rails and fitted with external Padlock protector.
Supplied with 40x Felt Furniture blankets and 10x Furniture Tie-downs FREE of charge.
Mobile Self Storage Taylors Hill
Home and business owners need Storage for a variety of reasons – from decluttering and downsizing to moving or remodeling. Traditionally, Self Storage Taylors Hill meant hiring a truck, loading it, driving to the nearest Storage facility where you unload your goods to the unit you rented. It's tedious, time consuming and costly.
Fortunately, times have changed and the introduction of Mobile Storage gave consumers an increasingly popular option. It's likely that you've seen a Mobile Storage unit in someone else's driveway or sitting beside the curb. Mobile Storage is all the rage these days and since its inception in the late 1990s, it has revolutionised the way people stash away all sorts of stuff.
At 1800 We Store It, we specialise in providing Mobile Storage units to households and businesses across Taylors Hill.  If you're running short on space, we have a Storage solution for you. We offer personalised solutions to cater to all of your Storage needs and preferences. Our team of professional removalists, along with our fleet of purpose-built vehicles and state-of-the-art facility, make us your best bet for personal or business Storage.
Move Your Items into Storage in 3 Simple Steps:
Step 1
Give us a call, choose the size of the Mobile Storage unit you need, and our team will deliver it straight to your home or office. We come to you instead of the other way around!
Step 2
You can pack the Storage unit at your own pace or have our team do all the hard work and heavy lifting. Either way, we will provide furniture blankets and tie downs at no extra cost.
Step 3
You can choose to keep the Storage unit onsite for easy and immediate access or we can take it back to our facility for Storage.
When you need your goods back, get in touch with one of our customer service agents and we'll deliver them at your preferred date, time, and location.
We have been in the business for more than 18 years, during which we have amassed a great deal of experience and expertise. The outstanding service that we consistently deliver has established our company as the most trusted service provider, not only in Taylors Hill but also in the whole of Melbourne.
We do whatever it takes to solve all your Storage woes. You can rest assured that we will deliver the highest quality Storage units, along with transparent pricing and personalised service that have been the trademark of our company.
You also get better security at rates that are up to 50 % cheaper than self-storage solutions, which means less hassle and headaches for you through the entire process. Compare that to the labor and expense that Self Storage Taylors Hill demands from its customers… why wouldn't you choose us? It's really a no brainer.
Here are a Few More Benefits of Choosing Our Service
Professional Packers and Movers
We have carefully screened and thoroughly trained every member of our team so they strictly comply to industry recognised standards. This is evident in the positive reviews we get from a long list of happy and satisfied clients. You are guaranteed that we will get the job done in the most efficient and cost-effective way possible when we send them over to your place.
State-of-the-Art Storage Facility
Our facility has been designed and purposely built to ensure one thing, the safety and security of your precious belongings, be it for short- or long-term Storage. We know your goods are irreplaceable so we treat them with utmost care while providing the highest level of protection. Our Storage facility is strategically located in a gated and guarded compound that features the most advanced alarm and fire control systems, along with 24/7 CCTV surveillance cameras.
One-Stop Shop for all Your Storage Needs
Aside from having custom-made Storage units, a modern facility, and professional removalists who are ready to serve in a moment's notice, we also keep in stock a complete range of premium packing supplies, from boxes and cartons to tape and bubble wrap. This means you don't have to go elsewhere because we have everything you need under one roof!
If you have any questions or if you wish to choose our service, please feel free to contact us at 1300 418 166 or email us at [email protected]
Get started today with a free no-obligation quote, and see how we can personalise our Storage packages to suit your needs. Our friendly staff are on standby and ready to assist you with any and all of your requirements.
Drop us a line and we will be in touch within 24 hours. We'll get back to you with pricing and a solution.
Taylors Hill and General Storage Information
Taylors Hill is a suburb in Melbourne, located 22 km northwest of the city's Central Business District. At the 2021 census, it recorded a population of 15,419. Its local government area is the City of Melton.
This idyllic suburb is bounded by Chervil Close and Hume Drive to the north, Taylors Road to the south, Gourlay Road to the west, while the eastern limit lines up with Overton Lea Boulevard. It is a master planned community with large house blocks, sporting grounds, parks, walking trails, playgrounds and lakes.
Taylors Hill is composed of two estates: Watervale and Taylors Hill. It covers approximately 4.5 square kilometres. There are 12 parks that make up 3.1% of the total land area. It is considered as one of the best western suburbs of Melbourne, thanks to the availability of essential amenities, less traffic and easy access to public transport.
The educational options are great with state, independent and catholic schools throughout, many of which are performing at a very high standard. There are also plenty of options when it comes to shopping, including Caroline Springs, Watervale and Taylors Hill shopping centres. Taylors Hill is ideally located within Melbourne because you'll never be too far away from all the hot spots that make the metropolis great.
Taylors Hill Fast Facts
Area: 4.5 km2 (1.7 sq mi)
Population Density: 3,430/km2 (8,870/sq mi)
Postcode: 3037
State Electorate: Sydenham
Federal Division: Gorton
Median House Price: $880,000
Surrounding Suburbs: Hillside, Taylors Lakes, Sydenham, Caroline Springs, Delahey, Burnside, and Kings Park
Distance from Taylors Hill to 1800 We Store It: 18 km or 28 minutes by car
Distance from Taylors Hill to Melbourne CBD:
• 29.5 km or 30 minutes by car via Calder Fwy/M79 and M2
• 29.8 km or 31 minutes by car via M2
• 34.5 km or 37 minutes by car via M1