Mobile Self Storage St Kilda East
*FURNITURE STORAGE *BUSINESS STORAGE *RENOVATIONS
*DECLUTTERING *GENERAL STORAGE
Mobile Self Storage From Just $1.10 Per Day.
Mobile Self Storage in St Kilda East is up to 50% CHEAPER than other storage companies.
Here are just a few of the benefits of choosing 1800 We Store It's Mobile Self storage services.
Multiple Mobile Self Storage Unit sizes being 6ft, 8ft, 10ft & 20ft

Storage Unit delivery & pickup services
Storage Unit loading & unloading services
Store the Mobile Self Storage Unit at your place or at one of our facilities
Let our team do all the heavy lifting & loading for you or do it yourself
No fixed contracts, simply week by week arrangements
Felt furniture blankets & tie downs supplied FREE of charge
Full range of packing materials & protective covers available
24/7 monitored CCTV and alarmed security
Request your free no-obligation QUICK QUOTE Today
St Kilda East's Most Trusted Mobile Self Storage Company
Established in 2002, 1800 We Store It has been providing personalised Mobile Self Storage Services in St Kilda East for over 20 years.
You can find us in: Tullamarine, Laverton North, Richmond & Glen Waverley
St Kilda East's Mobile Self Storage Options
We personalise our Mobile Self Storage Services to your needs. Here are just some of the options we provide you with.
Our Mobile Storage Unit sizes
6ft MOBILE STORAGE UNIT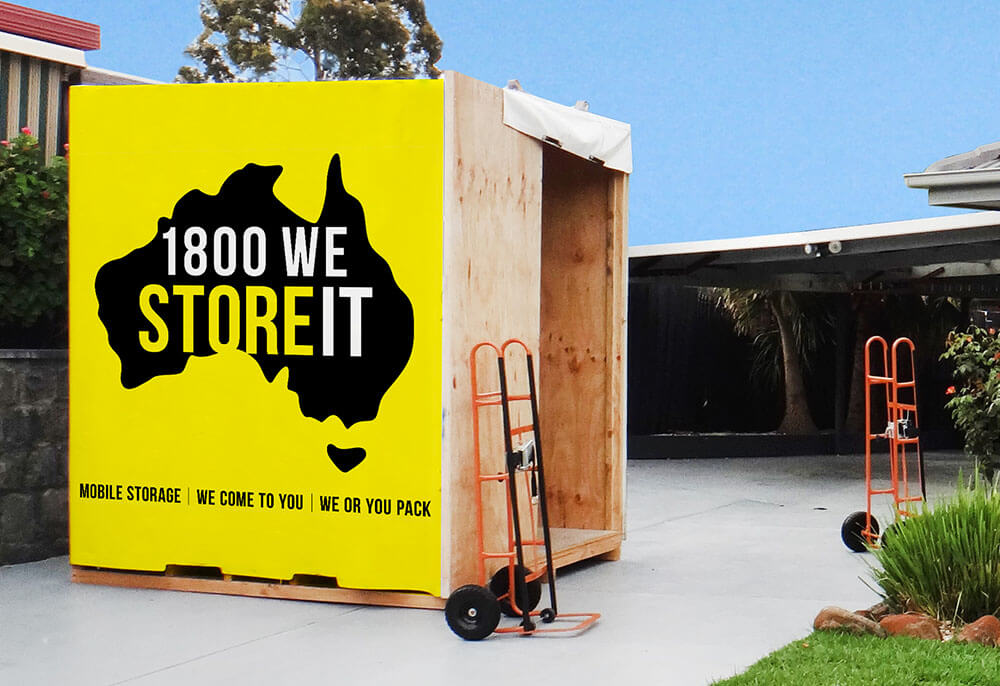 Holds the equivalent of 2 standard
bedrooms of goods.
Max. Dimensions: 
Height 2.6m, Width 1.8m, Length 2.4m
Capacity:
10 Cubic metres
Features:
Sturdy construction grade Indoor Storage units.
Supplied with 10 x Felt Furniture blankets FREE of charge.
8FT MOBILE STORAGE UNIT
Holds the equivalent of 2.5 standard
bedrooms of goods.
Dimensions: 
Height 2.4m, Width 2.1m, Length 2.3m
Capacity:
11.5 Cubic metres
Features:
Strong & Secure Steel Storage unit with internal Tie rails and fitted with external Padlock protector.
Supplied with 15x Felt Furniture blankets and 5x Furniture Tie-downs FREE of charge.
10FT MOBILE STORAGE UNIT
Holds the equivalent of 3 standard
bedrooms of goods.
Dimensions:
Height 2.9m, Width 2.4m, Length 3m
Capacity:
16.5 – 19 Cubic metres
Features:
Strong & Secure Steel Storage unit with internal Tie rails and fitted with external Padlock protector.
Supplied with 20x Felt Furniture blankets and 5x Furniture Tie-downs FREE of charge.
20FT MOBILE STORAGE UNIT
Holds the equivalent of a standard
3-4 bedroom home.
Dimensions:
Height 2.9m, Width 2.4m, Length 6m
Capacity:
33 – 38 Cubic metres
Features:
Strong & Secure Steel Storage unit with internal Tie rails and fitted with external Padlock protector.
Supplied with 40x Felt Furniture blankets and 10x Furniture Tie-downs FREE of charge.
Mobile Self Storage St Kilda East
We've been in business since 2002, helping home and business owners solve the age-old problem of maximizing their space in a modern way. We turn your excess belongings into space and we offer innovative solutions that can be tailored to your specific needs.
Most of us lead busy lives and there are more important matters to attend to than dealing with the tedious and time-consuming task of moving items into storage. We also know that there are many storage companies out there today. 1800 We Store It is an industry leader in the moving and storage industry.
Whether you are decluttering, downsizing, renovating, moving, or traveling, we will deliver outstanding services that will suit your budget, schedule, and any special requirements that you may have.
Just give us a call and together let's find the perfect storage solution.
• No more expensive truck rentals
• No more multiple trips to storage facilities
• No more double handling of your belongings
• No more frantic rush to get everything done in one day
• No more hassle and headaches
• No more bad backs and risk of injuries
Convenient Storage Solution That Comes to You
We can deliver mobile storage units anywhere in St Kilda East. You have the option to pack the unit at your own pace or have our team of professional removalists do all the hard work. The latter is our premium service where we literally take care of everything from start to finish. Note that whether you opt for DIY packing or request us to do it for you, we'll provide packing quilts and furniture tie downs at no extra cost.
Once your goods have been safely loaded, you can choose to keep the storage unit at your premises or have it transported to one of our secure facilities. For the latter, if you need to retrieve some of your belongings, just give us 48 hours' notice to get your unit ready. Access is FREE and you can drop by during weekdays from 9:00 am to 3:30 pm.
Melbourne's Most Trusted Storage Company
Yes, you read that right. 1800 We Store It is not only the leading mobile self storage St Kilda service provider; we have also established ourselves as the most trusted and reliable storage company in the entire metropolis.
Nearly 2 Decades in the Storage Industry
We have been catering to the storage needs of Melbournians for more than 18 years. Whatever you need stored, you can rest assured that we have handled it before. Choosing us to take care of your storage woes means you are banking on our wealth of experience and expertise.
Custom-built Mobile Storage Units
Our storage units are built from the highest-grade industrial steel and are designed to be fireproof, pest proof and weatherproof to ensure that your precious belongings are protected even from the harshest Australian weather conditions.
They are all equipped with tie rails to secure your items during transit, as well as padlock protectors to safeguard against tampering and theft. You can choose from four different sizes – 6ft, 8ft, 10ft, and 20ft – so you get to use the one that perfectly suits the amount of space you need.
State-of-the-Art Storage Facility
The security of your goods is our top priority. Whether you're storing valuables or business documents, we'll make sure your assets are protected with the following:
Gated and fenced perimeter – these reduce theft and unwanted visitors.
24-hour video surveillance – strategically placed high-definition CCTV cameras provide enhanced visibility into who is coming and going. Surveillance cameras also allow us to identify suspicious activity and immediately notify authorities.
Indoor and outdoor lighting – bright lights ensure our premises are well lit to deter intruders and protect both our staff and customers in the dark.
Alarms, locks and fire control systems – these added security measures can dispatch emergency personnel during an attempted break-in or in the case of fire.
Peerless Service at Very Competitive Rates
We have professional packers and movers who get the job done right every single time. It's no surprise that we have thousands of satisfied clients who vouch for the quality of service that we deliver on a consistent basis.
We strive to offer the best deals at the lowest possible rates – you can pay from just $3.30 per day for mobile storage options that are easy on the pocket. Our mobile storage services are also up to 50% cheaper than those of other self storage St Kilda East companies.
If you have any questions or if you wish to choose our service, please feel free to contact us at 1300 418 166 or email us at [email protected]
Get started today with a free no-obligation quote, and see how we can personalise a storage package to suit your needs. Our friendly staff are on standby and ready to assist you with any and all of your requirements.
Drop us a line and we will be in touch within 24 hours. We'll get back to you with pricing and a solution.
St Kilda East and General Storage Information
St Kilda East is a suburb in Melbourne, located 6 kilometres southeast of the city's Central Business District. It sits between Orrong Road and the Nepean Highway and is bordered to the north by Dandenong Road and to the south by Glen Eira Road. At the 2021 census, it recorded a population of 12,571. Its local government areas are the Cities of Glen Eira and Port Phillip.
This eclectic little pocket is one of Melbourne's more diverse and densely populated suburbs. It has a distinct Hasidic Jewish community, mostly composed of descendants from Polish and Russian immigrants.
Quiet and largely residential, its tree-lined streets ate steeped in culture and the vibe is quite different from the adjoining suburb of St Kilda. However, the area surrounding Carlisle Street is extremely diverse with a strong alternative and indie community.
It's impossible to get bored in St Kilda East. It is blessed with picturesque parks, playgrounds, chic cafes, quirky shops, art deco apartments, great schools, and a number of heritage sites. The beach is a 20-minute walk, it's not far from local supermarkets, and there's plenty of public transport options.
St Kilda East Fast Facts
St Kilda East Fast Facts
Established: 1850s
Area: 2.3 km2 (0.9 sq mi)
Population Density: 5,470/km2
Postcode: 3183
State Electorates: Caulfield and Prahran
Federal Division: Macnamara
Median House Price: $1,707,500
Surrounding Suburbs: Windsor, Prahran, Armadale, St Kilda, Caulfield North, Elwood, Balaclava, Elsternwick, and Caulfield South